Big Brother Live Feed Spoilers: Who Is Nominated And Who's The Hacker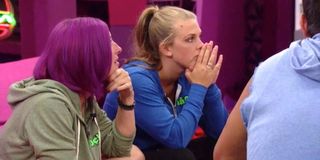 The Hacker twist is still in play in the Big Brother house, which means Friday is not only nomination day, it's also Hacker competition day. We know who won the Hacker power this week, and who's currently on the block. Read no further if you don't want to be spoiled!
Here's how things are going in the Big Brother house right now...
Head of Household
Haleigh
Originally Nominated
Kaycee
Angela
Won the Hacker Competition
Kaycee
Nominated by the Hacker
Rockstar
Currently Nominated
Angela
Rockstar
Won the Veto?
Not played yet
With the Hacker twist throwing a wrench in the regular gameplay (opens in new tab) right now on Big Brother, the houseguests have a lot of hypothetical scenarios to sift through depending on who wins what. As of right now, the Hacker competition took place. Kaycee won it and used it to take herself off the block and put up Rockstar.
We know this because, unlike last week, when the Hacker kept her identity a secret for days, Kaycee actually told her alliance right away, and they agreed Rockstar was their best bet to have on the block and playing for the Veto on Saturday. If they were to put up Fessy or even Scottie, they run a higher risk of them winning the Veto. Of course, either Fessy or Scottie could still end up playing for Veto, but Level 6 has probably improved their odds slightly by filling one of the spots with a player who hasn't performed well in competitions.
The Foutte side of the house is almost entirely certain someone from the other side of the house has the Hacker app. And Haleigh is convinced it was Kaycee. Apparently, her booth was right next to Kaycee's, and she was certain she heard Kaycee jumping up and down when she got questions right in the competition. Kaycee flat out lied to Haleigh's face when the two talked one-on-one before the Hacker nomination happened.
It seems likely Haleigh is aiming to backdoor Tyler this week. She didn't put him up outright, and when she was talking to Kaycee earlier, she said she really hoped the Hacker didn't put Tyler up, claiming it would suck for Tyler to go up anonymously twice. But I think the real reason she didn't want him put up was because he's good at competitions and could win the Veto if he's eligible to play it.
Of course, Tyler has the Cloud power, which means if the Veto is likely to be used, he can activate that and avoid the block when the Veto Ceremony happens on Monday.
The Level 6 side is already talking about not using the Veto if one of them win it (presumably apart from Angela). If the Veto doesn't used, Rockstar would stay on the block and the odds are looking high that Rockstar would go home. There's no sense getting into hypothetical voting scenarios until we at least know who wins the Veto, so we'll save that conversation for later.
Naturally, Haleigh is irritated that someone from her side doesn't have the Hacker app, and that it's been used to put up one of her people, which is kind of ironic, considering last week. But let's face it, this Hacker twist is a slap in the face to the Head of Household. Fine, no one ever said Big Brother was fair. Expect the unex... whatever. It's still a lot of power for a repeat twist. And Haleigh's so annoyed and convinced it's Kaycee that she made an offhand comment after Rockstar was put up about possibly putting Kaycee back on the block if the Veto gets used and abandoning her plan to backdoor Tyler. Who knows if she really means that though.
In other news, Tyler told Sam about his power. That happened on Thursday morning. I'm not entirely sure why he did that. Maybe he thought there was a chance he was going to have to use it this week and wanted to make sure she knew before everyone else. Regardless, Sam's been very emotional and anxious since yesterday. I don't know if that has to do with Tyler's confession or just the game getting to her. The two had a one on one conversation today talking about how she's been feeling, so they seem to be on ok terms. But will she keep holding on to this secret? On one hand, Sam strikes me as the kind of person who would never spill a secret. But on the other hand, she may decide the right thing to do is tell the house (or someone she feels close to) Tyler has this power. So that's out there.
While we wait to see if that situation implodes Tyler's game, we're also left to wait to see who gets to play for Veto and who wins it. The competition takes place on Saturday, and the ceremony is Monday.
Assistant Managing Editor
Kelly joined CinemaBlend as a freelance TV news writer in 2006 and went on to serve as the site's TV Editor before moving over to other roles on the site. At present, she's an Assistant Managing Editor who spends much of her time brainstorming and editing feature content on the site.
Your Daily Blend of Entertainment News
Thank you for signing up to CinemaBlend. You will receive a verification email shortly.
There was a problem. Please refresh the page and try again.