12 New Fall TV Shows That Audiences Should Be Excited About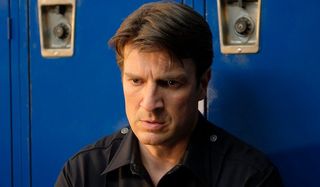 The past few months of Summer TV didn't seem to be quite as exciting as they've been in years past, with relatively few dependable hits like America's Got Talent and Better Call Saul keeping audiences entertained while anticipating the fully stocked fall TV season. Thankfully, that time is almost here, and we will soon be blissfully caught up in a deluge of original programming pouring from broadcast networks, cable giants, and streaming studios.
The 2018-2019 fall TV season has everything that TV audiences want the most. From spooky Halloween-tinged fare to network police procedurals to Lost-esque mysteries to superhero action to comedy revivals, it's all there. So without further ado, let's go over all the new shows we think audiences should be most excited to see.
The Haunting of Hill House - Netflix
Cast: Carla Gugino, Henry Thomas, Timothy Hutton, Michiel Huisman, Elizabeth Reaser, Oliver Jackson-Cohen, Victoria Pedretti, Kate Siegel
Premise: Based on the celebrated Shirley Jackson novel, Netflix's The Haunting of Hill House gives the spooky subject matter an update as it explores one family's experiences with one of the most haunted homes in all of fiction. When the siblings all return to the house as adults, they find that confronting their past will be a much more frightening experience than group therapy. And as evidenced by the show's first trailer, it'll be a wild ride for viewers as well.
Why We're Most Excited: Everything about this project screams excellence, but the not-so-secret weapon is show developer and director Mike Flanagan, who has crafted such stellar genre flicks such as Oculus, Ouija: Origin of Evil and Gerald's Game. Expect some big and disturbing twists from this one.
Premiere Date: October 12
The Rookie - ABC
Cast: Nathan Fillion, Afton Williamson, Eric Winter, Richard T. Jones, Melissa O'Neil, Alyssa Diaz, Mercedes Mason
Premise: Nathan Fillion's John Nolan is a man who turned 40 and decided to cast aside his relatively normal and easy lifestyle in order to move to Los Angeles and take up a rookie position within the LAPD. As if being a new cop wasn't hard enough even in the best of situations, John will also have to deal with the personal opinions of those around him as he tries to prove his worth among L.A.'s finest.
Why We're Most Excited: There isn't a TV show out there that wouldn't be improved by Nathan Fillion's star power, and even though The Rookie's premise sounds like an alternate Earth's version of the former ABC drama Castle, we still can't wait to watch Fillion taking on a role where he's not the most likable person in the room right away.
Premiere Date: October 16
Into the Dark - Hulu
Cast: Tom Bateman, Rebecca Rittenhouse, Ray Santiago, Aurora Perrineau, Dermot Mulroney, Tembi Locke
Premise: Hailing from mega-producer Jason Blum's Blumhouse Pictures, Into the Dark is a horror anthology that its far more into the Outer Limits mold than that of American Horror Story, in that every extended-length installment will tell a different story. However, Into the Dark's unique approach will see one episode released monthly, with each storyline and theme tied to a holiday that's celebrated in the respective months. The first episode, "The Body," takes place on Halloween, naturally, and follows an overly confident hitman whose work duties run parallel to the night of costumed chaos, while November's Thanksgiving episode, "Flesh & Blood," centers on a woman who grows paranoid about the safety of her own home in the year after her mother's death.
Why We're Most Excited: Blumhouse has been partly responsible for the resurgence of big screen horror in recent years, so that's a plus. But honestly, it's the holiday-related theme that could truly set Into the Dark apart from everything else.
Premiere Date: October 5 for Episode 1, with future installment release dates to be announced.
FBI - CBS
Cast: Sela Ward, Jeremy Sisto, Missy Peregrym, Zeeko Zaki, Ebonée Noel
Premise: FBI is the latest creation from TV producer extraordinaire Dick Wolf, who has been behind such prolific drama franchises as Law & Order and the Chicago shows. While it was originally set up at NBC as a spinoff to Law & Order: SVU, FBI will now be Dick Wolf's first drama series to premiere on a network other than NBC since 2003's Dragnet reboot. FBI will follow the elite unit of FBI agents working together to keep the country safe, even amidst their own professional and private pressures. Expect to see some major crime cases being tackled, although it's unclear if this series will take inspiration from headlines like Law & Order's various shows have.
Why We're Most Excited: For TV audiences who are faithful to Dick Wolf's various flagships and spinoffs over the past two decades, then a brand new series is savory ambrosia, and CBS knows a thing or two about keeping crime dramas around for a while.
Premiere Date: September 25
Chilling Adventures of Sabrina - Netflix
Cast: Kiernan Shipka, Jaz Sinclair, Michelle Gomez, Lucy Davis, Miranda Otto, Chance Perdomo, Ross Lynch, Richard Coyle
Premise: From Roberto Aguirre-Sacasa, who also created the horror comic series, Chilling Adventures of Sabrina will bring the teenage witch back to TV for far darker adventures than those of the TGIF era. The show will tell Sabrina's coming-of-age story as she balances her humanity with her non-mortal nature, alongside her two aunts Hilda and Zelda and her oh-so-human boyfriend Harvey. Evil is on the way to threaten everything Sabrina knows and cares about, and it'll be up to her to stand in its way.
Why We're Most Excited: The comics are a dark and gothic delight, and if Roberto Aguirre-Sacasa can spin Sabrina into the fan obsession that his own Riverdale has become, then we're all in for one spell of a good time.
Premiere Date: October 10
Murphy Brown - CBS
Cast: Candice Bergen, Faith Ford, Grant Shaud, Joe Regalbuto, Jake McDorman, Nik Dodani, Tyne Daly
Premise: A revival of the hit CBS sitcom that ran from 1988-1998, Murphy Brown will reintroduce audiences to the FYI news team members in their current state, after Murphy herself pulls everyone back together to allow their former glory to thrive in a society where 24-hour news cycles and social media have radically shifted how the country approaches news and politics. Most notably where changes are concerned, Murphy will now have her fully grown son Avery sharing her wit and confidence, but she might have issues with just how closely the apple fell from the tree.
Why We're Most Excited: Who doesn't want more Murphy Brown after 20 years without her? Even if the political angles weren't such a welcome angle for the show to return on, we'd still be waiting with a pint at Phil's for the show's comeback.
Premiere Date: September 27
A Million Little Things - ABC
Cast: David Giuntoli, Ron Livingston, Romany Malco, Allison Miller, Christina Moses, Christina Ochoa, Grace Park, James Roday, Stephanie Szostak, Lizzy Greene, Tristan Byon
Premise: A Million Little Things follows a group of friends in Boston who forged a bond due to unexpected circumstances. While some have been successful in their careers and relationships, others haven't achieved their dreams just yet. One of the group commits suicide in a move that motivates the rest to embrace the lives they want, and their friendships may be able to keep them together as they embark on the next chapter of their lives.
Why We're Most Excited: At this point, A Million Little Things looks like a version of This Is Us primarily based on friends rather than one family, and that can only be a good thing. The assembled cast is strong and vast, which may guarantee that the show won't go stale any time soon. You may want to stock up on the tissues before you tune in, but tuning in looks like a pretty solid decision.
Premiere Date: September 26
Nightflyers - Syfy
Cast: David Ajala, Jeff Buhler, Maya Eshet, Eoin Macken, Gretchen Mol, Bryan O'Byrne, Angus Sampson, Sam Strike
Premise: Syfy's new show will take viewers to 2093, when a group of maverick scientists team up with a powerful empath with the goal of contacting a mysterious alien life that just to happens to be located at the edge of their solar system. On board the Nightflyer, they go through terrifying and violent events (some of which were seen in the trailer), and seeds of dissent are sown among the crew. Survival becomes paramount to discovery.
Why We're Most Excited: Simply based on the description and the footage from the trailer, Nightflyers seems like it holds a little bit of what has made Battlestar Galactica and The Expanse so popular, and it just so happens to be based on a novella by Game of Thrones author George R.R. Martin. While Nightflyers is certainly not going going to be Game of Thrones 2.0, it could definitely be worth watching while that series is on hiatus.
Premiere Date: Fall 2018
Titans - DC Universe
Cast: Brenton Thwaites, Anna Diop, Teagan Croft, Ryan Potter
Premise: DC Universe is finally bringing a certain superhero team to the small screen with a show that DC Comics fans have waiting for. Dick Grayson -- a.k.a. Robin -- splits from Batman and moves away to build his own life, and a certain F-bomb indicates that Dick isn't looking to reconcile with his mentor any time soon, especially since Batman doesn't seem to need him as sidekick. Instead, Dick will surround himself with other heroes, including Starfire, Raven, and Beast Boy.
Why We're Most Excited: Titans will be the first of many original series to premiere on the DC Universe streaming service, and it could set the tone for what streamers can expect from DC Universe originals. It will also mark the live-action debuts of some beloved DC Comics superheroes and undoubtedly delivered a decidedly less campy Robin (or Robins) than the Robin of the 1960s Batman series.
Premiere Date: October 12
Star Wars Resistance - Disney Channel
Cast: Christopher Sean, Suzie McGrath, Scott Lawrence, Myrna Velasco, Josh Brener, Donald Faison, Jim Rash, Bobby Moynihan, Oscar Isaac, Gwendoline Christie, Rachel Butera
Premise: The next Star Wars TV show will be set before the events of The Force Awakens, although the exact time frame has not yet been confirmed. It will follow a young pilot by the name of Kazuda Xiono, who is recruited by the Resistance to spy on the First Order as it grows in power. Joined by some brand new characters as well as characters like Poe Dameon of The Force Awakens and The Last Jedi, Kaz's work should make for an exciting adventure back to the galaxy far, far away.
Why We're Most Excited: Even since Star Wars Rebels ended earlier in 2018, there has been a shortage of Star Wars action on the small screen. Throw in the fact that the sequel trilogy era has not yet been explored on a TV show beyond shorts in the Star Wars Forces of Destiny series, and Resistance should be fun for any Star Wars fan.
Premiere Date: October 7
Homecoming - Amazon
Cast: Julia Roberts, Bobby Cannavale, Stephen James, Alex Karpovsky, Shea Whigham, Ayden Mayeri, Sissy Spacek
Premise: Heidi Bergman was a caseworker at a facility called Homecoming, which is dedicated to assisting soldiers as they transition from combat back to civilian life. She later started a new life that involved living with her mom and working as a waitress, but her past comes back when a Department of Defense auditor shows up to question her reasons for leaving the facility. She must face the true story behind what she's been trying to believe in the years since leaving.
Why We're Most Excited: Do we need to say more than "starring Julia Roberts" to explain why we're excited? The trailer proves that Homecoming could showcase the Oscar-winning actress is a brand new way. Amazon has also had a run of good fortune with its original series thanks to the Emmys, and Homecoming could be the latest show for the platform in the running for the awards circuit.
Premiere Date: November 2
Manifest - ABC
Cast: Melissa Roxburgh, Josh Dallas, Athena Karkanis, J.R. Ramirez, Luna Blaise, Jack Messina, Parveen Kaur
Premise: Manifest follows the passengers of Montego Air Flight 828 after something goes very wrong on their journey. When the flight lands, they're all shocked to learn that they were somehow up in the air for more than five years, despite all the oddity they remember is some turbulence. The passengers who finally made it home have to adjust to the changes in their homes and families over the half decade they were missing, and that's not the only problem facing siblings Ben and Michaela, who find that they experience the world differently in the aftermath of Flight 828.
Why We're Most Excited: This new show brings a number of actors back to TV after their previous shows came to an end, and the premise manages to combine family drama with mystery and sci-fi. There's more to just about everything that what it seems.
Premiere Date: September 24
While these are 12 of the shows we're most excited about in the not-too-distant future, there are plenty of other series headed to the small screen as well. You can find the premiere dates you need on our fall TV premiere schedule.
Your Daily Blend of Entertainment News
Assistant Managing Editor
Nick is a Cajun Country native, and is often asked why he doesn't sound like that's the case. His love for his wife and daughters is almost equaled by his love of gasp-for-breath laughter and gasp-for-breath horror. A lifetime spent in the vicinity of a television screen led to his current dream job, as well as his knowledge of too many TV themes and ad jingles.