Daredevil Season 3 Trailer: The 5 Most Exciting Moments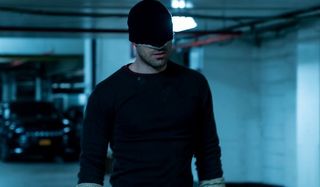 Season 3 of Daredevil is just around the corner, and Marvel is keeping fans' excitement peaked with constant reveals and new footage. The official, full-length Season 3 trailer has finally been released, and it's jam-packed with lots of action, character beats, and key details that viewers will no doubt be thinking about ahead of the new episodes. We've compiled the five best moments we saw in the trailer, all of which have us extremely pumped for Netflix and Marvel's flagship superhero series to return. Now let's look at the devils in these details.
There's A New Daredevil
A bulk of footage seen so far for Daredevil Season 3 has featured Matt taking the fight to others in his traditional black costume, and sometimes with no costume at all. It appears the true Devil of Hell's Kitchen left his red costume behind, and it unfortunately got snagged by someone else pretending to be the fearless vigilante. The rest of the world doesn't realize the change of the guard, of course, so Daredevil's good name is being besmirched by this new guy, who seems incredibly violent and merciless and incredibly accurate. This smells like one of Fisk's schemes to exact revenge on Matt, but the big question we have concerns the person behind that mask. We have our guesses for who it is, but we won't know for sure until Matt kicks this imposter to the curb.
Wilson Fisk Is A Free Man
Wilson Fisk is out of prison, and while he has more or less fooled the rest of the world into thinking he's a changed man, we all know that's a lie. The latest Daredevil trailer confirms this, with one scene showing Fisk in his white suit and smiling warmly to the public, while another scene shows him savagely pummeling a man in private. Unfortunately for Matt, Fisk hasn't forgotten his grudge against him and/or Daredevil, and he's threatening to reveal Matt's secret identity to the rest of the world. Fisk looks to have all the cards in Season 3, and we're wondering how Matt will work his way out of this one without becoming the monster his archenemy already is. Maybe that costumed imposter plays a role in that.
Another Crazy Hallway Fight
Daredevil Season 1 featured an extensive and masterful hallway fight sequence that was acclaimed by critics and audiences alike, and the series has been trying to recapture that moment ever since. Season 2 had a strong contender with its prison-bound brawl, but Season 3 looks as though it could feature the best fight sequence of them all. We see an unmasked Matt Murdock going toe to toe against a bunch of prison inmates, and the fight has the same grittiness and frantic action of that first hallway battle, although this time, Matt's in a much flashier suit when going to work on these thugs. The brief snippet is promising, so hopefully the full version delivers that same amazing and frenetic action from the first hallway fight.
Matt Vs. Fisk
It's the throwdown we've all been dying to see again, and it looks like Matt Murdock and Wilson Fisk are going to trade punches again in Daredevil Season 3. We're not entirely sure who will come out on top this time, either. Fisk is already a pretty powerful guy for his size, but we're guessing his time lifting weights in prison and thinking about this rematch will add a little extra power to the heavy hits he's already known to deliver. Of course, this Netflix original is called Daredevil, and not Kingpin, so our money is still on Matt. But we're expecting the sense-enhanced hero to eat more than a few teeth-rattling punches from the villain before coming out on top.
That Office Shooting
This scene feels super relevant to Season 3 of Daredevil, mainly because it's one of the few moments where we see Matt interacting with one of his familiar friends. Additionally, this unidentified office appears to be one fancy establishment, which is an odd setting for the shadow-cloaked Matt, considering previous Season 3 footage has shown our hero far removed from the public eye. As far as who is behind the shooting, the new villain Bullseye could be to blame, but that deadly foe might not have missed Matt and Karen. Will this incident be a part of why Hell's Kitchen may not see much of Matt in the upcoming season, or is the trailer footage meant to be misleading?
Daredevil (opens in new tab) Season 3 arrives on Netflix on Friday, October 19, at 12:01 a.m. PT. Keep tabs on all fall shows headed to television by visiting and bookmarking CinemaBlend's fall premiere guide.
Your Daily Blend of Entertainment News
Mick likes good television, but also reality television. He grew up on Star Wars, DC, Marvel, and pro wrestling and loves to discuss and dissect most of it. He's been writing online for over a decade and never dreamed he'd be in the position he is today.