Gotham's Cameron Monaghan Is Smoothly Trolling Joker Fans With Latest Image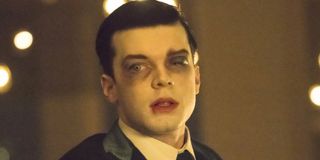 Gotham is only weeks away from returning for its fifth (and sadly, final) season, and the new episodes promise to deliver a whole bunch of bad guys wreaking havoc in No Man's Land. Jeremiah promises to be one of those baddies, so we can count on hearing more of Cameron Monaghan's delightfully maniacal laughter that he perfected as the Valeska brothers. Now, Monaghan has shared an image that manages to troll Joker fans while also almost certainly getting everybody all the more excited about Season 5. Take a look!
I'm not the only one who thinks Jeremiah looks like he just blew a kiss at somebody, right? Frankly, for a character that folks at Gotham have refused to confirm as the Clown Prince of Crime, Jeremiah has never looked more Joker-esque than he does in this image. He's got the white face, the green hair, the outfit, and even what appears to be a flower pinned to his jacket. Something tells me that the good people of Gotham City shouldn't get too close to that flower!
As if the whole look for Jeremiah wasn't enough, Cameron Monaghan was sure to include a caption on his Instagram post sure to drive Joker fans wild. Does "Jokes on you" explicitly state that Jeremiah is THE Joker? No, and I wouldn't necessarily expect Gotham to ever explicitly name him The Joker. Still, it's a sign that Cameron Monaghan enjoys teasing the fandom and/or Jeremiah will be getting even more Joker-esque in Season 5.
It already looks like he'll be getting a Gotham version of Harley Quinn in the form of what seems to be Ecco with a whole new look of her own, and the Season 4 finale included a couple of twists that were pure Killing Joke. Was all of this leading up to Jeremiah's final transformation into The Joker as DC Comics fans have come to know, love, and despise him? It would certainly go with my theory that Jeremiah is going to pull a Jason Todd on one of the people closest to Bruce.
Footage of Season 5 that we've seen so far points toward Jeremiah having a notable impact on No Man's Land, although it's difficult to say at this point if he'll mostly interact with one group of heroes or the other. It has been confirmed that Bane is going to do some serious damage to one of the good guys, and he's a former ally of Jim's. The mysterious new villainess seemed primed to mostly interact with Jim as well. Will Season 5 Jeremiah be primarily Bruce's antagonist?
We'll have to wait and see. The upside of Season 5 as Gotham's final is that we'll get to see the origin stories of these legendary DC Comics characters culminate, with Bruce becoming Batman and longstanding questions hopefully being answered. My fingers are crossed for Batgirl to be conceived somehow or a baby Dick Grayson to turn up, but only time will tell. Gotham will return for its final season on Thursday, January 3 at 8 p.m. ET on Fox. For some additional viewing options, check out our midseason TV premiere guide.
Resident of One Chicago, Bachelor Nation, and Cleveland. Has opinions about crossovers, Star Wars, and superheroes. Will not time travel.
Your Daily Blend of Entertainment News
Thank you for signing up to CinemaBlend. You will receive a verification email shortly.
There was a problem. Please refresh the page and try again.