How Outlander Brought Back A Dead Character To Fill In Some Blanks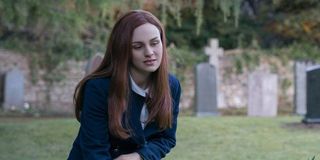 (Image credit: Image courtesy of Starz)
Warning: spoilers ahead for Episode 7 of Outlander Season 4, called "Down the Rabbit Hole."
Outlander has killed off no shortage of characters over the four seasons that have aired so far, and most of them are gone for good once dead. In "Down the Rabbit Hole," however, Outlander found a way to bring back somebody who seemed unlikely to return, and his appearance in the episode filled in some blanks that serve to enhance what we know of Brianna's character. Tobiaz Menzies was back in front of the camera as Frank Randall.
Now, Frank wasn't back because of any time travel shenanigans, supernatural twists, or sorcery. Instead, he had a key role to play in a series of Brianna's flashbacks to before the man who raised her had died. This was Brianna's episode from start to finish, and it's only natural that the man she considered her father was an important part of her memories of her time before she made the fateful decision to travel back in time.
With only one exception, Brianna's flashbacks were to a relatively recent time in her life. Aside from a very quick glimpse of Frank with Brianna when she was a young girl, "Down the Rabbit Hole" revealed the final days of their relationship before his death via car accident.
Outlander fans have known for a while that Brianna was especially close with Frank, and Claire wanted to preserve Bree's memories of her father, so it probably came as no surprise to viewers that Bree was eager to spend time with her dad in the episode.
We first saw them together when Bree came to visit her father at his office, upset that he hadn't come home and wasn't answering his phone, and it is this scene that fills in the biggest blank of the episode. Brianna discovers her father drinking heavily and clearly not planning on coming home, and the source of his disturbance was a letter he'd received, containing an obituary.
Fortunately for Frank (and Claire), Bree didn't look too closely at the obituary before she casually asked who died, so she didn't catch that it was a photocopy of the Wilmington Gazette obit that reported Claire and Jamie's deaths via fire.
Frank wasn't so drunk that he didn't sense the danger in Bree seeing the document, even though she wouldn't have had reason to suspect anything fishy about the deaths of "JAMES MACKENZIE FRASER and his wife" at that point, as noted in the obit. Still, he undoubtedly wanted to keep his daughter as far away from knowledge of her biological father as possible.
He refused to answer her questions about why it upset him so much, but my money is on Frank realizing that "and his wife" likely meant Claire, which meant that he would realize that Claire would leave him and Brianna to return to the past at some point before the obituary's publication in the 1770s.
What does Frank's discovery of the obituary prior to his death mean for Outlander? Well, for one thing, it's likely how Brianna discovered Jamie and Claire's deaths in Season 4. Roger didn't even discover their deaths as a historian until Fiona showed him a copy of the obit she'd discovered among his father's old things, so it's not probable that Bree dug it up in her own research.
It makes more sense that she happened to find the copy of the obituary Frank had and it spurred her to action, resulting in her journey to the past. As for Frank, receiving the obituary may be what spurred his sudden decision to tell Claire he wanted a divorce and to relocate to England with Bree in tow. Suspecting that Claire was going back to the past would certainly be an incentive.
The episode also used Tobias Menzies' return to show more of Frank and Claire's marital struggles. Viewers saw in Season 3 when Frank accidentally -- or perhaps "accidentally" -- invited his mistress to the Randall household on the day of Claire's graduation from medical school, and "Down the Rabbit Hole" tackled the fight that ensued later that day, when Brianna was already in bed and listening.
Brianna was clearly not unaware of her parents' struggles in their relationship, although she was shocked when Frank dropped the bombshell that they were divorcing and he was returning to England. Brianna will be able to contrast Claire's relationship with her adoptive father to Claire's relationship with her biological father, and that could change how she views her mom as well as relationships as a whole. Could Brianna come around to the idea of marriage, which she wasn't so sure about when Roger proposed earlier in Season 4?
"Down the Rabbit Hole" also was a way for Outlander to really show Frank's love for Brianna and tell some of his side of the story. Given that Outlander is first and foremost Claire's story, Frank really came across as the bad guy of the downfall of their relationship in the story told from her point of view, and he still doesn't exactly come across like a shining hero.
This episode did give some context to what the series has told about Frank and Brianna's relationship, and any conflicted feelings she has about Jamie after considering Frank her father could be more sympathetic. Frank was arguably the bad guy in Claire's story after her first return from the past, but he was never the bad guy in Brianna's story.
All of this said, Brianna's status as Jamie's biological daughter is likely going to be the variable that drives her story moving forward. In "Down the Rabbit Hole," her journey was advanced in a couple of big ways thanks to the fact that her father is Jamie, although one of those advances was certainly more pleasant than the other for Bree. By pure happenstance, Brianna collapsed in the woods near the home of none other than Laoghaire, who took her in out of the kindness of her heart.
Everything was going swimmingly with Bree, Laoghaire, and Laoghaire's daughter Joan until Laoghaire discovered that Brianna's father was the man who abandoned her for Claire, traveled across the sea, and is currently failing to pay the alimony he owes. As this is Laoghaire and not Jenny (for some notable reasons) we're talking about, she reacted by accusing Brianna of being a witch and locking her in a bedroom. Fortunately, before all of this happened, she learned that Laoghaire's home was quite close to Lallybroch, and young Joan freed Bree to take her to Ian Murray there.
Ian recognized her easily enough as Jamie's daughter, and it was enough for him to give Bree the money and transportation she needed to reach a ship and travel to the American colonies to reach her parents. She picked up a servant along the way, and she's onto the next leg of her journey. As it happens, she was not the only one. Roger also traveled back in time and sought passage across the sea as a sailor on Stephen Bonnet's ship, and it didn't take long for that to go poorly.
If Bonnet wasn't already established as a villain (and likely soon to become even more villainous) before dropping people overboard due to smallpox, I'd say this episode did the trick! Find out what's in store for Brianna and the others when the next episode of Outlander (opens in new tab) airs on Sunday, December 23 at 8 p.m. ET on Starz. Some new and returning shows are slated for the airwaves in the not-too-distant future, and you can find them on our midseason TV premiere guide.
Resident of One Chicago, Bachelor Nation, and Cleveland. Has opinions about crossovers, Star Wars, and superheroes. Will not time travel.
Your Daily Blend of Entertainment News
Thank you for signing up to CinemaBlend. You will receive a verification email shortly.
There was a problem. Please refresh the page and try again.