The Outlander Season 4 Cast Has Been Finalized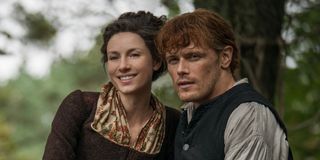 The fourth season of Outlander is fast-approaching, and fans don't have too much longer to wait to find out what happens next for Claire, Jamie, and the rest in the aftermath of the Season 3 cliffhanger. The third season ended with most of the characters shipwrecked on the shores of the American Colonies in the 18th century, with Brianna and Roger trying to move on after Claire's departure in the 1960s. To prepare for the return of Outlander, take a look at the finalized cast and who they'll be playing!
Caitriona Balfe
Irish actress Caitriona Balfe is back for her fourth season as Outlander leading lady. Although Balfe got engaged over the hiatus, her character will be as hot and heavy with Jamie as is possible while dodging disaster in Colonial America. Claire will have some advantages thanks to her knowledge of history, and she should know enough to prevent the Frasers from ending up on the wrong side of another war against the Brits. Unfortunately, it's also an era of slavery, and Claire won't handle that well at all.
Sam Heughan
Sam Heughan will be back in action as Jamie for Season 4. Jamie will be at a bit of a disadvantage in America. He doesn't know the land like he does Scotland, and he doesn't have a knowledge of American history. Still, the new world means he has the chance to build a life for his family that wasn't possible for him as a fugitive and criminal in Scotland. He'll find new opportunities on the American side of the pond and meet somebody he thought he'd never encounter.
Sophie Skelton
As Brianna, Sophie Skelton had a rough ride for Season 4. Although trailers indicate that Brianna will enjoy some downtime with her boyfriend in the 20th century, it has been revealed that she'll follow in her mother's footsteps back in time, and something truly awful will happen to her. Still, her strong will and intelligence should make her a match for many, no matter the century. She's not ready for all the commitment Roger is looking for, and Skelton will have the chance to flex her acting muscles.
Richard Rankin
Richard Rankin will reprise his role as Roger Wakefield, the unfortunate fellow who fell in love with Brianna and found himself sucked into an impossible family drama spanning centuries. Roger is looking for a committed future with Brianna, with that future progressing normally with no standing stones involved. Brianna has other ideas, and Roger will have to face the choice of life without her or a life he's only studied in his history books. Rankin will have also faced new challenges for Outlander Season 4.
John Bell
In case you thought Young Ian would be sent back to Scotland after all the trouble he caused in Season 3, fear not. John Bell will be back, and he'll have a new furry friend to keep him company. He stays with his aunt and uncle, and finds that he too can forge a path of his own in the new world of the American Colonies. Young Ian isn't done with trouble, but he'll do some growing up in Season 4.
Cesar Domboy
Fergus may have lost a hand in Season 3, but he gained a surname and a wife. Cesar Domboy is on board as adult Fergus once more, and he'll be more than Jamie's right-hand man in Season 4. With a wife and family of his own, he'll step forward to provide. While it won't be easy, Fergus could thrive as he's farther than ever from the French brothel where he grew up and had that horrible encounter with Black Jack Randall.
Lauren Lyle
Marriage won't have made Marsali any less outspoken than she was before her unconventional wedding to Fergus, so Lauren Lyle will likely deliver the same kind of spirited performances that she did as Jamie's stepdaughter in Season 3. As she works to build the life and family with Fergus, she'll have to step up in ways she never would have needed to had she stayed in Scotland. A whole new world could mean a whole new Marsali.
David Berry
Everybody's favorite redcoat-turned-ally Lord John Grey will be back as well, so you can count on more of David Berry as the gentlemanly aristocrat who happened to fall in love with Jamie. Grey will make his way to the American Colonies after his stint as governor of Jamaica, and he'll bring somebody with him that Jamie in particular will be interested in meeting. If the show follows the books, he'll have some compelling interactions with a surprising character. Perhaps Season 4 could set the stage for that spinoff!
Ed Speleers
Now, onto some newcomers! Ed Speleers of Downton Abbey fame will play a villain who is slated to be even worse than Black Jack Randall, if you can imagine. Bonnet has a charisma and veneer of kindness that Randall never had. Where Randall was cold and always at least a bit menacing, Bonnet will seem like a friend up until the moment of betrayal and violence. A smuggler, thief, and worse, he's exactly the wrong kind of man the Frasers would have wanted to meet in America.
Maria Doyle Kennedy
The venerable Maria Doyle Kennedy, known for her work on Orphan Black, will play Jamie's Aunt Jocasta, who is luckily based out of North Carolina as the manager of the River Run plantation. Sharp and cunning, Jocasta can convince others that she's less than she seems for her own benefit, and many underestimate her due to her gender and failing eyesight. Her status as a slave owner means she and Claire won't be bosom buddies, but Kennedy should be a fabulous addition to the cast.
Tantoo Cardinal
Dances with Wolves and Wind River actress Tantoo Cardinal signed on to play a Native American by the name of Adawehi, who spends some time with Claire in Season 4. Not a whole lot is known about Cardinal's character, as nobody named "Adawehi" even exists in the books. That said, novel author Diana Gabaldon shed a little bit of light on the character when she revealed that the character is in Drums of Autumn, just "under a different name." Readers may be able to guess her identity.
Billy Boyd
Best known for his role as Pippin in the Lord of the Rings trilogy, Billy Boyd won't exactly be playing a hobbit on Outlander. He'll play Gerald Forbes, a rich lawyer and good friend to none other than Jocasta Cameron. The character from the books plays a role in an arc with a surprising character, so we may get to see Boyd acting with performers not everybody expected.
Simona Brown
Simona Brown, known for The Night Manager and A&E's remake of Roots, won't need to be laced into corsets for her Outlander scenes. Her character will be Gayle, who is Brianna's friend and college roommate in the 1960s. Only time will tell if Brianna feels the need to confide in Gayle about all the time travel shenanigans. Brown's casting may mean that we see Brianna in the 20th century for more than just a scene or two before she goes on her blast to the past.
Tim Downie
Actual figures from history are surprisingly rare on Outlander, but Tim Downie of Paddington, Transformers: The Last Knight, and British sitcom Upstart Crow will portray Governor William Tryon, who really did exist. When Outlander picks up, Tryon will be a former British officer who landed the Governor position in North Carolina thanks to family connections. With high ambitions and a knack for negotiations, he has the potential to point the Frasers in some profitable and potentially dangerous directions.
Colin McFarlane
Colin McFarlane of Batman Begins and The Dark Knight is on board to play Ulysses, the essential head of household at River Run under the guidance of Jocasta. Endlessly loyal to Jocasta and trusted with her estate as well as the world around her failing eyesight, Ulysses keeps his feelings close to his chest. Nevertheless, it is clear that he is kind, smart, and deserves more than what is available to him due to the color of his skin in Colonial America.
Craig McGinlay
Craig McGinlay will play a plantation owner by the name of Andrew MacNeil, which is a very different role than McGinlay played in King Arthur: Legend of the Sword. MacNeil is a prominent member of the Scottish community that has developed in North Carolina, and he becomes involved in the Frasers' lives when he brings Jamie and Claire to a sawmill. A lynching takes place at the sawmill, which could complicate his relationship with the Frasers, although only time will tell.
Kyle Rees
Known for roles on The Bastard Executioner and the short-lived Will, Kyle Rees will play a man named John Quincy Myers who is a friend of Jocasta's. Unlike some of the men surrounding Jocasta who are the picture of gentility, the bearded mountain man is an expert on surviving off of the land. His travels and adventures have given him lots of stories to tell, and he'll find an eager audience in Young Ian. Helpful in a crisis and likable, he could be an asset to the Frasers.
Ainsley Jordan
Scottish actress Ainsley Jordan has plenty of acting experience on the stage, including in projects like Death of a Salesman and Romeo and Juliet. Outlander will mark her big break into TV, as she plays Judith Wylie. The role is said to be minor, but she'll be a rival for Claire who doesn't take too kindly to the newcomer. She may even take issue with Claire's fashion sense. It's probably for the best that Judith wasn't there for Claire's Batman sewing montage!
Caitlin O'Ryan
Caitlin O'Ryan will be another newcomer to the small screen. In fact, O'Ryan only recently graduated from the Oxford School of Drama. She'll play Lizzie Wemyss, a young Scottish woman who finds herself attached at the hip to Brianna. That attachment will take Lizzie far from the home she knew and expose her to a very new reality in a very new place.
Natalie Simpson
Outlander cast yet another stage veteran for a role in Season 4 with Natalie Simpson, who had significant roles in productions of Hamlet and King Lear with the Royal Shakespeare Company. She'll appear in the BBC mini-series of Les Miserable as well. On Outlander, Simpson plays Jocasta's maid and seamstress, named Phaedre. Kind and bringing a mischievous side to the table, she is a trusted member of Jocasta's household.
Rollo
Last but arguably not least, we have Rollo the dog! Rollo is the wolf hybrid who joins the Fraser family due to Young Ian's insistence, and the two will become as great of friends as man and dog can be. Rollo will come in handy for the whole party as well. Two dogs were actually cast to play the part, with producers training a pair of Northern Inuit puppies from when they were very young. This will be their breakout role.
CinemaBlend is partnering with Starz to offer free trial subscriptions. If you're interested, you can sign up here. You can see the cast in action when Outlander premieres its fourth season on Sunday, November 4 at 8 p.m. ET on Starz.
Your Daily Blend of Entertainment News
Laura turned a lifelong love of television into a valid reason to write and think about TV on a daily basis. She's not a doctor, lawyer, or detective, but watches a lot of them in primetime. Resident of One Chicago, the galaxy far, far away, and Northeast Ohio. Will not time travel, but will sneak references to The X-Files into daily conversation.