Agents Of S.H.I.E.L.D.'s Adrianne Palicki Would Totally Play Mockingbird Again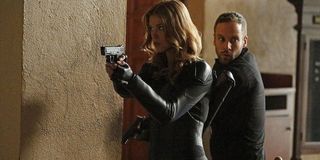 Agents of S.H.I.E.L.D. lost one of its most badass characters back in Season 3 when Mockingbird, a.k.a. Bobbi Morse, was forced to leave S.H.I.E.L.D. after she and Hunter were caught somewhere they weren't supposed to be. At the time, fans had reason to believe that Adrianne Palicki would soon be back on the airwaves as Bobbi, but that never happened. Now, Palicki has weighed in on whether she would be game to play Mockingbird again, saying this:
Agents of S.H.I.E.L.D. fans, rejoice! Even though this is hardly confirmation that Mockingbird will ever be back on S.H.I.E.L.D. in the flesh, at least we can say that Adrianne Palicki would be game to return. Palicki has been busy for the last couple of years as the female lead on Fox's The Orville, but her comments to TVLine indicate that she'd be more than willing to make time in her schedule to return to the MCU and Agents of S.H.I.E.L.D.
The timing for a Bobbi return seemed perfect in Season 5 when -- as Adrianne Palicki noted -- Nick Blood returned to S.H.I.E.L.D. to play Lance Hunter once more. He was back in the action to rescue Fitz from being detained, and he was essential to Fitz figuring out how travel to the future to help Simmons and Co. Hunter's presence even allowed for a cute Star Wars joke as Fitz was frozen a la Han Solo.
Nick Blood revealed that Hunter was going to be flying solo in his one-off Season 5 episode because Hunter and Bobbi had "a tiff" and they were cooling off separately, which sounded about par for the course for Hunter and Bobbi. While the explanation for Bobbi's absence was logical enough, many were undoubtedly disappointed to see only one half of the dysfunctional/dynamic duo back on screen.
After Adrianne Palicki and Nick Blood left S.H.I.E.L.D. back in Season 3, fans had every reason to expect them back in primetime in the not-too-distant future. They were slated to star in a S.H.I.E.L.D. spinoff series called Marvel's Most Wanted, and all signs seemed to point toward the show getting a series order... at first. The spinoff was ultimately axed before even the pilot could air, and Bobbi and Hunter couldn't really just return to S.H.I.E.L.D. after how they'd left.
The good news is that Adrianne Palicki wasn't off the air for too long, as she landed her role on The Orville. Still, my fingers are crossed that S.H.I.E.L.D. finds a reason to bring her back into the action. The show scored a surprise renewal for Season 6 and then Season 7 before Season 6 even premiered, so perhaps the writers will have the time they need to figure out the perfect way to reincorporate Bobbi, even if only for a single episode.
Only time will tell. Agents of S.H.I.E.L.D. will return with or without Bobbi as Mockingbird this summer. To see Adrianne Palicki in action sooner rather than later, tune in to The Orville on Thursdays at 9 p.m. ET on Fox. You can find more viewing options on our 2019 midseason premiere schedule.
Resident of One Chicago, Bachelor Nation, and Cleveland. Has opinions about crossovers, Star Wars, and superheroes. Will not time travel.
Your Daily Blend of Entertainment News
Thank you for signing up to CinemaBlend. You will receive a verification email shortly.
There was a problem. Please refresh the page and try again.