What Went On With Kaley Cuoco's Big Bang Theory Lingerie Scene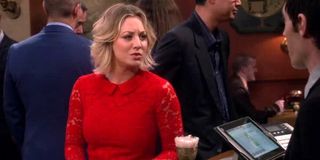 When last week's episode for The Big Bang Theory ended, fans got a promo for the following episode that showed star Kaley Cuoco in a state of undress that almost certainly got quite a few people interested in the long running comedy who hadn't been interested in the series in years. While every scene we saw Cuoco in, within the promo, showed her in shiny blue lingerie, she was able to fill fans in on the fact that that wouldn't be her only wardrobe for the most recent episode in an Instagram post. Take a look!
As you can see, the behind the scenes photo shows Kaley Cuoco in her seduction outfit along with co-star Johnny Galecki. While it's hard to say what exactly is going on in the photo, since Cuoco looks to be having fun while Galecki seems to be dealing with some possible stomach upset, her caption was able to clarify how long we'd be seeing her in that lingerie on the small screen. And, if you saw Episode 15 of The Big Bang Theory Season 12, "The Donation Oscillation," you'll know that she wasn't being coy when she said that she only spent one scene in the abdominal and cleavage bearing getup.
So, why was Penny in lingerie this week? Well, only totally above board reasons like trying to seduce her husband Leonard so that they could have sex and ruin his possibility of donating his sperm to her ex-boyfriend Zack and his new wife Marissa who are trying to have a baby. Really...not shady, tricky and dishonest reasons at all.
As we've known since early in the season, Penny and Leonard are at odds when it comes to the topic of children. They realized that Penny had long ago decided on a hard no when it comes to having kids, while Leonard has always hoped to be a father. And, this new knowledge did, in fact, put quite a damper on the couple who had been on and off for several seasons. Even though Leonard is really smart when it comes to science, and has a pretty high social IQ, he's still not the best at romantic relationships. So, it actually makes a bit of sense that they wouldn't have discussed where they stood on this major life decision before getting married the first (or second) time, meaning that the couple didn't realize they were on different sides of the baby issue until they had been married for around three years.
Fans of The Big Bang Theory will know that Leonard, who had never had much luck with women, became instantly besotted with Penny when she moved across the hall from him and Sheldon all those years ago. The Cheesecake Factory waitress and aspiring actress had moved from Nebraska full of hope, with a bubbly personality, beautiful looks and a pleasant disposition (especially with regards to Leonard) that made it easy for him to fall for her immediately and stay in love, even once he found out about her crushing credit card debt. So, by the time Penny said yes (finally) to marrying Leonard, he just wanted to seal the deal and wasn't likely interested in chatting about topics that could derail his chances of actually making Penny his officially.
As for why Penny never would have mentioned, during all the time she and Leonard dated, that she didn't want kids, that's also pretty easy to figure out. Most aspects of her life had been in flux for many years. Her acting career went nowhere, she had several financial problems, had always been a drinker and partier, and was known for dating a wide assortment of good looking jerks, playboys, and dim bulbs who would only serve to reinforce her worst habits. Marriage in general wasn't really on her mind, much less the idea of kids, so when she realized she was in love with Leonard and agreed to marry him she was probably just glad to have a nice guy who really loved her. Meaning, of course, that big, future life plans (which had never been her specialty anyway) likely didn't enter her thoughts right before saying "I do."
Obviously, Leonard was very disappointed to find out that Penny didn't want to have kids and very worried that if he pressed the issue he could lose this woman he'd worked for years to hold on to, so in true Leonard fashion...he let it go. But, when Penny ran into Zack and ended up accepting a dinner invitation for her and Leonard to meet his new wife and spend some time on their fancy boat, the casual couples evening turned into a chance for Leonard to finally lend his genetic material to a future generation, and it was hard for him to turn down.
Of course, Penny did not like this at all and argued about it with Leonard, but decided not to stop him when she realized she'd totally taken away his chances of siring a little Leonard or Leona, even though she was absolutely not OK with the idea of it happening. Which brings us back around to the lingerie episode in question, where Leonard was supposed to abstain from spilling his seed for five whole days so that his donation would be as potent as possible, and Penny tried to undermine his efforts by getting all hotted up, making out with him and reading comics in a sexy voice.
Leonard is pretty smart though, so he caught on to her boobified plan pretty quickly, fleeing the apartment to sleep at Sheldon and Amy's, and came to realize that he didn't just want to pass on his DNA, he actually wanted to raise a child, meaning that he had to call Zack and Marissa and tell them he couldn't donate. This made Penny happy, but Leonard is still left wanting to be a dad but with no way to have that happen.
The Big Bang Theory is wrapping up at the end of this season, so fans might want to hold tight to that vision of Kaley Cuoco's Penny in lingerie because it might be the last we get. Although, it is possible she'll try to seduce Leonard again before the show ends, and it's so she can have his baby. See how The Big Bang Theory solves Penny and Leonard's baby dilemma when the show airs, Thursdays at 8 p.m. on CBS.
Yennefer's apprentice, Gilmore Girl; will Vulcan nerve pinch pretty much anyone if prompted with cheese...Yes, even Jamie Fraser.
Your Daily Blend of Entertainment News
Thank you for signing up to CinemaBlend. You will receive a verification email shortly.
There was a problem. Please refresh the page and try again.