Arrow Season 8 Will Be The Last, Here's How Stephen Amell And Cast Reacted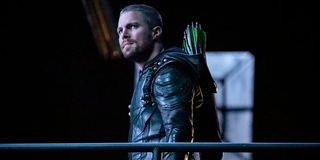 In a move few saw coming, Arrow's eighth season will also be its final season. It's the end of an era for the show that created the Arrow-verse, and led the charge in what has been a renaissance for superhero television. While fans are reacting to that in their own way, the show's cast and crew are also reacting to the news. We kick things off with the man who made this show all it could be: star Stephen Amell.
Stephen Amell teased there's more to come from his goodbye, and who is anyone to say he hasn't earned that? He's a large part of why the Arrow-verse has been successful, and he set a standard for comparison in any future Green Arrow projects. This is his legacy, in a way, and while Amell may go on to do bigger things beyond Arrow, this will always be something he's tied to. Basically, he's allowed as many goodbyes as he wants.
For that reason, Stephen Amell gets a bonus post in our list, but also because this behind the scenes photo is exceptionally sweet.
Stephen Amell never failed fans, and judging from that photo, his family either. He looks exhausted in that picture, although just about anyone might with that much grease paint around their eyes!
Speaking of legacies, we move on to an actor who will be remembered for helping introduce a character who will live on through DC comics. David Ramsey popped up on Twitter with some positive vibes, and had nothing but love and a funny picture for his fans.
The Diggle actor is holding eight fingers high to remind fans that Season 8 is on the way, and that the season has the potential to send the series out on a high note. How it may end remains to be seen, as even the things we think we know going on in the show at the moment may not be happening after all.
On a bit of a downer note, Colton Haynes reacted to the news of cancellation with less enthusiasm. In fact, that actor admitted he's sad to see Arrow go as he shared a great throwback photo of Oliver and Roy in costume.
Colton Haynes' Roy has been kicking it in the flash-forward timeline and dealing with all the various dramas happening there. Clearly there's some plan in mind if Arrow's already planned its endgame, but does the flash forward journey end in Season 7?
It's a question worth pondering, as we bring things back to the present with Rick Gonzalez. The Wild Dog actor had nothing but thanks to everyone who made the run possible so far, and talked about the obligation he and other Arrow actors share from this point forward.
Some fans will hold Gonzalez to that promise, as it's fair to say the series hasn't always lived up to its most acclaimed moments. One more season is an opportunity to finish strong, so we can hope that Arrow doesn't squander that opportunity.
Promises and heartfelt messages are great, but can we get some more pictures? If there is any upside to final season and cancellation announcements, it's pictures. Luckily, Juliana Harkavy had a photo to share that Arrow fans will appreciate as she sent a heartfelt message of her own to fans.
It's more of a promotional photo than some never-before-seen behind-the-scenes picture, but it's still plenty cool to look at. Everyone's looking fantastic, and like they're having all the fun in the world in that photo session. They could all be acting of course, but I'd like to think they're smiling for more reasons than the photo being taken.
Even one of Team Arrow's recently departed actors had a message for fans! Echo Kellum also might have stirred the pot a bit with a hashtag, which may fuel speculation amongst fans for a while.
Was Echo Kellum just tweeting a popular hashtag, or is there something to his "8 seasons and a movie" message? Would DC, as segregated as it has kept its television and film divisions, really do an Arrow movie? Anything is possible, although no official plans for a movie exist at the moment.
Even Arrow newcomers like Katherine McNamara are getting caught up in the news, and telling fans it's in their best interest to stay tuned. The woman behind Mia Smoak made a promise to fans, which is interesting the longer one thinks about it.
So, if the Mia Smoak actress is assuring fans the final season is gonna kick ass, does that mean she and the flash forwards will still be around? We can't say for sure based on this tweet, but it would make sense given Arrow has way less time to finish out its run. Why not blend the current and final seasons' stories into each other.
More behind-the-scenes photos finally arrived via Madison McLaughlin, who shared a cozy photo with several of her co-stars from her run as Evelyn Sharp. McLaughlin shared some of her fond memories from on set, and a confession that other actresses may not have been brave enough to admit.
In context, it's hilarious that she would share a story about potentially peeing her pants in a photo where she's sitting in Emily Bett Rickards lap. Hopefully that wasn't when the incident went down, or we might know why Artemis' run wasn't longer.
Speaking of short runs on Arrow, it wouldn't be a cast reaction if one of its stars that got away didn't share something. Colin Donnell gushed about his love of Arrow, and gave thanks to the fans who remained Tommy Merlyn fans throughout the entire run.
Colin Donnell's likely on the short list of many to return in some way, along with other actors like John Barrowman and Manu Bennett. They may get one of those three, although it seems like a tall order for all three actors to return for the final season.
We now move to behind the scenes, where former showrunner and current executive producer Marc Guggenheim shared a bittersweet message for Arrow fans.
It's a bit of a tough message, but he's not wrong. Shows live and die by their fans, and Arrow has been struggling in the ratings. Thankfully The CW is gracious enough to give it a final season to close things out, as not every show gets that luxury. As Guggenheim said, it's part in thanks to the fans, even if the lack therof is what may have led to its cancellation.
Arrow's final season isn't here just yet, as Season 7 is still powering on at The CW Mondays at 8:00 p.m. ET. For more on other upcoming shows, head on over to our midseason premiere guide.
Mick likes good television, but also reality television. He grew up on Star Wars, DC, Marvel, and pro wrestling and loves to discuss and dissect most of it. He's been writing online for over a decade and never dreamed he'd be in the position he is today.
Your Daily Blend of Entertainment News
Thank you for signing up to CinemaBlend. You will receive a verification email shortly.
There was a problem. Please refresh the page and try again.