Shrill Review: Hulu's Latest Is Hilariously Relatable But Also Touching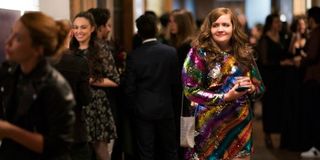 It's no secret that television today is a lot different than it was 15 (or even 10) years ago. With the number of networks and a dizzying array of streaming services, which are growing by the year, our options for lounging on the couch and hanging out with characters we love are at an all time high. While it can be pretty easy to complain about actually having too many shows to choose from, the great benefit of all these programs is that we are finally getting to see a much broader spectrum of humanity on television. This is represented not just in how the actors we're watching look, but in the stories and perspectives that are now allowed to be shown in greater numbers.
Hulu's latest, Shrill, is definitely an addition to TV that we need, because while it does focus on a "full-figured" woman, many of her challenges are hilariously relatable beyond that fact, and the series manages to bring a lot of heart and touching moments to the small screen, along with the laughs.
Shrill follows Annie Easton (Aidy Bryant, Saturday Night Live), the aforementioned full-figured woman, who's finally come to a bit of a breaking point in her young life and has decided to take charge more, stand up for herself and start demanding what she really wants from life and those around her. Annie has spent her life letting people like her dismissive boss Gabe (John Cameron Mitchell, Hedwig and the Angry Inch), her (sorta) friend with benefits Ryan (Luka Jones, People of Earth) and her well-meaning mom (Julia Sweeney, Saturday Night Live) demean, bully or completely ignore her feelings, but after a life-changing screw up forces her to see that she's capable of making decisions and getting herself out of undesirable situations, Annie starts to feel powerful and realize she controls her own life and how people treat her.
But, if you think Shrill, which is based on the bestselling memoir of the same title by Lindy West, is six episodes of Annie telling people off left and right and coming into her own as though lightning bolts and unicorn laughter are propelling her forward, you'd be wrong. In fact, the only part of Shrill that is somewhat frustrating is how down-right realistic it is (and I can freely admit that this isn't a bad thing at all). If someone, like Annie, has spent their life letting people walk all over them in an effort to be so nice that no one can truly dislike them, it would take a Herculean task to speak up every single time you should. So, we watch Annie constantly take steps in the right direction, fall behind, take things too far, then go back to a happy medium...only to start the process over again ever time she's slighted.
Luckily for Annie (and the audience) she does have some good people in her corner. Annie shares her Portland home with her best college buddy Fran (Lolly Adefope, The Spy Who Dumped Me) who, once Annie really starts to voice her desire to change her life, puts up with no negative self-talk from her friend and constantly pushes Annie to do what's best for her. She also has some safety at work in her work husband Amadi (Ian Owens), his wife Tyra (Leslie Grossman, American Horror Story) and her dad (Daniel Stern, Home Alone). And, one of the fun parts of Shrill, which comes from executive producers West and Bryant (who both also co-write), Lorne Michaels, Elizabeth Banks and Ali Rushfield (who also acts as showrunner and co-writer), is watching Annie take inspiration from those around her, whether they're friends and family, or strangers who she sees living life with the kind of confidence and verve that she wants.
Shrill does a lot of things right. While a lot has been made of the fact that it focuses on a full-figured woman, and a lot of Annie's insecurities and battles have to do with her size, the show doesn't beat you over the head with the challenges faced by larger women in a society that tends not to appreciate that. In fact, Annie's struggles can be easily related to anyone who's felt dismissed by society, simply out of place, or as though they can't live life on their own terms without being judged. And, with all this relatability comes a lot of heart. Shrill, which is billed as a comedy, is absolutely capable of tugging on heartstrings and bringing a tear to your eye. But, it also fulfills the comedy quotient with laugh-out-loud lines in every episode, like when a confident lady Annie has just met tells her, "You've got a fat ass and big titties. You should be telling men what to do."
All of the performances in Shrill are as strong as the stories are. Bryant is a standout as someone who knows she deserves more and is finally ready to go out and get it, while Adefope is a wonderful counterpoint as her perfectly confident and no-nonsense friend. Sweeney, who's best remembered as the comedically androgynous Pat from SNL, is also a treat as Annie's well-meaning mom who has, nevertheless, given her a bit of a complex about food and weight that I suspect she's been dealing with her whole life. And, Jones, as Annie's on-again / off-again, somewhat shiftless boyfriend, awesomely walks the line as someone who alternates between infuriating, sort of sweet and just plain bone-headed in a way that shows us why Annie can't quite totally quit him...yet.
The bottom line is that Shrill should leave anyone who's looking to take control of their life feeling more powerful and able to do just that, while relaxing into the knowledge that the change won't be easy and will probably open doors, both positive and negative, that they weren't even expecting, and give everyone a lot of hearty laughs along the way. You can take the ride for yourself when all six episodes of Shrill hit Hulu on March 15.
Your Daily Blend of Entertainment News
Yennefer's apprentice, Gilmore Girl; will Vulcan nerve pinch pretty much anyone if prompted with cheese...Yes, even Jamie Fraser.