Jenny McCarthy Compares Working With Barbara Walters On The View To A Horror Movie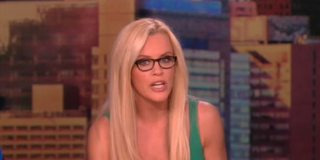 Jenny McCarthy is a divisive figure in pop culture thanks to the combination of her television appearances and her views on hot topics like vaccinations. Most recently, she appeared as a judge on Fox's smash hit The Masked Singer, but it was her time on The View that she discussed in-depth for an upcoming book about the long-running talk show. McCarthy pulled no punches when she compared working with The View creator and original co-host Barbara Walters to a horror movie:
Ouch! Mommie Dearest is a 1981 film that depicts the childhood of Christina Crawford and paints a picture of abuse from her adoptive mother, Joan Crawford. It's one thing to say that a working relationship with somebody isn't the best, but to compare it to what went down in Mommie Dearest is a pretty clear indication that something was very wrong. Based on Jenny McCarthy's comments, working with Barbara Walters was unlike anything she'd faced before.
Jenny McCarthy was actually only on board The View for a single season, from 2013-2014. That said, she had appeared as a guest and guest-hosted on the show many times over the years before landing the official co-host gig, and her season on The View also happened to be Barbara Walters' final season on The View. The incident that inspired the Mommie Dearest comparison happened back in 2007, when McCarthy visited The View as part of her rounds to promote a book.
Barbara Walters was 84-years-old when she retired in May 2014, and Jenny McCarthy's account of that final year does not reflect well on her dynamic with the longtime host. McCarthy shared her thoughts on Walters for the upcoming book Ladies Who Punch: The Explosive Inside Story of The View (via Vulture). Judging by the book's title, it's not surprising that it includes some claims that are bound to rile people up.
The picture Jenny McCarthy paints of Barbara Walters is a woman who was being forced into retirement and suffering from health and memory issues that prevented her from doing everything her job required of her. According to McCarthy, the other hosts of The View had methods of sending signals for how to react to Walters on camera, ranging from "the knee hold or the kick under the table."
Jenny McCarthy also reported serious on-set friction between Barbara Walters and Whoopi Goldberg, who joined the series in 2007 and remains on board as a co-host, although she did need to take a break recently due to a health scare. Her surprise return for an episode was a hit with her co-hosts and audience members alike. Still, McCarthy's account points toward herself as a particular target for Walters. She said this about the process of getting ready for episodes:
By Jenny McCarthy's estimate, she changed 50 outfits over a seven-month period because of Barbara Walters' opinion, and McCarthy's outfits were selected by a stylist rather than pulled from her own closet. McCarthy went on to state that in some instances, Walters actually wanted to dress like her, and she would "make people run out and get that dress in her size."
To make things worse, The View was suffering in the ratings after the departure of previous co-host Elisabeth Hasselbeck, who had added a political bent to the discussions. The drop in ratings resulted in The View trying to change Jenny McCarthy, according to McCarthy. The former co-host revealed that she would be told opinions that she was to bring up on-camera opposite Whoopi Goldberg, and she didn't feel she could be herself on the show.
The combination of everything going on behind-the-scenes at The View didn't leave Jenny McCarthy in a great place. She explained her state-of-mind at the time:
Jenny McCarthy had passed on a CBS job to take The View, and she came to regret that decision. Unfortunately for her, her hopes that the ratings would get a boost following Barbara Walters' departure ended up not really mattering. McCarthy was one of three co-hosts to leave the show after the end of the 2013-2014 TV season.
Barbara Walters' departure was due to retirement, even if Jenny McCarthy is correct that the retirement was forced. McCarthy herself and fellow co-host Sherri Shepherd were reportedly ousted from the show whether they liked it or not, although ABC put a positive spin on the firings.
Jenny McCarthy had a different tale to tell in 2015, however, when she stated that one of The View's producers called her up to ask if she'd ever consider coming back. McCarthy apparently had no inclination to return. Something tells me that what she has to say in the new book isn't going to result in her scoring any more invitations back to The View, at least any time soon.
Her experience on The View didn't result in an ousting from the limelight, however. She appeared as herself in six episodes of the Pop comedy series Return of the Mac in 2017, and she joined primetime in the 2018-2019 TV season thanks to her role as judge of The Masked Singer.
Jenny McCarthy will presumably be back for the second season. Considering how much of a hit the show was for Fox, I imagine the folks there might not want to mess with the recipe too much. That said, Joey Fatone wants on board! We'll have to wait and see what's in store next for McCarthy on TV and in pop culture.
Resident of One Chicago, Bachelor Nation, and Cleveland. Has opinions about crossovers, Star Wars, and superheroes. Will not time travel.
Your Daily Blend of Entertainment News
Thank you for signing up to CinemaBlend. You will receive a verification email shortly.
There was a problem. Please refresh the page and try again.