The Masked Singer Season 2 Trailer Goes Full Greatest Showman With A Singing Skeleton And More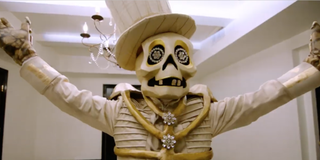 The Masked Singer mixed up reality competition TV in a big way in the 2018-2019 TV season by stuffing a bunch of celebrities behind elaborate masks and sending them out onto stage to perform, leaving a panel of judges (and viewers from home) to guess at their identities. Some identities were easier to guess than others, and social media enabled fans to collaborate on who was behind the masks, although the show went to some impressive lengths to try and protect its secrets. Ineffective, but impressive!
Considering the ratings Fox was getting from The Masked Singer throughout its first season, the renewal for Season 2 came as no surprise. Now, Fox has released a Greatest Showman-esque trailer with some Season 2 footage, and it features a singing skeleton, a regal leopard, and more craziness. Take a look!
It's no circus-themed musical starring Hugh Jackman, Zac Efron, and Zendaya, but this The Masked Singer Season 2 trailer certainly suggests it might be "the greatest show" on TV come fall! Or at least the most bizarrely compelling and addictive show on TV. And hey, maybe Hugh Jackman, Zac Efron, and Zendaya will appear under those masks! Host Nick Cannon did promise "even more major celebrities" in Season 2, after all!
Season 2 will be different from Season 1 in some key ways, with 16 contestants as opposed to the 12 of Season 1. Judge Jenny McCarthy had teased that the costumes would be "elevated to 11" for the new season, and I'd say the Season 2 footage is proof that she wasn't kidding around! As impressive as the Monster, Alien, Lion, and more were in the series' first outing on American television, the skeleton from the trailer alone makes them pale in comparison. Will any new judges be on board? One former contestant would be on board!
The Greatest Showman-esque trailer shows off a leopard in what looks like an Elizabethan gown, which makes as much sense as any outfit for a leopard would be, so way to go, Leopard! The Flamingo looks sassy and dazzling in pink feathers, a Fox is wearing a top hat and seems to have a robot eye, an Eagle has what looks like a feathery cape, and the Skeleton didn't let death stop him from wearing a snazzy suit and hat himself. I'm not sure who the guy with what looks like an egg on his head is supposed to be, even though he got to start off the "Greatest Show" number in the trailer.
A second trailer gives a closer look at the Egg Man -- who may or may not be a pre-cracked Humpty Dumpty -- and other masked celebs. Check it out!
Interestingly, both trailers only showcase six competitors: Skeleton, Leopard, Flamingo, Fox, Eagle, and Egg Man. Considering Season 2 will feature 16 masked celebs, why did the trailers only show off less than half of them? Are these six going to be the first to hit the stage when the new season premieres? Or are these just the first six elaborate costumes that were completed and ready to be shown off in the new footage?
2019 Fall TV Premiere Schedule: Dates For New And Returning Shows
Will Fox continue to block the Shazam app from identifying singers? I can vouch for the fact that Shazam didn't out any singers performing in the Greatest Showman trailer. Yes, I tried it, and yes, it failed.
Get the answers to these questions and more when The Masked Singer returns in the fall. The Masked Singer returns for Season 2 on Wednesday, September 25 at 8 p.m. ET on Fox. It will be a two-hour premiere event, so be sure to tune in!
Resident of One Chicago, Bachelor Nation, and Cleveland. Has opinions about crossovers, Star Wars, and superheroes. Will not time travel.
Your Daily Blend of Entertainment News
Thank you for signing up to CinemaBlend. You will receive a verification email shortly.
There was a problem. Please refresh the page and try again.