How Much Are The Kardashians Paid For Keeping Up With The Kardashians?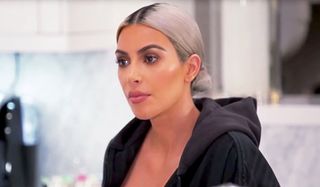 It's hard to believe, but Keeping Up With The Kardashians has been on the air for 12 years now. Now in its 16th Season, KUWTK has changed the landscape of reality TV and especially of its flagship network, E!, where it has become E!'s most high-profile and profitable show.
The three Kardashians, Kourtney, Khloe, and Kim, plus their mom, Kris, and their two step-sisters, Kendall and Kylie, remain the core members of the cast, and they are rewarded handsomely for their work on the wildly successful show. But how much is rewarded handsomely? Take a look.
Kardashian Family Net-Worth
When the show began way back in 2007, back when Dubya was President, the Jonas Brothers were still playing clubs, and Toby Maguire was still Spider-Man, a couple of the Kardashians were already a pretty well-known.
The family patriarch Robert Kardashian, who died in 2003, had been a high-powered attorney and friend to the stars, notably one star, O.J. Simpson. Kim Kardashian was semi-famous for being Paris Hilton's stylist and clubbing buddy, though the rest of them were not very well-known outside of the Beverly Hills social scene.
That changed quickly, of course, when the show became an instant hit for E! and was almost immediately renewed for a second season, then a third, and a fourth. Now, 12 years later, the Kardashian family, combined, have an estimated net worth of somewhere between $1.75 and $2 billion. That's billion, with a "b."
Kylie Jenner, of course, leads the money train, being called the youngest billionaire in the world with her net-worth over a billion dollars. Much of that money comes from her ownership of Kylie Cosmetics, which makes over $350 million in sales yearly.
Kim Kardashian ranks second, with an estimated net-worth of around $350 million, not including another $160 million or so from her husband Kanye West. The matriarch of the whole clan, Kris Jenner is worth another $60 million, while Khloe Kardashian is worth in the neighborhood of $40 million. Kourtney Kardashian may rank below her two sisters, but she's worth a cool $35 million. Finally, Kendall Jenner, despite being the highest-paid model in the world for several years running, allegedly comes in at the bottom, with a paltry $30 million.
Do The Kardashians Get Paid More Than The Jenners For Each Episode?
It's a little difficult to know this for sure, but it's unlikely that the Kim, Khloe, Kourtney, and Kris make more for Keeping Up With The Kardashians than Kendall and Kylie these days. A couple of years ago, Kris Jenner told Ellen DeGeneres on her show that the money for KUWTK was split evenly, saying,
So, while there has never been anything definitively released about the early years of the E! series, the last two contracts the family signed for the show were monster deals.
The first, signed in 2015 was for $100 million and the most recent, signed more recently, was reportedly $150 million. Either way, it's more than a truckload of money.
Fans of the show know that Kylie and Kendall Jenner appear fewer times on the show than the other four, so it's reasonable to assume they probably take home a little less, in total, than Kourtney, Kim, Khloe Kardashian and Kris Jenner do, even if they all get paid about the same amount per episode.
How much Kanye and Scott Disick make is also a big question, but it's safe to assume that it is considerably less than any of the women on the show. The same goes for other part-time members or former members of the cast, like Rob Kardashian. Rob does have his new clothing company though!
The Kardashians have built an incredible brand and have a show that could conceivably run for a very long time. It also should cost very little to produce, but generates income for the family and the network, so there is no reason to give it up anytime soon. Match that with their uncanny ability to promote themselves and their sponsors on social media -- as well as on the show -- and it all adds up to a very impressible, multi-billion-dollar enterprise.
Your Daily Blend of Entertainment News
Hugh Scott doesn't believe aliens are hidden at Area 51 or that Elvis is alive, but he does believe birds are real and Meghan Markle isn't treated fairly by the tabloids. He's been writing about music, movies, and celebrities for most of his adult life after realizing stocking shelves in a paper warehouse in college wasn't all it was cracked up to be.