The Arrow Cast Shares Favorite Stories About Stephen Amell Ahead Of Final Season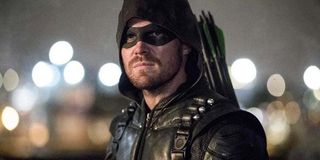 It's been a few months since Arrow announced it would be ending following its upcoming Season 8. At the time, Stephen Amell spoke out about wanting the series to end on his own terms, and that's exactly what's going to happen.
However, at Comic-Con 2019 it became clear that the decision, while it may be a sound one, is also bittersweet, both for the cast and Stephen Amell. They seem to be leaving a tight-knit workplace at the end of this season to move on to other projects, and there's a lot of respect for what Amell made happen over at the CW over the past few years.
Speaking out about some memorable moments while working on Arrow, the cast shared some of their favorite memories of Stephen Amell and his dedication ahead of the final season. David Ramsey perhaps had the funniest story at Arrow's 2019 Comic-Con panel, noting,
Yes, we are pretty much all aware of how distracting a shirtless Stephen Amell can be at this point, particularly when he is doing things like salmon ladders.
Katie Cassidy was less enamored about Stephen Amell's abs during the big Arrow panel, but she had a lot of sincere comments to make about the actor kicking ass, particularly when he's the first person on the call sheet every single day. She also revealed the advice she gave the actor early on during Season 1:
Although Rick Gonzalez came into the Arrow cast a little bit later than some of his other castmates, he also had a Stephen Amell story to share.
To all of the nice comments from his co-stars, Stephen Amell could only blurt out "this panel sucks and I hate it," although he was super emotional while he said it. It's very clear what an intense attachment the actor has to playing Oliver Queen and Green Arrow for DC's TV branch. In fact, there were tears in his eyes at various points and he kept getting emotional during Comic-Con, even though the whole shebang isn't even over yet! It's going to be a long year for the cast, as they are still producing a full season of TV for 2019-2020 and as all these comments illuminate, it can sometimes be grueling to work on a network TV program that runs from October through late spring and a bit of summer.
To be honest, I really do believe Arrow would likely have never been the launchpad for an entire universe of TV had Stephen Amell not been the guy to put on the superhero costume. His dedication to the show and also to the fans has been pretty unparalleled. You don't really need to go further than his social media presence to see how much Herculean effort he puts into making sure he has a connection with the audience to see that. He's the backbone of the arrow-verse, and while some of the other DC shows may be more popular at this point, Arrow is the show that brought it all together.
We first learned that Arrow will be ending back in April, when Stephen Amell admitted he wanted to leave the show so that it would not "limp to the finish line." Likewise, at San Diego Comic-Con those close to the show talked about wanting to end on a high note, although Amell did admit that if fans compare the Arrow finale to that of Game of Thrones (note: a lot of fans were frustrated with that show's ending), he'll know he did his job. It's always sad when a series ends, but this one at least wants to go out on exactly its own terms.
Arrow will return for Season 8 this October, alongside the various other superhero shows on the CW. A huge arrow-verse crossover is also being planned this year based around "Crisis On Infinite Earths." More on that with our guide. We'll be sure to keep you posted about all the big arrow-verse news, but for now, we'll just wallow in a pool of bittersweet endings for a little while, too.
At least there's always the hope that Oliver Queen could return for guest stints in the future as well.
Amazing Race & Top Chef superfan with a pinch of Disney fairy dust thrown in. Theme park junkie. If you've created a rom-com I've probably watched it.
Your Daily Blend of Entertainment News
Thank you for signing up to CinemaBlend. You will receive a verification email shortly.
There was a problem. Please refresh the page and try again.