The OA's Jason Isaacs Shares How 'Heartbroken' He Is Over Netflix Cancellation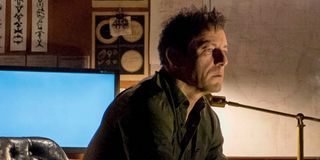 Fans and cast members alike are still upset following the cancellation of The OA. The series suffered another major blow after Netflix confirmed that there would be no movie to wrap up any of the show's remaining storylines. Actor Jason Isaacs, who played the evil Dr. Hunter Aloysius "Hap" Percy, wasn't too thrilled about the news either.
In an interview with SYFY WIRE, Jason Isaacs -- most notable among sci-fi/fantasy fans for playing Lucius Malfoy in the Harry Potter movies -- said he was saddened by the news of The OA's cancellation. The series meant so much to so many, attaining a passionate fanbase that recently collected money to buy a billboard in hopes to reverse the cancellation. Isaacs believed the show had a strong "human connection" that spoke to fans.
Series creators Brit Marling and Zal Batmanglij had been in talks to produce a movie, but the plans fell through because they both believed that a two-hour film wouldn't have been enough time to tie up loose ends. Jason Isaacs says he doesn't blame Netflix for ultimately cancelling the show, though. He's just happy that The OA was able to get two seasons.
Most recently, Brit Marling posted a message on Instagram expressing her sincere gratitude to everyone involved with the show and the fans' dedication throughout the last two seasons. Hopefully, Isaacs will get his wish and learn what Marling and Batmanglij had in store for The OA.
In the meantime, fall TV is upon us and there is a lot to look forward to, so don't forget to stay up to date and check out our full schedule of shows.
Your Daily Blend of Entertainment News