Big Brother Spoilers: Will Nicole Flip The Vote Before Double Eviction?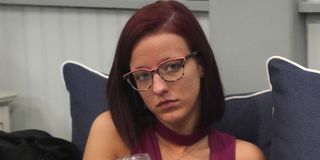 SPOILERS ahead from the 2019 Big Brother 21 live feeds.
Nicole Anthony is the swing vote in Big Brother 21, Week 10. I don't know if she'll really take a swing, but she could flip the vote before the double eviction ... that the 2019 housegusets don't know about yet.
Right now, Jackson Michie is Head of Household. He nominated Christie Murphy and Jessica Milagros for eviction, with Jess as his target. Wednesday's episode will show Big Brother's classic Hide and Go Veto comp, which Tommy Bracco won. Tommy used the Veto to take down Christie. Jackson put Cliff Hogg III up as a pawn. The final nominees for eviction this Thursday, September 5 are Jess and Cliff.
It looked like a done deal to evict Jess, because Jess is Jackson's target. Only four people can vote -- Holly, Nicole, Christie, Tommy -- and they all gave their words to vote how Jackson wanted. However, things have changed.
Even before Jackson and Holly Allen had their big fight, the other two pairs in the house -- Cliff and Nicole, and Tommy and Christie -- had noticed that Jackson and Holly were playing both sides. Jolly said they were good with both other pairs, hoping those pairs would just target each other next. Jackson was even suggesting Holly throw the next HoH (not knowing it's a double eviction).
Nicole and Tommy already had a conversation about Jackson and Holly covering both sides. Tommy coached Jess on what to say to Nicole, and Jess campaigned to Nicole about staying. Jess even volunteered to be a pawn if Jackson and Holly go on the block and one of them comes down. That's reassuring for Nicole. Christie is close to Jess, and Christie has been working hard to try and convince Nicole it's better for all of them to keep Jess in the house, to split up Jackson and Cliff. They are worried Cliff wouldn't put up Jackson and Holly, and would instead target Tommy and Christie.
Nicole seems ready to jump ship from her final four, but she might not be ready to make a big move when the only alternative is Christie/Tommy/Jess.
Nicole was briefly paranoid on Saturday that Jackson was actually working against her and Cliff, since he found their cards during the Veto. But Cliff is so trusting as Jackson's pawn. And Jackson is making it so clear that Cliff needs to stay. It has Christie and Nicole's eyebrows raised. How loyal is Cliff to Jackson?
Christie isn't wrong to say Cliff is someone they probably won't be able to beat in the end. Jess is not exactly a great competitor in comps and she only has one argument in the end -- she took out Jack Matthews. Good argument! But that was it.
Nicole has been looking for a resume move. Something she can point to if she makes it to the final 2. She hasn't won any comps, so it's going to have to be something else, unless she goes on a streak. If she decides to evict Cliff, it would be a dent to her social game with him, but would he respect the game move?
What IS the better move for Nicole?
If Cliff is gone, it comes down to Christie, Jess, Tommy, Holly, Jackson, and Nicole. Nicole loses an ally, but gains three others, all targeting Jackson and Holly. Say they are successful. Then what? Christie and Tommy would pick each other in the end, and Jess is loyal to Christie. Is that a great scenario for Nicole? Who is taking her to the end in that scenario? She'd have to win herself. Can she and Jess take out Christie and Tommy together? Eh.
If Jess is gone, it comes down to Christie, Cliff, Tommy, Holly, Jackson, and Nicole. Nicole keeps Cliff as her ally, and can still hope that Tommy and Christie target Jackson and Holly. She loses Jess as someone pretty close to her in terms of being able to beat at comps and maybe in the end. Cliff is an ally but also a major threat to win. His game resume -- banishment, eviction, return, an HoH win, deal-making -- is better than Nicole's. She knows that.
With Jess out of the way, Nicole may have a better shot at getting to final three, because she will be the new resident easiest person to beat. It's not exactly a compliment, but Jackson/Holly and Christie/Tommy would probably pick her over Cliff for a final 3. Would they say the same of Jess?
Christie made it clear early on Wednesday that she and Tommy would do whatever Nicole decided in terms of Cliff vs. Jess, because Jackson would break a tie vote anyway. They already know Holly is voting to evict Jess, so if Nicole does the same, there's no point in Christie and Tommy going rogue.
Fans are debating what they think Nicole should do.
I think Nicole will stick with Cliff and evict Jess, not to show real loyalty to Jackson and Holly but to cover her butt with them if Holly does happen to win the next HoH, and also to let Christie and Tommy continue to take out Jackson and Holly anyway. It's not like Jackson and Holly would stop being threats either way. If Christie would put up Jackson and Holly no matter what -- and she should, because someone should -- let her do that without also letting her keep her other major ally, Jess.
I suspect this is the usual Let's Try To Add Drama thing Big Brother often stirs up to have good footage before an eviction. Like when we thought Cliff might go over Kat. Then again, Christie managed to flip the house to save herself before. And it's not like it wouldn't make sense to evict Cliff, who is a much bigger threat to win than Jess. But if we're playing (ahem) chess not checkers, you have to think of how that will affect your game moving forward and what gives you the best chance of winning Big Brother 21.
UPDATE: Later on Wednesday, Nicole made it clear to Cliff that she was going to vote to keep him. She said she weighed both sides, and would rather stick with him. She also knows voting to evict Cliff would upset more people and leave Jackson/Holly/Cliff all feeling betrayed. So if Nicole votes to evict Jess, then Tommy and Christie will follow. Should be a unanimous vote against Jess. Sorry, Jess.
If I'm Nicole, playing out scenarios, I still like my odds better with Cliff still in the game, and not having Jess around as a major Christie ally and someone very tempting for others to keep in the game over me.
What would you do, if you were Nicole, in this Cliff vs. Jess vote, and why?
Big Brother 2019 airs Wednesdays, Thursdays, and Sundays on CBS. Keep up with all the action on the live feeds (opens in new tab).
Your Daily Blend of Entertainment News
Gina grew up in Massachusetts and California in her own version of The Parent Trap. She went to three different middle schools, four high schools, and three universities -- including half a year in Perth, Western Australia. She currently lives in a small town in Maine, the kind Stephen King regularly sets terrible things in, so this may be the last you hear from her.
Your Daily Blend of Entertainment News
Thank you for signing up to CinemaBlend. You will receive a verification email shortly.
There was a problem. Please refresh the page and try again.