Who Has The Best Chance At Winning Big Brother 21?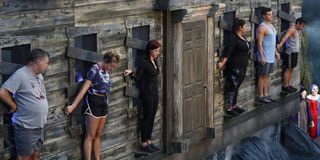 The houseguest number on Big Brother is dwindling, and with each passing week prior to now it seemed the circumstances changed completely. Things have slowed down following Nick Maccarone's exit, though, and now seems to be as good a time as any to do a ranking guide of who is most likely to win Season 21.
Keep in mind this list accounts for everyone that is in the Big Brother house as of writing. That means two of these folks will be gone before the week is up, so I've taken that into account and tried to consider how everyone's game shakes out regardless of who nabs the next HoH. Also this list is from least likely to win to most likely, which will probably be obvious to fans who see which contestant is directly below this paragraph.
7. Jessica Milagros
Jessica Milagros had a promising start in Big Brother, and even managed to take a big shot midway through the season that collapsed the Jack and Jackson alliance. With that said, things haven't been great for her since then and she's been shut out of any and all alliances in the house. Jess tried to call people out about it at one point, but it only seemed to isolate her even further.
That's not to say Jess doesn't have friends, but HoH Jackson Michie has instructed his Final Four to vote her out. Plus, she's going up against Christie Murphy, who is a wizard at convincing the HoH she's less of a threat than whoever she's up against. This is Big Brother, anything can happen, but it just doesn't look like Jess is going to survive the next elimination in the house.
6. Christie Murphy
Christie Murphy has beat out a lot of people on the block thanks in large part to her tremendous social game. She also has a huge secret ally in Tommy Bracco, who bailed her off the block with the Power of Veto two times. Truth be told, Christie may have the fiercest and most manipulative social game in the house, but man, she can't win a competition to save her life lately.
Plus, the only person who doesn't really want Christie out of the house at this point is Tommy. Even in a scenario where Christie found her way to a final two, it's hard to imagine Christie winning the Jury vote over anyone else that's still in the house. You gotta be popular to the people you beat, and while no one in the game outright hates Christie, she's not getting thrown up on the block frequently due to her competition skills.
5. Cliff Hogg III
Cliff has the protection of the Final Four agreement with Jackson, Holly, and Nicole Anthony as well as a pretty good social game. He's never had real beef with anyone, and is generally liked as the oldest member of the Big Brother house. Cliff also will be the biggest target in Holly and Jackson's sights should they get down to that ideal pairing. Then he's forced to rely on his competition ability, which hasn't been great since his knee was re-agitated.
In addition to that, Holly and Jackson have a secret agreement with Tommy and Christie, and if their back is against the wall, the occasionally rocky showmance would vote Cliff out to ensure their own safety. Put simply, he's the bigger threat to them than Nicole, who hasn't made a big move since she entered the Big Brother house. It just makes sense to remove Cliff over Nicole, which will be bad news for him if Christie or Tommy nab HoH.
4. Tommy Bracco
If there's one person that stands a chance at defeating comp beast Jackson Michie head to head, it's Tommy Bracco. That's even more true considering Tommy won't be facing off against Jackson in the upcoming HoH, which he now can compete in after Jackson assured him safety if he threw the wall comp. Tommy took the opportunity, and did exactly what he needed to guarantee safety that week.
What makes Tommy so deadly in Big Brother is his ability to forge deals and sever others yet still keep them alive when a plan doesn't go through. He's privately severed ties with Christie a few times when he thought she was gone, yet slid back into the "gameplan" with her once she survived. Tommy understands Big Brother potentially better than anyone in the house and is just one HoH from swinging things in his favor. He just has to make sure he can survive long enough to get it, as he's probably next on the block if he doesn't.
3. Jackson Michie
Without question, Jackson is the number one target everyone would like to take out. That includes Nicole and Cliff, who would have to at least consider it now that both are somewhat aware that Holly and Jackson have made dual Final 4 agreements. Jackson has won more comps than anyone, and will most likely win this competition if he's still here in the next two eliminations.
Of course, Jackson and Holly don't know that Christie is rearing to put both of them on the block after all the times she has been put up. After that, there won't be an HoH that doesn't come up that everyone else in the house won't consider putting him on the block in an effort to eliminate him. Jackson has to keep winning to win this thing, and you gotta wonder if his luck won't run out here eventually.
2. Nicole Anthony
Let's be honest, Nicole hasn't done a lot in Big Brother 21 besides almost get evicted, but her likability and unimposing nature have gotten her quite far. It definitely doesn't seem like an intentional game plan on her part, but at this stage she seems to be largely regarded as a non-threat by the bigger players of this game. With Cliff regarded as the bigger problem in her alliance, she'll at least last a week longer than him.
All Nicole needs once she's made it that far is one good comp, and she's golden. I wholeheartedly believe Nicole would beat anyone out in the house for Jury votes, and that's at least half the battle. Additionally, it feels a bulk of the Big Brother fandom is rooting for Nicole, so perhaps they'll collectively "manifest" a victory for her?
1. Holly Allen
Things are looking great for Holly Allen. She's one of the strongest competitors in the game no one is talking about, thanks in part to her showmance with Jackson. Everyone's so busy looking at him, they're forgetting she's 50% of what makes that match so damn successful. That's a huge advantage for Holly, who will seemingly become a threat to everyone when it's all too late to do anything about it.
As it stands, Holly only has friends in the house, and no one all that concerned about getting her out. Seriously, like the only time she's mentioned is when it's to be a pawn to get out Jackson. That's kind of insane given how late in the game we are thus far, and she's managed to be fairly well-liked by just about everyone. As it stands at the moment, Holly has the best shot at winning Big Brother.
5 Ways CBS Can Fix Big Brother After 2019 Mess
Big Brother (opens in new tab) airs on CBS Sundays and Wednesdays at 8:00 p.m. ET and Thursdays at 9:00 p.m. ET. Stick with CinemaBlend throughout the competition for all the latest details and spoilers, and for a look at what's happening in all things related to television and movies.
Your Daily Blend of Entertainment News
Mick likes good television, but also reality television. He grew up on Star Wars, DC, Marvel, and pro wrestling and loves to discuss and dissect most of it. He's been writing online for over a decade and never dreamed he'd be in the position he is today.
Your Daily Blend of Entertainment News
Thank you for signing up to CinemaBlend. You will receive a verification email shortly.
There was a problem. Please refresh the page and try again.