Even Beyonce's Cameraman Is Mad She Lost The Emmy To James Corden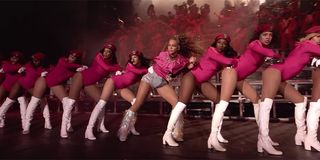 The 2019 Emmy Awards may not air until next Sunday, but that doesn't mean that the television awards haven't already kicked things off. The Creative Arts Emmy Awards were presented over the weekend and Beyoncé's Netflix concert documentary, Homecoming, was nominated in six categories, including outstanding costumes for variety and outstanding production for design for a variety special. Still, some fans were upset that Homecoming lost in the best variety special (pre-recorded) category and that the award was given to James Corden's Carpool Karaoke: When Corden Met McCartney instead. The singer's fans weren't the only ones annoyed about this turn of events, however. It turns out, Beyoncé's cameraman was also upset by losing to James Corden.
The Creative Arts Emmys, which are meant to award television shows and specials in the creative and technical categories, revealed their list of winners over the weekend. To everyone's surprise, Beyoncé's Homecoming didn't win in any of the six categories that it was nominated for. Homecoming's cameraman, Ben Hagarty, took to Twitter to express his frustration over being snubbed in the best variety special category.
In the thread, he described how he got the shot of the former Destiny's Child members walking down the stairs together, how he did it backwards, and that fans should retweet him if they think the Netflix special should've won, noting,
Ben Hagarty also posted pictures from the variety special as proof of the camerawork, giving fans a view of why he feels Homecoming should have won over James Corden's popular viral late night segments.
Walking backwards while holding a heavy camera is no easy feat, but Ben Hagarty was able to pull it off with the help of Dave Malave, Homecoming's videographer.
To many, Homecoming was a special concert documentary because it showcased the singer-songwriter as we've never seen her before. The special, which debuted on Netflix in April, highlighted the team effort it took to pull off the show and make sure everything for the Coachella performance was perfect. Not only that, but Beyoncé's performance marked the first time a black woman had ever headlined Coachella.
So, with all the effort, hard work and detail that was put into bringing this concert documentary to fruition, it makes sense that Ben Hagarty was mad about not winning the Emmy. Thankfully, we'll always have the phenomenal Netflix film to re-watch over and over again. For more Emmys news, take a look at the rest of the nominations or tune into Fox for the big shebang next Sunday.
Your Daily Blend of Entertainment News
Your Daily Blend of Entertainment News
Thank you for signing up to CinemaBlend. You will receive a verification email shortly.
There was a problem. Please refresh the page and try again.