How Nicole Can Win Big Brother 21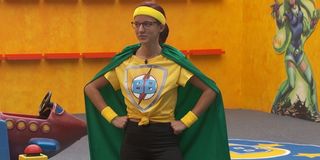 Nicole Anthony is guaranteed a spot in Big Brother's final 3, but does she have what it takes to win Season 21? Fans seem to hope so, as Nicole has been near the top of America's Favorite HouseGuest polls for quite a while now and may end up with some prize money even if she ends up losing. While Nicole has been a solid competitor in recent weeks, can she go on to win Big Brother?
There's certainly a chance of it happening, but Nicole is going to have to play her best game in the remaining days of the competition. Here's what she'll have to focus on in the time she has left, and some things she'll need to do to ensure she has the best chance of winning Big Brother.
Nicole Has To Win Final HOH
If Nicole wants to be in the Final 2 in Season 21, she needs to win the Final HoH. With it looking all but certain she'll be up against Jackson Michie and Holly Allen, losing it to either one of them will almost certainly be the end of her game. Essentially, Nicole will have to win twice to get that title, which means going through Big Brother's latest "comp beast" Jackson.
That's a pretty tall order, especially considering Jackson has been shown to be proficient in most all challenges. Ideally, Nicole would be up against Holly (or Cliff if Jackson miraculously changes his mind on the final 3 vote) in the final challenge, which judging from past competitions would give her the best odds of winning. Facing Jackson once and then him being eliminated from the third competition would be the best case scenario for Nicole. If she can't win HoH, she's most likely done.
Don't Take Michie Into The Final 2
While it is true that Jackson Michie has done some pretty shady things to advance his game and has poor jury management, Nicole has just as good a chance at getting the jury vote going up against Holly as she does him. Holly and Jackson are viewed as a package deal, so the sins of Michie will be shown on Holly without any of the advantages of HouseGuest's awarding her for his gameplay strategies.
At this point, Nicole should know that Jackson is a master manipulator and wonderful liar. He's a much better speaker than anyone left in the competition, and could maybe make Nicole appear guilty of something she isn't on finale night if he thinks he can get away with it. The incident with Tommy should show Holly isn't as good at spinning a yarn as her beau, and would likely struggle to come up with something meaningful to sway a jury that's on the fence.
Stay Positive, And Move On From The Past
Now that it seems all but certain Cliff is gone, Nicole has been kicking herself for letting Jackson (and Cliff to a lesser extent) guilt her into keeping Holly over Tommy Bracco. Now she's going to be all alone, and feeling like the odd man out as Big Brother heads into the final stages of the competition. In times of stress like this, Nicole has often shut down, but she can't afford that now.
After all, there's no time machine that allows her to vote out Holly and get another shot at this. These next competitions against two of Season 21's biggest competitors will be tough, but Nicole has had some consistently solid comp performances in the later stages of the game. She needs a clear head now more than ever, so it'd be best if she just accepted her current situation and looked ahead to the finish line.
Use Cliff (If Possible) To Sway The Jury Further From Holly And Jackson
For now, we still don't know for sure that Cliff Hogg III is on his way out of the Big Brother house. If he is though, Nicole needs to erase every bit of empathy he has for Jackson before sending him on his way. Cliff entering the Jury House after being the second person in a row to be burned by Michie would be powerful, especially coming from Cliff.
One issue is that Cliff is a massive Big Brother fan, and while he's mad he got burned, he's definitely got a respect for the solid gameplay of Jackson from a fan standpoint. Nicole may not be able to save Cliff ahead of elimination, but she can at least stress to him how important it is that he campaigns for her as best as he can.
Nicole Needs A Reminder That She Earned Her Place
Though she may be a fan favorite, some Big Brother fans would say that Nicole is lucky to be where she is. She didn't start winning comps until recently, and when she was in a position of power she never made a move that wasn't what a majority of the house wanted. Nicole was exceptionally mad when she thought Tommy said she didn't have a chance at winning, which seems like an indicator she has a bit of a complex about her game play.
Let's be honest, Nicole has not been an aggressive player in Big Brother. With that being said, she's had a tremendous social game and has managed to stay alive by being a likable person in general and aligning with the right people. Holly can brag all she wants about never seeing the block until Week 11, but it's crazier that Nicole saw it in Week 3 and hasn't since then. Whether skeptics want to admit it or not, that takes some great social gameplay. Now, if only Nicole would use it to swing Cliff's survival and better her odds further.
How Much Are Big Brother Houseguests Paid?
Do you think Nicole Anthony has a shot at winning Big Brother (opens in new tab)? Sound off in our poll or state your case in the comments and tune into the competition on CBS Sundays and Wednesdays at 8:00 p.m. ET and Thursdays at 9:00 p.m. ET.
This poll is no longer available.
Your Daily Blend of Entertainment News
Mick likes good television, but also reality television. He grew up on Star Wars, DC, Marvel, and pro wrestling and loves to discuss and dissect most of it. He's been writing online for over a decade and never dreamed he'd be in the position he is today.
Your Daily Blend of Entertainment News
Thank you for signing up to CinemaBlend. You will receive a verification email shortly.
There was a problem. Please refresh the page and try again.