The Masked Singer: The Most Surprising Reveals From Season 1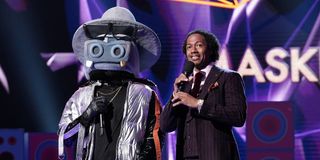 The Masked Singer was last year's most unexpected smash TV hit, which was a shock for Fox as much as anyone else. After all, it's a Korean import series about celebrities in masks singing pop songs, so how entertaining can that possibly be? Well, the millions who watched Season 1's crazy reveals first-hand will tell any skeptics that the spectacle was pretty damn entertaining.
Season 2 is right around the corner for The Masked Singer, so everyone could use a reminder of just how surprising (and weird) a lot of those Season 1 reveals were. Take a look at some of the biggest overall shocks from Season 1, and keep all the details in mind, since it just might help to figure out what the Masked Singer producers were thinking about when seeking out the mystery contestants for Season 2!
The Deer Revealed To Be Terry Bradshaw
While there were plenty of contestants whose identities were pegged by The Masked Singer's fans ahead of their actual unmasking, viewers seemed largely stumped by The Deer. The biggest clue audiences had about him was that he clearly was not a professional singer, which then led many to guess he was a professional athlete.
Panelist Robin Thicke would later say it was Terry Bradshaw's shoulder shrug that gave him away, though some fans alleged his trademark laugh (heard often on Fox NFL Sunday) could be easily identified even with his voice pitch-shifted. Bradshaw later admitted he was fine with his Masked Singer reveal happening so early in the season, since the whole process of keeping his identity a secret was super stressful.
The Pineapple Revealed To Be Tommy Chong
Tommy Chong was another surprise contestant on The Masked Singer, and viewers had difficulty placing his singing voice. All they knew was that whoever was inside that costume should probably stick to their day job which, in the case of Chong, was being an iconic stoner comedian and activist, which he's been for many decades. Chong definitely had the most hilarious costume of the bunch, with the Pineapple head potentially being a reference to the stoner comedy Pineapple Express.
As mentioned, Tommy Chong's The Masked Singer reveal was a surprise to many, though there were some eagle-eyed clue-masters who discovered his identity relatively quickly. The Pineapple's clue video featured a license plate that, when typed out as a date, stated the comedian's birthday. Additionally, the Pineapple mentioned having survived a "life threatening illness," which in hindsight was a reference to Chong's past battles with prostate cancer. The '70s Show vet was all smiles following his unmasking, and graced The Masked Singer with one more performance before his exit.
The Hippo Revealed To Be Antonio Brown
One trend that seemed to connect a lot of the most surprising reveals in Season 1 of The Masked Singer is that they all happened pretty early in the season, before the clues got more mindless. It should come as no surprise, then, that The Hippo is on this list. The controversy-embroiled NFL star Antonio Brown definitely wasn't the best singer in the competition (hence his early exit), leading to professional athlete conjectures for the Hippo.
One could argue that the reason The Masked Singer's Hippo reveal was so surprising is because Antonio Brown didn't last long enough in the competition for more relevant clues to surface about his identity or his character. For example, he held a baseball bat in his sole clue video, which is obviously misleading, considering his career as a professional athlete has been within the NFL. Will The Masked Singer Season 2 feature more career-based deception like this to inspire more surprises? We can only wait and see!
The Lion Revealed To Be Rumer Willis
The world seemed to have a pretty good grasp on the majority of the remaining contestants in the latter stages of The Masked Singer Season 1, though The Lion's identity was one that was consistently debated by fans. While there were some early adopters who surmised she was the child of Demi Moore and Bruce Willis, Rumer Willis, many others believed she may have been one of the Kardashians.
Most of that speculation was tied to the fact that there were several clues about The Lion coming from a famous family. Others thought the most obvious clue was her costume, which some believed was a reference to her stint opposite the Lyon family on Fox's Empire. Props to Willis for getting as far as she did, since she was the only one of Season 1's final five contestants that didn't have a music career.
The Rabbit Revealed To Be Joey Fatone
The Rabbit was undoubtedly one of The Masked Singer reveals that fans wanted to see the most in Season 1. The non-floppy-eared contestant brought the most energy to the stage in his performances, and even went the extra mile to fool the panelists and audience by acting slightly deranged to drive home that his character was designed to look pretty twisted.
The Masked Singer viewers were definitely aware that The Rabbit was part of a boy band, but they weren't necessarily in unison on which band. Some thought it was panelist Jenny McCarthy's husband Donnie Wahlberg, from his New Kids on the Block years, while others were sure it was a member of N*Sync, with Lance Bass and J.C. Chasez getting guessed. After his reveal, Fatone later said he loved being on The Masked Singer, and was down to come back in Season 2 as a panelist if producers would have him.
The Monster Revealed To Be T-Pain
To be clear, there were a good deal of viewers who picked up on T-Pain as The Monster near the start of The Masked Singer Season 1. That was thanks in large part to an acoustic Tiny Desk Concert the rap star performed prior to the competition, which confirmed the Auto-Tune enthusiast actually had a worthwhile voice beneath all the post-production magic.
Of course, T-Pain's hit songs are far more known than a singular YouTube video, so not everyone was on board, and some fans continued to throw out alternative suggestions ahead of The Monster's Masked Singer reveal. Despite the clear evidence and clues by the Season 1 finale that he was The Monster, there were still many shocked fans when the rapper removed his Monster mask after winning it all. Will The Masked Singer find an equally unlikely winner in Season 2?
The Masked Singer's Fans Think They Already Know Who The Ice Cream Is
The Masked Singer Season 2 airs on Fox on Wednesday nights at 8:00 p.m. ET. Stick with CinemaBlend for updates on the competition throughout the season, and be sure to stick with us throughout the fall season for all the latest and greatest in movie and television news.
Your Daily Blend of Entertainment News
Mick likes good television, but also reality television. He grew up on Star Wars, DC, Marvel, and pro wrestling and loves to discuss and dissect most of it. He's been writing online for over a decade and never dreamed he'd be in the position he is today.
Your Daily Blend of Entertainment News
Thank you for signing up to CinemaBlend. You will receive a verification email shortly.
There was a problem. Please refresh the page and try again.