Superstore Stars Honor Myrtle Actress Linda Porter, Who Died At 86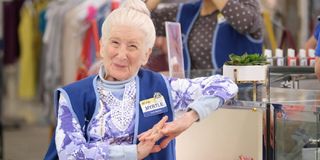 Superstore's Cloud 9 has lost a bit of its shine. Linda Porter, the actress who played Myrtle Vartanian on the acclaimed NBC comedy series, has died at the age of 86 following a long fight with cancer. Porter was a television staple and had been a popular recurring guest star on Superstore since Season 1. The showrunners, as well as multiple cast members took to social media to pay tribute.
According to Deadline, Linda Porter had yet to film anything for Superstore's fifth season, which began on September 26. In a joint statement, showrunners and executive producers Gabe Miller and Jonathan Green shared some heartfelt words about the actress.
Ben Feldman, who plays Jonah, was one of the first to post about Linda Porter, sharing a sweet photo of the two of them together on the set of Superstore.
The photo is fitting since Jonah was always looking out for Myrtle.
Lauren Ash, who plays assistant store manager Dina (and who's been known to keep everyone in line), also shared her heartbreak over Linda Porter's death.
Indeed, Linda Porter was always smiling, even when Myrtle hit a rough patch.
Mark McKinney, who plays Cloud 9's store manager Glenn Sturgis, shared some classic advice he got from Linda Porter:
Danny Gura, who plays Elias, one of Cloud 9's floor employees, joined his castmates in remembering Linda Porter.
He also shared a heartwarming photo of him and Porter on the set of Superstore. It's clear she was well-loved by the cast.
I echo the cast's sentiments. Superstore won't be the same without Linda Porter's Myrtle. As the character, Porter had great comedic timing, even in the midst of Myrtle losing her job — America Ferrera's Amy and boyfriend Jonah later discovered the Cloud 9 managers had written her up for shallow reasons and then illegally terminated her because of her old age. Later on, the district manager tried to appease the employees of Cloud 9 by bringing in a virtual Myrtle, who greeted customers on their way into the store. Thankfully, Amy was able to rehire Myrtle as soon as she became manager.
Linda Porter had a long career and her TV credits include guest and recurring roles on the Twin Peaks revival, 2 Broke Girls, How I Met Your Mother, Raven's Home, The Mindy Project, and more.
Superstore airs Thursdays at 8 p.m. ET on NBC. The comedy series will probably pay tribute to the actress during next week's episode.
Your Daily Blend of Entertainment News
Your Daily Blend of Entertainment News
Thank you for signing up to CinemaBlend. You will receive a verification email shortly.
There was a problem. Please refresh the page and try again.