Supernatural Will Bring An Angel Vet To Final Season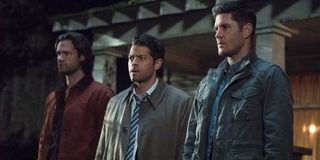 Though Supernatural has always been about Sam (Jared Padalecki) and Dean (Jensen Ackles), the Winchester brothers have never been alone in their fight against angels, demons, monsters, and whatever else the world decides to throw their way. In Season 15, their growing band of misfits will now include Angel actor Christian Kane and no, he won't be playing a shady lawyer.
At the end of Season 14, God got (even more) creative and decided to end the world as only God could: by bringing the zombie apocalypse to Supernatural. Well, it wasn't exactly the zombie apocalypse, but the brothers Winchester will be fighting off every creature they've ever encountered and killed. The zombies are just the cherry on top. And, who better to help the Winchesters than Angel's Lindsey McDonald himself?
According to Entertainment Weekly, Angel veteran Christian Kane is joining the Winchesters in Season 15. Kane became popular during his time on the Buffy the Vampire spinoff, where he alternated between playing an ally and an antagonist to David Boreanaz's Angel.
Christian Kane will be playing a "former hunter" named Leo Webb, who used to hunt alongside Dean. Leo is described as a friend, which is good because Dean has been known to be closed off from letting in new people. What's most intriguing about Leo is that he seems to have never met Sam, meaning viewers could get more of a glimpse into Dean's hunting days prior to John Winchester's disappearance, and before the eldest Winchester drove to Stanford to see Sam in the pilot.
There's no word yet on when Leo is actually scheduled to appear on Supernatural or even if he'll only appear in one episode, but his dynamic with Dean is sure to be something that will give us more insight into his character. Dean has been known to withhold information before and internalize his feelings, something that has frustrated Sam to no end, but it's always nice to see the Winchester brothers from a third party perspective.
Elsewhere in Season 15, angel Castiel will be facing the consequences of his deal with The Empty (as well as Dean and Sam's anger). His heart was in the right place when he made the deal to save Jack from spending eternity in The Empty, but everyone knows that making deals with the supernatural never end well for anyone on this show.
Additionally, co-showrunner Andrew Dabb has said that the Winchester brothers will lose certain characters in a very "real way," indicating that deaths will be permanent. That's right, resurrection isn't going to work in Season 15 (I've lost count of how many times Dean and Sam have died and come back). So, Sam and Dean will not only have to deal with zombies, Heaven and Hell, but there's also the very real component of death and the emotional impact it will have on the Winchesters.
Supernatural returns to The CW with its 15th and final season on Thursday, October 10 at 8 p.m. ET. To see what else is new and returning to TV this fall, be sure to check out our complete guide of premiere dates and times.
Your Daily Blend of Entertainment News
Your Daily Blend of Entertainment News
Thank you for signing up to CinemaBlend. You will receive a verification email shortly.
There was a problem. Please refresh the page and try again.