Elizabeth Olsen Thought She Was In Trouble For Spilling Marvel Beans When She Got WandaVision Call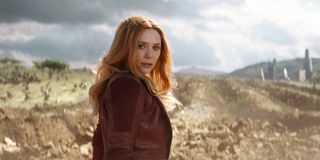 Elizabeth Olsen's adventures as Scarlet Witch will continue in the Marvel Cinematic Universe, though her talents will now be lending themselves to the new Disney+ series, WandaVision. The eight-episode series has proven to be a bit confusing, though, especially since Paul Bettany will be back as Vision but he died in the final act of Avengers: Infinity War. However, don't expect the actress to spoil anything about WandaVision or how Vision factors into the show anytime soon.
It comes as no surprise that Elizabeth Olsen was scared of getting into trouble for accidentally spilling any secrets. When she was called in to speak with Marvel president Kevin Feige, Olsen didn't know that he was going to tell her about the Disney+ series, WandaVision. Instead, she thought she was going to be chastised for saying something she shouldn't have.
Appearing on Jimmy Kimmel Live, Elizabeth Olsen had this to say about the experience she had when learning about WandaVision:
Marvel has become notorious for keeping every single spoiler surrounding any and all of their films and TV shows under lock and key. The actors, however, not so much. Tom Holland, who plays Peter Parker in the MCU's Spider-Man films, has infamously spilled the beans on more than one occasion, while the other actors have joked that Marvel would harm them if any major spoilers got out.
The Scarlet Witch actress was understandably petrified, especially after Paul Bettany told her that he thought he was being called in to get fired. Fears aside, Elizabeth Olsen seemed pretty excited about WandaVision, confirming that the show was all Kevin Feige's idea.
WandaVision will be the first Marvel series to debut on Disney's new streaming service, Disney+, which is set to launch on November 12 with The Mandalorian. Though WandaVision won't premiere until 2021, the studio released the first concept art for the series, which showcases Wanda Maximoff and Vision in a 1950s style sitcom setting.
It's too early to tell, but considering that Wanda's powers include the ability to manipulate reality (and is set after the introduction of time travel in Avengers: Endgame), it could very well be that Vision is still dead and the series takes place in an alternate reality of some sort. Paul Bettany did describe the show as being the "oddest of all the Marvel endeavors so far." That's not saying much, but expect your mind to be blown.
You can watch Elizabeth Olsen's full interview on Jimmy Kimmel Live below.
WandaVision is set to premiere in the spring of 2021. But, with the Disney+ launch around the corner, here's your guide to everything that will be available on the streaming service.
Your Daily Blend of Entertainment News