A Number Of People Are Trying To Save The OA Through Hilary Duff And It's Great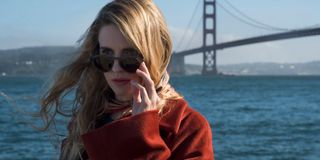 When beloved TV shows get cancelled, fans enter the five stages of grief. First, there's denial, because there's no way the show was cancelled, right? Then it's on to anger — venting online, expressing frustration on Twitter, etc. The next stage is bargaining, which is where The OA fans are at right now. Now, it's usually that fans take to bargaining with the network to bring their show back. However, fans of The OA, which was cancelled by Netflix after just two seasons, got a bit more creative. They've managed to rope in actress Hilary Duff and it's pretty great.
Hilary Duff, beloved by many from her days playing Lizzie McGuire on the Disney Channel series of the same name, recently posted to Twitter, asking her fans, "What should we watch?"
She received a variety of responses, including those who thought she should watch her own show. Somehow, her replies turned into a safe space for The OA fans asking her to please watch show, complete with helpful gifs.
In many replies, fans included the hashtag that is being used to draw attention to the show in hopes that it'll be picked up by another network.
The replies continue, suggesting the Younger actress check out the show, and it's a testament to how dedicated The OA fans are that they'd camp out in the reply section to ask Hilary Duff to give the sci-fi series a shot. There are enough replies under her original question that the actress is sure to take notice. The OA influence is definitely strong.
In August, Netflix confirmed that The OA was being cancelled. Fans were understandably upset, as the show had built up a very passionate following and Season 2 ended on a massive cliffhanger. To add salt to the wound, the streaming service, along with series creators Brit Marling and Zal Batmanglij, also confirmed that The OA would not be getting a two-hour series finale movie like Sense8 once did. Marling and Batmanglij believed that a two-hour finale would not be enough time to tie up any of the series' loose ends.
Although Netflix has saved a multitude of shows from other networks, it wasn't inclined to save its own. Just this year, the streaming giant cancelled Santa Clarita Diet, Designated Survivor and One Day at a Time, among many others.
The OA will simply have to live on in the hearts of fans, but as Twitter has shown us, even celebrities can get wind of shows. If Hilary Duff binges both seasons of the show, she won't be able to save it, but at least fans would've ensured The OA's legacy would live on.
Although The OA was cancelled, it's still available to stream on Netflix.
Your Daily Blend of Entertainment News
Thank you for signing up to CinemaBlend. You will receive a verification email shortly.
There was a problem. Please refresh the page and try again.