How Peaky Blinders Season 5 Is Different From Season 4, According To Cillian Murphy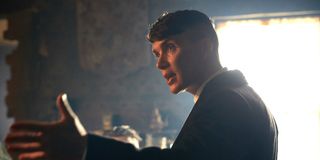 It's been two years since Season 4 of Peaky Blinders, but the series is finally coming back to Netflix with a fifth season. However, don't expect the British series to be dealing with the same things it did in Season 4. The last time we saw Tommy Shelby, played by Cillian Murphy, he had been sworn in as the new leader of the Labor Party Parliament. In Season 5, Murphy promises that the show will explore a new angle.
Tommy Shelby is first and foremost a British gangster, but now that he's also a member of parliament, Peaky Blinders will see some big changes in Season 5. The first thing being that the season is set in 1929, four years after Tommy became the Labor Party Parliament leader.
Speaking with UPI, Cillian Murphy, who played Scarecrow in The Dark Knight trilogy, says that fans should expect Tommy to be dealing with some personal turmoil. Whereas Season 4 focused heavily on Tommy as a gangster, Season 5 will be more centered around the politics of the era.
Cillian Murphy also stated that, while Peaky Blinders will head into more political territory, it's not necessarily meant to serve as commentary on current political issues. That's interesting, especially considering that Peaky Blinders will introduce Sam Claflin's Oswald Mosley, a real-life fascist who will appear in Season 5.
Sometimes, actors grow tired of being on a show for so long, especially if the writing falls short. Thankfully, Cillian Murphy is just as excited to continue playing Tommy Shelby as fans are watching him.
Peaky Blinders Season 5 aired in the United Kingdom earlier this year. After such a long wait between seasons, the period drama's fifth season just became available to stream on Netflix for U.S. fans on Friday, October 4.
Want to know what else is back this fall? Be sure to check out our complete fall TV guide for the premiere dates and times for every new and returning show through November.
Your Daily Blend of Entertainment News