Netflix's When They See Us Targeted For Lawsuit Over Interrogation Scenes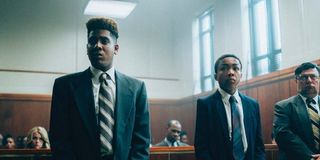 Ava DuVernay's When They See Us, which premiered on Netflix in May, offered a compelling exploration of the Central Park Five. The story followed the lives of five African American teenagers who were falsely accused and convicted of raping a woman in Central Park in 1989. While they've since been released and renamed the Exonerated Five, DuVernay and Netflix are facing a lawsuit over the interrogation scenes depicted in When They See Us.
According to Variety, Ava DuVernay and Netflix are being sued by the firm John E. Reid and Associates for the miniseries' portrayal of the Reid Technique, which is an interrogation technique the firm created back in the 1940s and have trained other police agencies in for decades. Reid is a psychologist and a former officer with the Chicago police. He passed away, but the organization carried on with licensing the technique and training law enforcement agencies.
Although it's a popular and widely used law enforcement method, the Reid Technique has been severely criticized for apparently pressuring the interrogated into making wrongful confessions. In Episode 4 of When They See Us, the Reid Technique is mentioned when Detective Michael Sheehan is accused of questioning the Central Park Five without food and water, thus leading to the young men incriminating themselves in a crime they didn't commit.
Here's what the lawsuit states regarding the Reid Technique's portrayal in When They See Us:
In the miniseries, it's stated that the Reid Technique is "universally rejected," which the lawsuit states is incorrect. The lawsuit also claims that Netflix's When They See Us has worked to ruin the reputation of John E. Reid and Associates and is requesting that Netflix be stripped of their right to stream the series and for the streaming giant to repay any money made from the series. The lawsuit and is also seeking punitive damages for the misrepresentation of the Reid Technique.
Earlier this year, former NYPD detective Eric Reynolds, who arrested two of the five teenagers in 1989, claims that the portrayal of the Central Park Five arrests and events as depicted in When They See Us is "not what occurred" and that it's "so preposterous that it's laughable.'' For more information about the lawsuit, you can read the entire document.
While this lawsuit threatens the livelihood of the series, When They See Us remains a Netflix staple, garnering a large number of viewers and positive critical acclaim. It's now also an Emmy Award winning series and became the most-watched Netflix series in the US.
When They See Us is currently available to stream on Netflix. For more TV premieres, be sure to check out our handy guide to every new and returning show coming this fall.
Your Daily Blend of Entertainment News