Netflix's The Witcher: What We Know So Far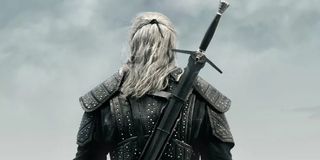 Everyone wants the next Game of Thrones. If things go well, Netflix might find it with their latest fantasy tale, The Witcher. Based on the book series of the same name by Andrzej Sapkowski, as well as the video game series which began in 2007, the streaming service has a lot riding on this expensive new show. Especially with their recent financial woes. From what we know about the forthcoming show, which is expected to drop in only a few months, there's a good chance it will attract a sizable crowd.
Thanks to a promising trailer and a few character photos, we have a decent idea of what we might expect from this ambitious new streaming show. But with the anticipated drop date arriving sooner as opposed to later, let's round up all we know about this forthcoming new series and get a glimpse of what we might expect from this lofty Netflix spectacle. After all, there are lots of TV viewers eager and hungry for the next big TV event. Perhaps this is it.
When Will The Witcher Season 1 Be Released On Netflix?
The Witcher's first season is finally getting some headway. After seeing early footage and trailers and waiting several months, Netflix announced last week that The Witcher will be premiering on December 20, 2019. This ties into what we knew earlier about the series; mainly, that the show was expected to premiere in Netflix's fourth quarter of this year. The rumor mill previously suggested the show would be hitting the service in mid-to-late December, mainly based on a series of since-deleted tweets from Netflix's Netherlands Twitter account indirectly referencing a nearing premiere launch.
This official Netflix Twitter account released, then deleted, a tweet on September 11th claiming that The Witcher was set to premiere in 97 days, which would be on December 17th by the account's estimation. As it turns out, that wasn't too far off, as we will be able to expect the streaming show's much-anticipated first season to arrive before the year draws to a close. If this rumored release date is true, Netflix will provide an early Christmas gift.
Who Has Been Cast In The Witcher?
Henry Cavill has made no secret about his desire to appear in Netflix's The Witcher. The high-profile actor actively campaigned for a part while he was out-and-about promoting Mission: Impossible - Fallout, and it didn't take long before Cavill signed a deal to star in the expensive new series. But the (former?) Superman star is certainly not the only actor who'll appear in the show — even though it's safe to say that he's among the most high profile.
In addition to Henry Cavill, The Witcher will also star Freya Allan, Anya Chalotra, Jodhi May, Björn Hlynur Haraldsson, Adam Levy, MyAnna Buring, Mimi Ndiweni, and Therica Wilson-Read. Originally, Millie Brandy was cast as Princess Renfri, while Rebecca Benson was cast as Marilka. During reshoots on the pilot, however, plans changed. It was revealed shortly thereafter that Emma Appleton was cast as Renfri, while Mia McKenna-Bruce nabbed the role of Marilka, respectively. Nothing has been made public about why these two characters got recast. Sometimes, though, these things will happen.
Who's Behind The Scenes For The Witcher?
When it comes to its Netflix adaptation, The Witcher is created by Lauren Schmidt. You might not recognize that name instantly, but there's a good chance that you're familiar with the shows where she played a creative hand. Schmidt got an early start writing for The West Wing, then wrote for shows like Private Practice, Parenthood, Power, Daredevil, The Defenders, and, most recently, The Umbrella Academy. Safe to say, she has played a hand with creating some of the biggest Netflix shows of the past few years. That's likely what helped get her foot in the door for this ambitious new show.
Additionally, The Witcher has benefited from having some heavy-hitters in the director's chair. The pilot is believed to be directed by Alik Sakharov, which is, again, another name you might not recognize, but you probably know the work. Sakharov is a cinematographer and director who has worked on some great shows, including Dexter, Boardwalk Empire, The Americans, Game of Thrones, Chicago P.D., Ozark, and House of Cards. He has been a hard-working helmer who has been given one of his biggest gigs to date working on this high-profile program.
Additionally, the show also has fellow TV directing veterans Alex Garcia Lopez, Charlotte Brandstrom and Marc Jobst on board to call the shots on a few episodes in the first season.
What Have We Seen So Far?
Quite a bit, actually. The full trailer can be viewed above, which should give you an idea of what will be coming in the series, or you can look into the plot below. A teaser trailer was also released earlier in 2019.
What Is The Plot Of The Witcher?
Similar to the books and video games that proceed it, The Witcher is centered around Geralt of Rivia, played by Henry Cavill. This character is a hunter of monsters who specializes in killing mythical demons and fantastical creatures to make his living. His profession is one that causes Geralt to be cynical and not necessarily easy to get along with, but he does learn to help other people in need as he travels through a land known as The Continent.
That's not all that occurs as The Witcher progresses. As the show continues onward, there will be a powerful sorceress, as well as a princess who's holding on to some secrets. These two and Geralt will ultimately team together to navigate this dangerous land, which often finds the people more ravenous than the beasts.
What Will The Witcher Be Rated?
At the moment, there is no official rating for The Witcher in place. There is very good reason to believe that the upcoming series will be strictly in the MA territory. At Comic-Con for example, fans were treated to a scene that briefly-but-intensely focused on a dead baby, for example. Much like Games of Thrones, there is expected to be a lot of violence, sexuality, nudity and gore throughout the series. Whether or not it is as graphic or extreme as that aforementioned HBO show tended to be is still a bit unclear.
It should be noted that The Witcher — so far as we can tell, at least — should be treated like a hard R property. After all, if Netflix has the means to go big and make something sensationally sex-filled and bloody, the streamer will go for it.
Netflix has traditionally sided closer to HBO than Disney when it comes to their content. While they have a fine selection of child-friendly entertainment, they do like to make mature, R-rated projects, which are typically the type of shows that wouldn't be made under Disney's looming umbrella. Keeping that in mind, it would seem highly likely that The Witcher will lean into the adult material and make an epic show that earns its MA. Hopefully, it's for the best.
Geralt of Rivia (Henry Cavill)
As mentioned earlier, Henry Cavill's Gerald of Rivia is a specialist in the art of hunting mystic and exotic creatures. In the world he lives in, this isn't quite as magical or fantastical as it would be for us, though. It's a living, same as anything, and he does it well enough to make some money and roam the land. As a result, though, he hasn't grown to trust people throughout the process. It's only when he becomes acquainted with the other characters we'll meet throughout the series that Geralt finds himself less grizzled and more open to working / connecting with other people in this mythic land.
It's hard to know how closely Netflix's The Witcher will follow either the books or the video games when it comes to the portrayal of this character. As we have learned from countless examples over the years, movie / TV adaptations are only occasionally faithful to their source material. Whether it's the text or its video game counterpart, it's apparent that when you transition a story from one medium onto another, it won't always be a complete shift.
Was The Witcher Always Meant To Be A Show?
At one point, there were conversations about turning The Witcher into a movie, perhaps even a franchise. In this instance, though, the initial talks were arguing whether it would work as a standalone film. As it was reported by Publisher Weekly, however, Kelly Luegenbiehl, who is the Vice President of International Originals over at Netflix, made a suggestion: what if The Witcher became a series instead of a show? After all, there was a valid question that was asked in this process: how do you turn eight books into one film? With the amount of material at hand, there was more potential with a show.
With that, it would seem that the ball got rolling on a streaming television show based on the material, rather than simply a stand-alone movie. While it's hard to know if it would've simply been one movie, as there always seem to be franchise plans in Hollywood these days, it was apparent that a big gap in genre television was about to be made by Game of Thrones' coming exit.
While the show probably doesn't want so many comparisons to that massive HBO series, it's hard not to make them; with the fantasy aspects of the two shows being likely to appeal to similar audiences. And, surely, there were major Netflix executives who were thinking about the bigger picture here, and how The Witcher could fit in to the fan gap created by GOT leaving the airwaves.
With that, we should expect some big things from Netflix's The Witcher. We'll continue to keep you updated on the latest info as the show draws near.
Will is an entertainment writer based in Pittsburgh, PA. His writing can also be found in The Playlist, Cut Print Film, We Got This Covered, The Young Folks, Slate and other outlets. He also co-hosts the weekly film/TV podcast Cinemaholics with Jon Negroni and he likes to think he's a professional Garfield enthusiast.
Your Daily Blend of Entertainment News
Thank you for signing up to CinemaBlend. You will receive a verification email shortly.
There was a problem. Please refresh the page and try again.