John Stamos Responds To Prince Eric Mix-Up On The Little Mermaid Live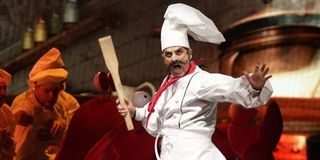 The thrill of live television is that anything can happen, and John Stamos seemingly felt some of that pressure during The Wonderful World of Disney Presents The Little Mermaid Live! During his musical performance of "Les Poissons" as Chef Louis, Stamos flubbed one of his lines and hilariously named the wrong prince. The audience caught the mix-up, too, and the actor later responded, owning up to the unintentional error.
John Stamos went all out while playing The Little Mermaid Live's Chef Louis, the energetic head cook who has it out for Sebastian (and all other crabs). Stamos' performance was genuinely fun and hilariously theatrical. But it seems he lost himself in the performance enough to mess up a key line: "I knew I should have played Prince Albert!"
How could John Stamos forget the name of Ariel's iconic Prince Eric? After all, Prince Albert isn't even a character in The Little Mermaid, but rather the subject of an ages-old joke. Caught red-handed, Stamos responded to a fan on Twitter who asked if he did actually say "Prince Albert."
While John Stamos corrected the line immediately after the goof, fans had already taken notice. The viewer that Stamos responded to didn't even seem annoyed by it; they included a bunch of clapping emojis. If anything, it the slip-up seems to have given everyone something to chuckle about during the live telecast.
It's all good though, because it ended up being a fun gag and not a colossal fuck-up that ruined the show. (Shaggy's Sebastian portrayal, for example, got much harsher heckling on social media.) Stamos' goof ultimately added more humor to Chef Louis' character, so no harm, no foul.
If this was still a rehearsal, though, the former Full House actor might have blamed his cute one-year-old son, who interrupted the first rehearsal of The Little Mermaid Live! But this was all on John Stamos' slip of the tongue.
To be fair, John Stamos delivered the line with such zealous energy that most viewers believed it to be an intentional ad-lib. Graham Phillips' Prince Eric, who actually got his own song, didn't take offense, either, and the show went on.
In addition to John Stamos, The Little Mermaid Live! starred Auli'i Cravalho as Princess Ariel, Queen Latifah as Ursula the sea witch, and the aforementioned Shaggy as Sebastian the crab. The live musical did something a bit different than its spiritual predecessors, though. It combined footage from the 1989 animated movie with the live stage musical, and yes, it turned out to be just as magical as it sounds.
Stay tuned to CinemaBlend to see how The Wonderful World of Disney Presents The Little Mermaid Live! did in ratings. In the meantime, be sure to check out our complete guide to every new and returning show premiering through the end of November.
Your Daily Blend of Entertainment News
Thank you for signing up to CinemaBlend. You will receive a verification email shortly.
There was a problem. Please refresh the page and try again.