Amazon's The Boys Canceled Filming A Scene That Was Deemed Too 'Disrespectful'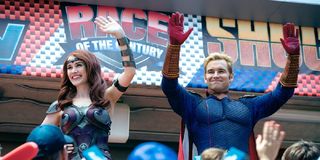 Amazon Prime Video's The Boys, the popular drama about a group of superheroes who are actually corporate supervillains, is incredibly dark, which is part of what makes the series so compelling. However, not every idea that the creative team has ends up making it into the episodes. During production on Season 2 of The Boys in Toronto recently, one scene was canceled completely after being deemed too "disrespectful."
In early November, The Boys was scheduled to film a scene in Mel Lastman Square in Toronto, Canada. The scene was allegedly set to involve one of the Seven attacking a crowd of people that included 450 extras. The onscreen attack would reportedly result in people screaming and running away from the fictional bloodshed.
Toronto Councillor John Filion got word of what the scene entailed and was not happy about it. Filion cited the heinous van attack from April 2018 as the main reason why he made sure to curb that scene's filming before it began. In his words:
The van attack, which killed ten people and injured 16 others, occurred when driver Alek Minassian drove his van onto a sidewalk on Yonge St. and Finch Ave. and plowed into pedestrians. Minassian was later charged with multiple counts of first-degree murder and attempted murder.
Councillor John Filion was asked by the Toronto Sun whether he had simply wanted to avoid confusing Toronto's citizens while the scene filmed. Here's how Filion explained it:
According to the City of Toronto spokesperson Brad Ross, local residents complained about the scheduled filming. It's unclear whether or not The Boys showrunner Eric Kripke had to rework the scene's content in some way, or if the crew will find someplace else to film the sequence, but John Filion clearly put his foot down, putting Toronto residents' mental well-being first.
Eric Kripke, who also created Supernatural, is definitely drawn to dark themes, blood, gore and the diabolical. So, it's not surprising that his well-received The Boys, which received a lower Nielsen rating than expected, includes all of that and more — and I mean wayyyy more. However, this isn't the first time The Boys has had to cancel or cut a scene because it was way too much, even for this show.
During Season 1, the showrunner said no to one wild sex scene that involved an "ice man having sex with a woman doggy-style when she's wearing a fur coat." Amazon higher-ups also said "fuck no" to another graphic scene that involved Anthony Starr's Homelander jerking off on the streets of New York City. They asked Eric Kripke to cut it because they didn't think it was "necessary" to include it.
The Boys' Karl Urban recently posted about wrapping his work on Season 2, but don't expect the show to be back until sometime next year. In the meantime, be sure to check out our complete guide to every new and returning show premiering through the rest of 2019.
Your Daily Blend of Entertainment News
Thank you for signing up to CinemaBlend. You will receive a verification email shortly.
There was a problem. Please refresh the page and try again.