Amazon's The Boys Gets First Nielsen Ratings Data, But It's Lower Than Expected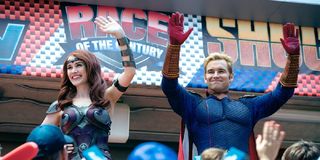 Two weeks after The Boys premiered on Amazon's Prime Video this summer, the streaming service boasted that the series was one of their most-watched shows. That obviously set a high ratings standard, even though Amazon had not released the actual number of viewers to the public. However, Nielsen recently revealed the number of people who watched The Boys on Amazon and the viewership numbers are much lower than expected. The company has reported that The Boys was watched by a total of 4.1 million viewers in its first ten days of release.
Historically, streaming services have managed to keep their viewership numbers a secret, rarely releasing any information about ratings or how these ratings are measured. Like Netflix, it was hard to take Amazon seriously when it announced that The Boys was one of their most-watched shows when they never offered the numbers to back up that claim.
However, Nielsen, the ratings system that measures how many viewers watch TV, has recently rolled out their SVOD Content Ratings system, which measures ratings via streaming and they've added Amazon to their measurements system. Considering Amazon's hype over the ratings for The Boys, many were surprised when Nielsen released (via The Hollywood Reporter) these surprisingly low numbers for the series.
Technically, it might not be bad for Amazon's Prime Video service, but it's also much lower than any of the viewership numbers Netflix reported for its top ten most-watched shows in the last year. However, there are other factors to take into account. For one, the SVOD Content Ratings system doesn't factor in any international viewership, which would certainly boost the reported numbers. There's also the fact that Netflix released its own numbers, which could be inflated given that no third party was involved.
The Boys Season 1, which flips the script on superheroes and turns them into corporate-backed villains, premiered on Amazon's Prime Video on July 26. Its premiere drew in an average of 6 million viewers in the first ten days of release, while an overall 8 million viewers watched at least a few minutes of the show in that same time period.
Basically, The Boys isn't on par with how many viewers watched Season 3 of Stranger Things (a whopping 64 million viewers), but it also had a much higher viewer count than House of Cards' final season. Nielsen's SVOD Content Ratings are good to have even for traditional networks, because viewers are no longer watching live that often.
Now that even the Big Four networks are branching out to launch their very own streaming service platforms — NBC's Peacock, CBS All Access, etc. — the SVOD system will hold them accountable to reporting accurate ratings numbers. I'm hoping SVOD finds a way to also add Netflix to its measurement system so the reporting becomes standardized and fair.
You can currently stream Season 1 of The Boys, which has already been renewed for Season 2, on Amazon Prime Video. Need more TV shows to watch? Be sure to check out our complete TV list of every new and returning show premiering through November.
Your Daily Blend of Entertainment News