Could Marvel's Russo Brothers Return To The MCU For A Disney+ Series?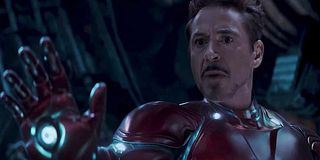 It's no secret that Joe and Anthony Russo directed some of the biggest films in the Marvel Cinematic Universe, and of all time. While they've moved onto more dramatic genre films like the upcoming 21 Bridges, Disney+ opens up a whole new world for the MCU to explore. Does that mean the Russo Brothers could return to direct a future Disney+ series set in the MCU? As busy as they are, they apparently wouldn't be against it.
After directing the ensemble-driven behemoths that were Avengers: Infinity War and Endgame, the Russo Brothers haven't yet gotten bored of playing in Marvel's sandbox. While they have several new projects lined up to keep them occupied for a while to come, they're still up for continuing their working relationship with the studio.
When asked what Disney+ show they'd like to direct, the Russo Brothers already had an answer at the ready.
Moon Knight, which was announced at Disney's D23 Expo in August, doesn't yet have a scheduled premiere date or filming schedule, which works in the Russos favor as far as timing goes. The character, who also goes by Marc Spector, is a fan-favorite character in Marvel's comic history, and there are several actors who would be perfect for the role.
While Anthony and Joe Russo definitely have their hands full right now according to their interview with Inverse, I'm sure Marvel and Disney would jump at the chance to have them direct a MCU property again when the opportunity presents itself. After all, Moon Knight is only one of the many series Disney+ has in store.
The Russo Brothers sure do have something special going with Marvel. They're the only directors to have helmed four of the 20+ films in the MCU over the last several years. Plus, they were in charge of some of the biggest game-changers of the MCU, including Captain America: Civil War. Granted, Winter Soldier was their only feature ostensibly tied to just one hero, but maybe they're itching to get back to something more small scale with a show like Moon Knight.
Just because the directors aren't working directly with Marvel right now doesn't mean that they haven't been working alongside some of the most famous MCU actors. While they only produced 21 Bridges, it does star Black Panther's Chadwick Boseman, while their upcoming flick Cherry reunited them with Spider-Man: Far From Home's Tom Holland.
Marvel clearly likes them and their creative vision, so it wouldn't be surprising if the Russo Brothers took to directing a limited MCU series for the new streaming service at some point in the future. The possibilities are endless!
Stay tuned to CinemaBlend for more information on the Russo Brothers and Moon Knight. In the meantime, be sure to check out all of the TV shows and movies that are now available to stream on Disney+.
Your Daily Blend of Entertainment News
Thank you for signing up to CinemaBlend. You will receive a verification email shortly.
There was a problem. Please refresh the page and try again.