Why The Vampire Diaries' Ian Somerhalder Returned To Vampire TV For Netflix's V Wars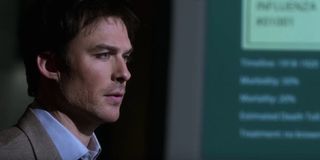 Ian Somerhalder didn't immediately return to television after The Vampire Diaries ended in 2017. So, it was a bit surprising to learn that his next TV project, Netflix's V Wars, would have him playing yet another vampire. While playing a bloodsucking creature isn't a foreign concept to Somerhalder, he explains why he decided to return to the world of vampires for V Wars, and it wasn't just because his wife co-stars.
Before signing onto Netflix's latest series, Ian Somerhalder says he was a bit apprehensive about reentering the world of vampires. However, the Netflix show was a far cry from his work on The Vampire Diaries, so Somerhalder felt better about it. Here's what he had to say about his decision to star in the show:
V Wars, based on the critically-acclaimed novel series by Jonathan Maberry, follows two best friends who are pitted against each other after a virus begins turning people into vampires. When Ian Somerhalder discusses the groundedness of this series, it's because the plot combines disease with climate change, both of which are very realistic topics. The difference between playing a vampire and a scientist seemingly helps as well.
Speaking with ComicBook.com, Ian Somerhalder explained how meaningful it was for him to play a character who was more connected to the real world and how important it is to showcase a scientist as a kind of superhero, as well.
Playing scientist Dr. Luther Swann definitely offers the actor new material to work with. Bonus points for not having to worry about working in a smoldering vampire stare, which is a great change of pace.
V Wars isn't the only vampire-related show Ian Somerhalder might have in store, though. The actor has expressed an interest in directing Legacies, The Vampire Diaries spinoff. Though he no longer wants to play Damon Salvatore, it seems vampires continue calling to him regardless.
Netflix's V Wars will be available to stream on December 5. For more on what to watch, be sure to check out our complete TV guide to see what's premiering through the end of the year and mark your calendars for all the 2020 midseason premieres.
Your Daily Blend of Entertainment News