What The Vampire Diaries Cast Has Been Up To Since The Show Ended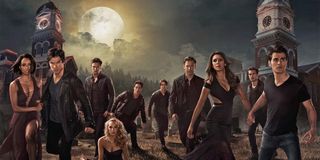 The hit CW series The Vampire Diaries ran from 2009 to 2017, starring Ian Somerhalder and Paul Wesley as the vampire brothers Damon and Stefan Salvatore, who found themselves both in love with the same human girl, Elena Gilbert (Nina Dobrev). The romantic drama's cast evolved quite a bit over the series' eight seasons, with supporting characters like Candice King's Caroline Forbes, Matthew Davis' Alaric Saltzman, and Michael Malarkey's Enzo St. John later becoming leads. The Vampire Diaries kept a rotating door of heroes and villains all through its run, accumulating a long list or recurring characters and guest stars.
Years after its final season aired, The Vampire Diaries remains a global hit with diehard fans who bing-watch the series on streaming platforms, attend Vampire Diaries conventions, create fan art, and debate whether they are team Delena or Stelena. The Vampire Diaries reached its 10-year anniversary in September 2019, and as a tribute, let us catch up with some of The Vampire Diaries' cast members to see what they're up to now. This post does contain details and plotlines from The Vampire Diaries Season 1-8, so expect spoilers.
Ian Somerhalder (Damon Salvatore)
Ian Somerhalder played Damon Salvatore, the older and more dangerous Salvatore brother. Reckless, passionate, and a bit mad, Damon would do anything for those he loved, and he loved no one more than Elena and Stefan. The Vampire Diaries ended with Damon and Elena living a long and happy human life together, and upon death, he reunited with Stefan.
An environmental activist, Ian Somerhalder took a slight post-TVD break from the world of acting to enjoy married life with Nikki Reed, who starred in that other vampire franchise on the big screen. In July 2017, the couple welcomed their first child, daughter Bodhi Soleil. In April 2018, Netflix announced plans to adapt V-Wars, a thriller based on Jonathan Maberry's comic about a vampiric disease outbreak that leads to a war amongst humans, with Somerhalder serving as lead and executive producer. He will be fighting the vampires this time, rather than feeding alongside them.
Paul Wesley (Stefan Salvatore)
Paul Wesley played The Vampire Diaries' tortured soul Stefan, who had a ton of doppelgängers that ended up with Elena's doppelgängers. In this lifetime, Stefan ended up with Caroline for a short stint of happiness, but then he moved on to the other side.
Around the end of The Vampire Diaries, Paul Wesley took the director's seat for a while, helming a few TVD episodes before directing an episode of Shadowhunters, Rosewell: New Mexico, and the vamp-laden spinoff Legacies. Wesley also acted in a few short films before reuniting with former Vampire Diaries showrunner Kevin Williamson for his CBS All Access series Tell Me a Story. The anthology series twists classic fairytales by giving them dark, modern takes. Paul Wesley stars in Tell Me a Story Season 2, which begins streaming on CBS All Access on December 5.
Nina Dobrev (Elena Gilbert)
Nina Dobrev portrayed Elena Gilbert (and her most infamous doppelganger, Katherine Pierce) from Seasons 1-6 of The Vampire Diaries, having decided not to renew her contract after the sixth season. The Vampire Diaries continued for two more seasons without Elena or Katherine, but she inevitably returned during the series finale, giving Elena and Damon their long-awaited happy ending.
Since leaving the series in 2015, Nina has taken on more film roles in projects such as The Final Girls, Then Came You, xXx: Return of Xander Cage, and the Flatliners reboot. In 2019, Nina Dobrev made her return to the small screen on the CBS sitcom Fam, which was unfortunately cancelled after one season. Dobrev also has two movies being released in 2019, Lucky Day and Sick Girl, and she recently signed on to become a beauty partner with Dior.
Candice King (Caroline Forbes)
Candice King was a queen of a sensible vampire until towards the end of The Vampire Diaries. Caroline Forbes concluded her run on the show as a happily married vampire with two witch children. Unfortunately, Caroline's marriage to Stefan ended when he died, after which she created a school for witches with her ex-fiancé, Alaric. Yeah, Caroline lives a complicated life
Candice King returned to The Vampire Diaries world briefly as a recurring character on The Originals' final season, which gave Klaroline fans the long awaited reunion of Klaus (Joseph Morgan) and Caroline. King also appeared on an episode of The Orville, though fans are desperately hoping for her arrival on Legacies. King has one movie in post-production, After We Collided, based on the 2014 young adult novel by Anna Todd. Besides acting, Candice King has a podcast called Directionally Challenged, a pop culture and lifestyle program geared towards 20- and 30-something women. She co-hosts with former Vampire Diaries co-star Kayla Ewell (Vicki Donovan).
Kat Graham (Bonnie Bennett)
Kat Graham played resident badass witch Bonnie Bennett, who went through many trials and tribulations during her Vampire Diaries run. The final one was watching her boyfriend Enzo dying, though Bonnie got a happy ending by riding off into the sunset to travel the world, with Enzo's ghost closely watching.
Since leaving The Vampire Diaries, Kat Graham has appeared in several movies, including the Tupac biopic All Eyez on Me, and the Netflix original movie The Holiday Calendar. Graham currently has three movies listed for 2019 releases, Cut Throat City, The Poison Rose, and another Netflix holiday original The Knight Before Christmas. She is also currently filming a movie called Emperor about escaped slaves traveling north, based on the life story of Shields Green. On the small screen, Kat Graham lends her voice to April O'Neil in the animated series Rise of the Teenage Mutant Ninja Turtles.
Zach Roerig (Matt Donovan)
Matt Donovan survived eight seasons of The Vampire Diaries as the last human in Mystic Falls, or at least that's how it felt. Star Zach Roerig managed to keep Matt alive throughout The Vampire Diaries, The Originals, and Legacies.
Zach Roerig continues to play Matt Donovan on other Vampire Diaries-related series, having appeared on multiple Legacies episodes in Season 1. Roerig also had a short stint as Pulse on the Marvel Fox series The Gifted, and in January, he joined the cast of USA's Dare Me, the television adaptation of the best-selling novel of the same name by Megan Abbott. Dare Me is about the extremes two best friends go through to outwit and outperform each other, and is set to premiere on USA on December 29.
Michael Trevino (Tyler Lockwood)
Michael Trevino played Tyler Lockwood, a werewolf-turned-hybrid on The Vampire Diaries. Tyler found himself burdened by the werewolf curse only to get relieved of it by becoming a hybrid, but was then under Klaus's control. Tyler died a few times before actually dying (via Damon) during The Vampire Diaries Season 8.
Michael Trevino followed up his Vampire Diaries world with a few short and feature films, and he then joined the cast of The CW's Roswell reboot series, Roswell: New Mexico. The drama is an alien-human love story very loosely based on the Roswell, New Mexico UFO incident of 1947, but this version also has an immigration focus. Trevino is currently filming Roswell: New Mexico Season 2, which is set for a March 2020 release on the CW.
Matt Davis (Alaric Saltzman)
Matt Davis ended his Vampire Diaries run with Alaric and Caroline opening a school for children with powers—mainly so their twin daughters, Josie and Lizzie, could have a place to learn. Not an accomplishment that most fathers can boast, that's for sure.
Matt Davis has stayed close to the Vampire Diaries world with guest appearances on The Originals, and perhaps most importantly by playing the main crossover role in Legacies. Also in 2019, Davis starred in a Hallmark Channel Christmas movie called Christmas Wishes and Mistletoe Kisses.
Michael Malarkey (Enzo St. John)
Enzo joined The Vampire Diaries as the big bad of Season 5, but became a main character from Season 6 through the series finale capping Season 8. Michael Malarkey gave Enzo the sincerity that he needed to become a reformed baddie that fans could root for, and also one they could hope would get a fairytale ending with Bonnie. As is The Vampire Diaries way, Enzo passed on but not before ensuring that Bonnie lived a full life without him.
Michael Malarkey recently appeared as a recurring character on the Crackle original series The Oath, which reportedly isn't returning for another season. The actor also has a lead role on the History Channel drama Project Blue Book, which is set to kick off Season 2 in January 2020.
Steven R. McQueen (Jeremy Gilbert)
Steven R. McQueen starred as Elena's little brother Jeremy for The Vampire Diaries Seasons 1-6, at which point he left Mystic Falls in The Vampire Diaries Season 6 to hunt vampires. The actor made a return not only during the TVD series finale, but also for a guest role on Legacies.
After leaving Vampire Diaries, Steven R. McQueen had a lead role on Chicago Fire, with guest appearances on Chicago P.D. Since leaving the Chicago drama world, McQueen has appeared in a couple of short and made-for-TV movies, including the Hallmark Channel original Home by Spring. Steven R. McQueen will soon star opposite Justified's Neal McDonough in the Civil War western The Warrant, which is set to debut on January 1, 2020.
The end of The Vampire Diaries allowed the youthful cast members to continue to thrive in their respective careers. And if you're starting to miss The Vampire Diaries world, make sure to tune into the CW spin-off Legacies, which usually has a familiar Vampire Diaries face or two stopping by from time to time.
Spent most of my life in various parts of Illinois, including attending college in Evanston. I have been a life long lover of pop culture, especially television, turned that passion into writing about all things entertainment related. When I'm not writing about pop culture, I can be found channeling Gordon Ramsay by kicking people out the kitchen.
Your Daily Blend of Entertainment News
Thank you for signing up to CinemaBlend. You will receive a verification email shortly.
There was a problem. Please refresh the page and try again.