Yes, Vampire Diaries Alum Ian Somerhalder Wants To Return To Mystic Falls For Legacies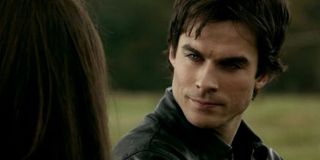 It's only been a couple of years since The Vampire Diaries ended. In TV time, though, that feels like far longer, so it's lucky for fans that the series got its own spinoff with Legacies (and The Originals). Still, as much as they're invested in the spinoff, fans always wonder whether any of The Vampire Diaries alum could appear on the show. Recently, Ian Somerhalder said he would love to return to Mystic Falls for Legacies, but in unexpected role.
Ian Somerhalder hasn't strayed very far from the land of vampires. In fact, his new Netflix series V Wars is all about vampires. Does that mean he's been unintentionally preparing for an appearance on Legacies? Unfortunately, that's not the case at all. However, Somerhalder would definitely be down to come to Legacies, just not as Damon Salvatore. Here's what he had to say about it:
Directing is a great way for Ian Somerhalder to return to a familiar atmosphere without having to step foot in front of the camera. Even if Damon returned, Legacies creator Julie Plec would have to have a storyline lined up for him and that's probably unlikely in the show's current season.
Despite not returning to play Damon, who became human at the end of the series, Ian Somerhalder has very fond memories of his time on The Vampire Diaries. To direct an episode of Legacies would be a big deal, he told ET.
However, just because the actor won't reprise his role as Damon doesn't mean that Legacies has forgotten about the Salvatores. In fact, back in Season 1, Elena (Nina Dobrev) and Damon's daughter, Stefanie Salvatore, was briefly mentioned and there are a lot of ways that she could be introduced on the show.
Never say never about returning The Vampire Diaries characters, though, because Chris Wood's villainous Kai Parker is set to return to Legacies in Season 2. Additionally, Season 2 had a Stefan Salvatore callback, so maybe all Julie Plec really needs is for the OG cast's schedules to free up for some appearances. Fans should keep the hope alive!
Legacies airs Thursdays at 9 p.m. ET on The CW. For more on what to watch, be sure to check out our complete guide to every new and returning show premiering through the end of the year.
Your Daily Blend of Entertainment News