Ready To See Commercials When You Pause Your DVR? It's Probably Happening Soon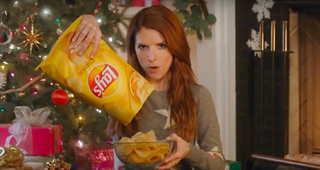 When DVRs were first introduced, they ushered in a great way to record TV shows while avoiding commercial breaks by fast forwarding through them all. But for all that consumers have become more resistant to commercials, ad companies have been working on getting more creative. AT&T, perhaps in an effort to offset its noteworthy subscriber loss this year, recently unveiled a new ad-tech that will still play commercials even when you pause your DVR. And guess what? It's probably happening soon.
AT&T's Xandr ad-tech unit has launched a new product, which is being called a "pause ad." So if a customer with a DVR decides to halt a TV show at any point while watching, commercials will start playing thirty seconds after that initial pausing.
Currently, the product has only been confirmed for DirecTV systems and other AT&T-owned video services. The pause ad process has been acquired by other companies, though AT&T didn't comment on the other advertisers, nor whether or not they were already using the service. More details are set to be revealed to the public in early 2020.
Xandr CEO Brian Lesser cites research that suggests customers prefer seeing "immersive advertising" rather than a paused image or a predetermined screen saver. In an interview with Variety, Lesser had this to say about the new pause ad:
Unsurprisingly, the CEO only had good things to say about the product he's promoting, though it will be interesting to see if the public's opinions do indeed match up with his.
Depending on one's point of view, commercials aren't always such a bad thing. For those who still watch television live – a dwindling number of people if TV ratings are anything to go by – then the commercial breaks provide time to grab snack or check your messages or hit the bathroom.
That said, if you're like me and have a DVR, then that fast-forward and pause button are pretty heavily in use. If the pause ad becomes a popular solution for revenue-hungry broadcasters, then we'll likely start seeing more commercials showing up after a slight delay, which is not what I had in mind when I started paying for a DVR.
The streaming market has made it harder for ad companies in general, of course. Part of the reason viewers flocked to Netflix was because of its no-ad promise. When Netflix tested playing commercials for their own content between one episode and the next, subscribers weren't too happy about the idea, and it was essentially scrapped. That doesn't mean the streaming giant hasn't worked in ads in other ways, like partnering with Coca-Cola to reintroduce New Coke in Stranger Things Season 3, but for now, standalone ads are non-existent on the service.
Execs from Hulu, which already has static images for ads in place on inactive screens, and NBC highly doubt that Amazon Video and Netflix's no-ad model can last forever. But it's not like companies aren't aware of audience's dwindling reception to ads. ABC, for example, has made it a point to let audiences know each show's first commercial break is only a minute long!
The pause ad might end up being a compromise between companies and customers, especially since ad companies don't seem to be giving up the fight for commercial placement. Still, surveys suggest that consumers are willing to pay more for ad-free content, so there's no telling how AT&T's pause ad will be received when and if it becomes more widely distributed. Let us know below what you think about this idea.
This poll is no longer available.
Your Daily Blend of Entertainment News