Whoa, Pedro Pascal's Mandalorian Stunt Double Is John Wayne's Grandson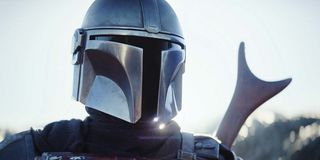 The Mandalorian, which introduced the world to Baby Yoda, is a modern-day space Western. That means stunt doubles are usually in use for many of the action scenes, even when Pedro Pascal's character is needed. It was recently revealed that Pascal was completely absent from the episode "Sanctuary," but it was an even bigger surprise to learn that Pascal's stunt double was none other than John Wayne's grandson, Brendan Wayne. Whoa!
Just when fans thought that the Disney+ series could offer no more big twists after Baby Yoda, Brendan Wayne was revealed as the man beneath the mask of the gun-slinging bounty hunter in The Mandalorian. It seems fitting, considering that his grandfather, John Wayne, is the king of Hollywood Westerns, starring in over 30 films in the genre, including El Dorado and The Man Who Shot Liberty Valance.
In fact, this isn't Brendan Wayne's first entry into the world of sci-fi Westerns, either. Wayne's credits also include stunt work for The Mandalorian producer Jon Favreau's Cowboys & Aliens. So, it seems the world of the sci-fi Western, in particular, is a draw for the stunt double.
This isn't the first time a double has disguised his face by wearing a helmet in Star Wars. Darth Vader was famously voiced by James Earl Jones throughout the original Star Wars trilogy, but when Vader's unmasking occurred, it was Sebastian Shaw beneath the helmet. It's not exactly the same thing as Brendan Wayne and Pedro Pascal's situation, but it's probably safe to say that Shaw wasn't always beneath Vader's mask either.
When it came to crafting The Mandalorian's Season 1 episode "Sanctuary," director Bryce Dallas Howard says she worked very closely with Brendan Wayne. (Pedro Pascal was off doing rehearsals for King Lear on Broadway and was completely absent from the episode.)
Brendan Wayne, who wore the titular character's armor throughout, says he worked on every episode of The Mandalorian and is currently doubling for Pedro Pascal in Season 2. That's not to say that Pascal was never on set. Wayne told Vulture that he worked alongside Pascal to match their movements onscreen.
Though it's quite easy for Pedro Pascal to leave his character in the capable hands of Brendan Wayne, it's good to know that he's around enough to inform the characterization of The Mandalorian.
New episodes of The Mandalorian are available on Disney+ every Friday. As The Mandalorian's first season draws to a close, be sure to check out what TV shows are set to premiere in the winter and spring in our 2020 midseason schedule.
Your Daily Blend of Entertainment News