11 Shows You Should Stream If You Like Amazon's The Expanse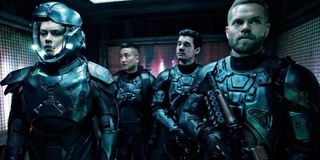 Last December saw the return of the acclaimed science-fiction series The Expanse, originally airing on Syfy before Amazon Prime picked it up for its current fourth season. Inspired by a series of novels by James S.A. Corey, the show chronicles one interplanetary ice freighter crew's reluctant struggles to maintain peace among the colonized Solar System in the wake of conspiracy that threatens humanity.
Praised as one of the smartest sci-fi shows on TV today, and even earning comparisons to Game of Thrones, The Expanse has already been renewed for a fifth season on Amazon Prime. But, until then, what will fans cling to as they await the continuing adventures of the Rocinante?
To put people at ease during the hiatus, we have taken the liberty of combing through our favorite streaming services to find TV shows that may appeal to fans of The Expanse, in terms of aesthetic, theme, character motivation, etc. Take note!
Altered Carbon (Netflix)
For its suspenseful tone, The Expanse is often credited as a neo noir thriller, or, even more accurately, tech noir. Netflix has delved into this hybrid of detective fiction with dystopia a number of times, such as with series like Better Than Us, Duncan Jones' mystery film Mute, and especially, the Blade Runner-esque show Altered Carbon.
In a world in which human consciousness can be converted into digital storage, former soldier Takeshi Kovacs is uploaded into a new body (Suicide Squad's Joel Kinnaman) with a mission to solved the murder of a wealthy industrialite (James Purefoy), a task given to him by the digitally resurrected man himself. The first season of Altered Carbon, set to return with MCU star Anthony Mackie as Kovacs' next surrogate body, is an intriguing cyberpunk mystery as exciting to follow as it is a wonder to look at. Stream it here.
The Boys (Amazon Prime)
Conspiracy is a central theme to The Expanse, as James Holden (Steven Strait) and his crew become part of a resistance after uncovering a plan to kick off interplanetary war. The "war" depicted in fellow Amazon Prime original The Boys is much more Earthly, covert, and far more personal, but just as explosive, nonetheless.
Vengeful ex-CIA operative Billy Butcher (Karl Urban) is the infamous leader of the titular group of ragtag vigilantes who set out to infiltrate and expose the world's most famous superheroes, whose immoral agendas are hidden by their corporate sponsorships. As a bold indictment of comic book tropes with brutally honest satire of celebrity influence, The Boys (the second season of which is on its way) paints a dark portrait of how the existence of superheroes would affect our world that is almost too real. Stream it here.
Colony (Netflix)
The Expanse imagines the tenuous consequences of interplanetary colonization, one of them being rebellion. What if your city was tyrannically colonized by beings from another planet? Would you rebel?
Such is the premise of the USA series Colony, starring Lost's Josh Holloway and The Walking Dead's Sarah Wayne Callies as a married couple on opposite sides of a resistance against the alien race that has taken over Los Angeles. Despite its cancellation after three seasons, Colony is an exciting family drama that uniquely fuses sci-fi with political intrigue. Stream it here.
Farscape (Amazon Prime)
The most admirable thing about The Expanse's main protagonist James Holden is that he assumes the position of a hopeful hero to humanity despite his reluctance of the fame and responsibility that comes with it. The main protagonist of the cult series Farscape was certainly reluctant to accept his unexpected fate as an intergalactic fugitive.
Ben Browder plays John Crichton, an astronaut forced to join a group of aliens hunted by an oppressive military race after he is accidentally thrown into a distant part of the universe under intergalactic conflict. Lasting four seasons and a conclusive miniseries, Farscape is one of the Syfy Channel's most celebrated original hits for its complex storytelling and practical effects, thanks to puppetry by the Jim Henson Company. Stream it here.
Firefly (Hulu)
The Expanse has a couple things in common with Joss Whedon's short-lived, but much loved, sci-fi series. Both are series that focus on a ragtag group of fugitive space travelers, are backed by a legion of devoted fans, and were both cancelled too soon, only Firefly had no digital streaming service to revive it in 2002. Oh well.
The Emmy-winning, groundbreaking western space opera hybrid feels kind of like a sci-fi take on The A-Team,following a crew, led by nerd icon Nathan Fillion, offering their services to those in need across the galaxy while on the run from the government. Firefly was cancelled by Fox after just 11 episodes, which led to the spin-off theatrical film Serenity, but the entire 14-episode first season is at least available on Hulu. Stream it here.
The First (Hulu)
A colonized Solar System, in which The Expanse takes place, would be a massive undertaking, considering all the time necessary to travel the unexplored reaches of space. Just going to our neighbor Mars would be more than a cake walk, as this Hulu original series demonstrates.
From House of Cards creator Beau Willimon, this one-season show chronicles the personal struggles and concerns of a crew, led by Academy Award-winner Sean Penn, selected to travel to the Red Planet, an unprecedented feat with sacrifices that some are not willing to make. The First exposes a potential darkness in the not-too-distant future with a prime goal is to make viewers feel the weight of the consequential nature of space travel. Stream it here.
Fortitude (Amazon Prime)
I do not want to spoil the essential reason as to how this psychological thriller relates to The Expanse. I will say, however, that while Fortitude at first appears like a standard crime drama, it gets really weird really fast.
When the picturesque and famously safe arctic community of Fortitude is shocked by the discovery of a brutal murder, those tasked with solving the case learn that something even more suspicious is afoot as the town continues to fall prey to increasingly horrific events. For its second season, Dennis Quaid joined the cast of this British import, whose three seasons found an American home in Amazon Prime, that checks off all the boxes of addictive dramatic TV: an atmospheric tone, evolutionary characters, and secrets that threaten the lives of many. Stream it here.
Lost In Space (Netflix)
At its core, The Expanse is a story about survival against insurmountable odds and people struggling to find a place to call home in the lonely backdrop of outer space. That is just how the Robinsons feel in their situation.
Netflix's Emmy-nominated update of the classic 1960s series follows a family selected as a test subject for the colonization of other planets, until they are thrown off course and end up stranded on a dangerous alien planet. The first two seasons of Lost In Space honors its predecessor by incorporating the same B-movie fun involving creepy aliens and bizarre robots, just with improved special effects and far less camp. Stream it here.
Mars (Netflix)
The aforementioned Hulu series The First imagines the potential dangers of a mission to Mars, while taking place almost entirely on Earth. This series from National Geographic actually shows you what perils one might face on a journey to Red Planet, while also offering an educational perspective on the manner.
From producers Ron Howard and Brian Grazer, Mars is an intriguing fusion of scripted drama with documentary, featuring interviews with the likes of Neil DeGrasse Tyson and Elon Musk, as it also follows a fictional crew looking to colonize the titular planet in the near future. In that respect, its three-season story could almost be perceived as a prequel to The Expanse. Stream it here.
The Orville (Hulu)
Yes, I am aware that this is essentially a Star Trek send-up from the mind of Seth MacFarlane. However, after all the intense, complex drama on The Expanse, couldn't you maybe use a little comic relief?
The Orville, which is officially moving to Hulu for its third season, takes its name from the ship of bumbling space explorers led by Capt. Ed Mercer (creator Seth MacFarlane) who often butts heads with second-in-command, his ex-wife, Kelly Grayson (Adrianne Palicki). While it is not stingy on resorting sitcom-level humor, the comedy is relatively contained by comparison to other projects from the Family Guy creator, not to mention its production design keeps the tone of a space opera alive. Stream it here.
3% (Netflix)
Peace is a hard thing to come by in a colonized Solar System with some planets receiving privileges that others cannot obtain, as The Expanse makes clear. This class-based divide already exists on Earth and could only get worse in the long run - a concept explored in the Netflix original 3%.
The Brazilian series follows the impoverished dwellers of Earth's nearly uninhabitable wasteland, hoping to become part of the three percent allowed entry to the "better side" by undergoing a series of rigorous challenges. 3%, with three seasons currently available, is a complex dystopian drama with a young cast of multidimensional characters that offers thematic callbacks to The Hunger Games. Stream it here.
We hope that we have offered a suitable choice of streaming recommendations for die-hard fans of The Expanse with this list. When you're done binging these shows, be sure to check back for more updates on hit Amazon Prime sci-fi series here on CinemaBlend.
Your Daily Blend of Entertainment News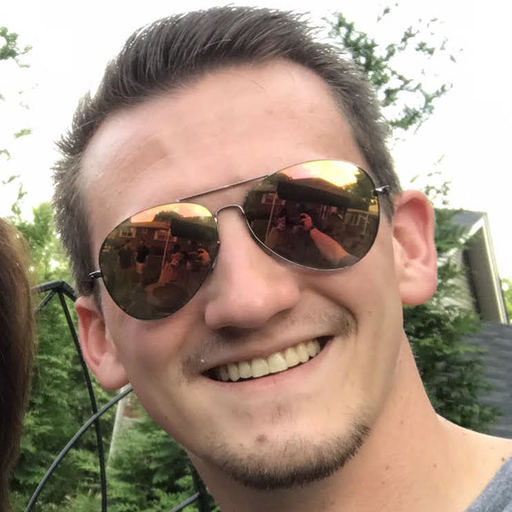 Jason has been writing since he was able to pick up a washable marker, with which he wrote his debut illustrated children's story, later transitioning to a short-lived comic book series and (very) amateur filmmaking before finally settling on pursuing a career in writing about movies in lieu of making them. Look for his name in almost any article about Batman.