6 TV Shows Quentin Tarantino Should Make After Bounty Law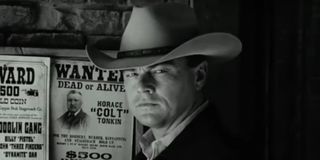 One the most impressive feats Quentin Tarantino pulls off in Once Upon a Time… In Hollywood is how historically and visually accurate Rick Dalton's star-making series Bounty Law appears. It is a refreshingly convincing callback to western TV shows of the past that makes you wish it was real. Well, supposedly, it soon will be.
Well, as Quentin Tarantino recently confirmed in an interview with Deadline, the Oscar-winner actually wrote five fully scripted half-hour episodes of his fictitious western series following bounty hunter Jake Cahill and intends to direct them. There is no telling if Leonardo DiCaprio will reprise his role within a role from Once Upon a Time… In Hollywood for the Bounty Law series, but, either way, this is something to be excited about as far as we are concerned.
In fact, given the filmmaker's extensive storytelling style, it seems that he is already primed for a move to television, which would not be the first time since, if you recall, he has directed episodes of ER and CSI: Crime Scene Investigation. It makes us wonder, what other TV shows would we love to see from the mind of the one and only Quentin Tarantino? Obviously, this is all hypothetical. A wishlist of projects I think he'd be perfect for...
Deadly Viper Assassination Squad
Quentin Tarantino was able to get away with some ridiculously graphic content in the Japanese anime sequence that explains the origin of assassin-turned-Yakuza boss O-Ren Ishii (Lucy Liu) in Kill Bill Vol. 1. However, there is still much we do not know about the other known members of the Deadly Viper Assassination Squad and, considering there is no question of the violence that must have ensued under Bill's employment, perhaps sticking to anime would be the way to go to tell their stories.
A prequel series would chronicle the recruitment and follow bloody adventures of O-Ren Ishii, Vernita Green, Elle Driver, Bud, and Beatrix Kiddo as Bill's trusted ensemble of killers prior to Beatrix's pregnancy that forced her into early retirement. Deadly Viper Assassination Squad (or DiVAS) would give Quentin Tarantino free reign to develop the craziest kung-fu or gun-fu sequences possible for what could be a major game changer for Japanese anime.
Fox Force Five
Of course, we cannot mention the Deadly Viper Assassination Squad without mentioning their original inspiration: Fox Force Five. Fans of Quentin Tarantino will recall this as the failed TV show pilot Mia Wallace (Uma Thurman) credits as her "15 minutes" of fame in Pulp Fiction. Based on her general description of the series concept to Vincent Vega (John Travolta), how could you not resist something like that?
I envision Fox Force Five would be a '70s-style throwback to female-driven espionage procedurals in the spirit of Charlie's Angels, following the adventures five "foxy chicks" who are a "force to be reckoned with," each with a distinctive skill, such as former circus performer Raven McCoy's knack for wielding knives and Vaudevillian humor. Uma Thurman might not be able to fill Mia's shoes for what would have been her Pulp Fiction character's role, but a cameo as an ally, or even a villain, would be the icing on this retro cake.
Luke Cage
The Netflix original series based on the Marvel comic about a man with unbreakable skin and superhuman strength was met with much acclaim, but got the boot after just two seasons. Because Quentin Tarantino considered adapting Luke Cage earlier in his career, he would be the perfect choice to give the show a proper revival.
Despite his original choice of Laurence Fishburne, I think even Quentin Tarantino would agree it would be a mistake to replace Mike Colter in the title role, who uses his abilities to protect Harlem. Tarantino's love of comic books and black cinema as well would give the much-missed Luke Cage the boost it needs to make the ultimate comeback.
Double V Vega
The Luke Cage movie is not the only dream project of Quentin Tarantino's that got lost in the shuffle, the most often discussed of which would have to be Double V Vega, a prequel to Reservoir Dogs and Pulp Fiction that would chronicle the early criminal escapades of the Vega Brothers, John Travolta's Vincent and Michael Madsen's Vic (Mr. Blonde). Even if any chance of the movie is dead, the chance for a series is alive and well, if you ask me.
Obviously, too much time has probably passed for John Travolta and Michael Madsen to reprise their roles, but it would not hurt to recast them for the series, especially to show the Vega Brothers in their youths (I'm thinking Sebastian Stan as Vincent and Tyler Hoechlin as Vic). Double V Vega could also mark a triumphant return of the bickering-partners-in-crime structure that has been ignored for decades and if Quentin Tarantino is a wizard at anything, it is reigniting classic Hollywood trends after a long hibernation.
Inglourious Basterds: The Aftermath
The Amazon Prime original series The Man in the High Castle imagines an alternate modern-day reality if America had fallen under the rule of Nazi Germany after World War II. You know what concept of alternate history I would like to see explored? The changes the world would have gone through following the events of Inglourious Basterds.
This series would serve as a continuation of Quentin Tarantino's revisionist period piece that ended with Adolf Hitler having his face hosed off of his skull by machine gun fire as the highest ranking offcers of his Nazi regime burned to their deaths, both actions carried out by Jews. The consequences that such a savage blow to Germany would have on the world, I could not imagine, but I would sure love to see how Tarantino would envision it in Inglourious Basterds: The Aftermath.
Star Trek: The Western Edge
Well, it looks like that intriguing Star Trek movie helmed by Quentin Tarantino might not happen after all. In retrospect, would you not rather see him bring his vision to a new televised iteration of the sci-fi adventure?
My elevator pitch for a Star Trek series run by Quentin Tarantino, subtitled The Western Edge, would be "The Hateful Eight meets Firefly" - the adventures of a planet-hopping, ragtag gang of mismatched intergalactic criminals on a stolen Enterprise model, shot in the style of a 1960s-era western TV series. This way, if he still has the itch for another gun-totin' outlaw story but is conflicted by the urge to do something drastically different, he can have the best of both worlds while, at the same time, finally bringing Trekkies to a place that no Star Trek show has gone before.
It would be a sad moment for film lovers to see Quentin Tarantino fulfill his promise to retire from cinema after his 10th movie (which would be his next). However, if he ever decided to make a more permanent living on television, we would be honored if he took our ideas into consideration.
Your Daily Blend of Entertainment News
Jason has been writing since he was able to pick up a washable marker, with which he wrote his debut illustrated children's story, later transitioning to a short-lived comic book series and (very) amateur filmmaking before finally settling on pursuing a career in writing about movies in lieu of making them. Look for his name in just about any article related to Batman.