Are Grey's Anatomy Fans Team Owen Or Team Link In Amelia's Baby Drama?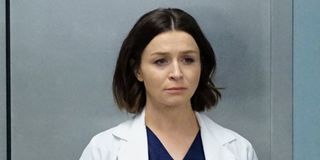 (Image credit: ABC)
Spoilers ahead for the January 30 episode of Grey's Anatomy on ABC, called "A Hard Pill to Swallow."
Amelia Shepherd's pregnancy has been complicated from the very beginning on Grey's Anatomy, and the realization that she's been pregnant longer than she thought left her uncertain as to whether Owen or Link is the father. She kept the news of how long she's been pregnant to herself for a few days before dropping the bombshell on Link in "A Hard Pill to Swallow," while Owen remains blissfully unaware and ready to plan his wedding to Teddy. So, are fans Team Owen or Team Link?
Admittedly, choosing sides based on the events of "A Hard Pill to Swallow" might be a little hasty, since viewers have seen Link's reaction and have yet to get a look at how Owen reacts. In "A Hard Pill to Swallow," Link didn't shout or cry or lash out when Amelia revealed that he might not be her baby's father, although she did soften the blow by telling him that the genetics don't matter to her because she loves him.
Amelia gave him some time to think about it. After spending the day with it on his mind, Link decided they needed some distance, because he feels she should have told him right away rather than waiting. Still, he was calm, although sad that he made her cry. Only time will tell how Owen reacts to the news, assuming Amelia takes the leap forward and tells him.
For now, fans on social media seem pretty firmly decided on which of the potential fathers is the better man. Twitter is mostly rooting for Team Link!
There's no denying that Amelia's life hasn't been easy on either Private Practice or after her move to Grey's Anatomy, and her relationship with Owen seemed to have more downs than ups. The relationship with Link hasn't gone on long enough to have too much depth compared to all her history with Owen at this point, but Link is "perfection" to at least one person.
While we haven't seen Owen's reaction to the possible paternity of Amelia's baby, fans seem to be pretty impressed with how Link handled the news compared to how Owen has reacted at Amelia in the past:
Considering how insane this news must have been to Link when he was getting so excited about impending fatherhood, he took the news that he might not be a few months away from being a dad pretty well. He was clearly affected, but calm. Good for him, and good for Amelia!
Unfortunately for those on Team Link, he and Amelia did end the episode more or less broken up. There are clearly still strong feelings, and he's still a contender to be the father of the child, so their story together isn't done. For some, there's still hope:
Considering this show has been running for 16 seasons already, a breakup being deemed "the most mature" is high praise! For this person, the apparent end of their relationship for now doesn't mean the end forever. And who can argue with such a cute gif?
To his credit, Link wasn't happy about breaking things off with Amelia and making her cry, not too long after she'd expressed her gratitude to him for never making her cry. That's not to say that her tears in this episode are the same as in past episodes during her struggles with Owen:
Owen has definitely had his ugly moments, and he does have kids of his own even if Amelia's child isn't his. Good on Link for not going out of his way to hurt Amelia despite the secret she'd kept from him for a few days!
For another on Twitter, being on Team Link seems to go hand-in-hand with being on Team Not Owen:
That person is also on board with Meredith and Alex's dreamy Irish replacement rather than Meredith and DeLuca, interestingly enough! At least MerLuca fans know that DeLuca probably isn't going anywhere. Only time will tell what the future holds for Owen, but I'm guessing not trash!
That's not to say there aren't some people still on Team Owen, though those tweets were fewer and father between. According to one person, the chemistry between Owen/Amelia is greater than between Owen/Teddy:
Chemistry is always going to be subjective, so it's not surprising there are still some on Team Owen when it comes to Amelia even if the consensus seems to be that Link is better for her.
Another argument is that Amelia's pregnancy will change how Owen wants to handle his future:
So, what's next for Amelia, Owen, and Link? We'll have to wait and see. Personally, I'm Team Amelia more than the guys since she really seems to need some support, although I'd definitely go Link over Owen if given the choice. Still, I'd say Owen deserves to know sooner rather than later considering he could literally be a father again in a matter of months, especially since the math suggests that he is the dad. Fingers crossed that it's Link, though!
There is still plenty going on the Grey's Anatomy front beyond Team Owen and Team Link. The unexpected announcement that Justin Chambers left the series after 15 years without a grand farewell episode was a game-changer for both the series and fans. Grey's has yet to reveal what will happen to keep Alex away for good and/or what that means for Jo. The married couple seemed happy enough when last together, so will Grey's have to write out Jo? Or break up Jolex? And how will the potential lack of a big Jackson story impact things?
See what happens with Amelia's baby drama with new episodes of Grey's Anatomy airing Thursdays at 9 p.m. ET on ABC. Grey's Anatomy switched time slots on Thursday night with the return of spinoff Station 19 earlier in January, and the big crossover that kicked off the winter TV season led me to wonder if Grey's and Station 19 are trying to become the next One Chicago.
Laura turned a lifelong love of television into a valid reason to write and think about TV on a daily basis. She's not a doctor, lawyer, or detective, but watches a lot of them in primetime. Resident of One Chicago, the galaxy far, far away, and Northeast Ohio. Will not time travel, but will sneak references to The X-Files into daily conversation.
Your Daily Blend of Entertainment News
Thank you for signing up to CinemaBlend. You will receive a verification email shortly.
There was a problem. Please refresh the page and try again.