Game Of Thrones Cinematographer Recalls Filming 'Blackwater' And Dumping Rain On Peter Dinklage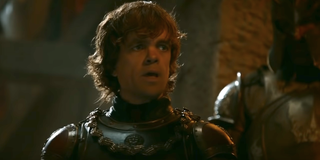 We're coming up on a year since the fantasy mega hit Game of Thrones took its final bow on HBO. While some (OK, many) fans will never be satisfied with how the series spent its final six episodes, much less the actual finale, few of them would argue that their negative feelings about the end of the long-running show negated their love for the many brilliant moments that came before. One of those brilliant moments is sure to be the Battle of Blackwater, which was seen in the penultimate episode of Season 2. And, cinematographer Sam McCurdy, who worked on the episode, has some intriguing memories of it.
For those who worked behind the scenes on Game of Thrones, part of the gig on pretty much any episode probably included doing lots of things that led to at least some of the actors being a bit uncomfortable as they went about filming their scenes. The Battle of Blackwater was no different, as there was a lot of rain to go along with the massive battle and all the blood, gore and fire that resulted from it. Sam McCurdy has some fond memories of making actor Peter Dinklage, and many others, a bit soggy during the shoot.
I can only imagine that it was probably a pleasant surprise for Peter Dinklage and the other actors to find that it wasn't raining when they set out to shoot their Blackwater scenes that day. But, of course, the weather during the battle had to match, which means that Sam McCurdy and his team had to make it rain, and, unfortunately for Dinklage and the rest, that meant regular old water instead of dry (and useful) greenbacks.
To refresh our collective Game of Thrones memories, because Season 2 aired way back in 2012, "Blackwater" was the episode which fulfilled the confrontation that the whole season had been building to: the Baratheons vs. the Lannisters. Stannis and his forces had sailed to Blackwater Bay to take King's Landing from Joffrey (long may he reign in hell), and, even though his fleet took heavy casualties right at the beginning, much of the ensuing battle made things look like a losing proposition for the Lannisters.
The scene that Sam McCurdy is referring to involved Joffrey abandoning his troops when all appeared to be lost, and his Hand, a.k.a. Uncle Tyrion, rallying the troops before leading them to a small victory that allowed some time for help to arrive in the shape of Tywin and his forces. Feel free to refresh your memory here:
Man, you can't say that Tyrion didn't make a lot of mistakes as we followed his arc on Game of Thrones, but this was definitely a shining moment for him. Didn't he make you want the Lannisters to win? That, my friends, is the true power of good acting!
While we all know that "Blackwater" turned out to be one of several magnificent Game of Thrones episodes during the show's eight season run and led to a Supporting Actor Emmy nod for Peter Dinklage, as well as wins for Sound Editing and Sound Mixing, and a British Society of Cinematographers nomination for Sam McCurdy, as could be expected, working on the episode was far from a walk in a dark, wet park. As McCurdy told Nerds and Beyond:
Luckily for fans everywhere, Sam McCurdy and everyone else involved in Game of Thrones was able to pull it off and bring us one of the most memorable episodes of the series, if not one of the most memorable episodes of television ever.
If you'd like to relive the whole of "Blackwater," you can still watch the show on HBO. For everything else that you can see on the small screen right now, check out our 2020 winter / spring premiere guide and Netflix schedule!
Yennefer's apprentice, Gilmore Girl; will Vulcan nerve pinch pretty much anyone if prompted with cheese...Yes, even Jamie Fraser.
Your Daily Blend of Entertainment News
Thank you for signing up to CinemaBlend. You will receive a verification email shortly.
There was a problem. Please refresh the page and try again.