Justin Bieber Docu-Series Seasons Broke A YouTube Record For Viewership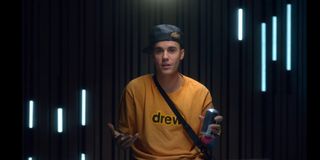 Justin Bieber, who once challenged Tom Cruise to a fight, has been producing catchy tunes for over a decade and his career has come full circle following the release of his recent docu-series, Justin Bieber: Seasons. YouTube recently announced that the singer's docu-series has broken a record for viewership, turning in a whopping 32 million views in its first week of release. Looks like the wait to get new music from Bieber turned interest up to 11.
Episode 1 of Justin Bieber: Seasons was released on January 27, reaching viewers across 97 countries, and is now ranked as YouTube's most-watched debut episode of any original series, ranking ahead of both Liza on Demand and Cobra Kai's first episodes. In addition to that, Justin Bieber has become the first artist whose YouTube channel reached an astounding 50 million subscribers.
The docu-series follows Justin Bieber's journey toward creating new music for Changes, the singer's first album release in four years. The series is an intimate look at the artist's creative process and includes commentary by his family, friends, and collaborators regarding the motivations behind his fifth studio album, which is set to be released on February 14. Each episode is scored by new music, though it's unclear if these are the same songs that will be included on his upcoming album.
The docu-series also reflects on Justin Bieber's life in the public eye, the ups and downs of his career, as well as the reasons for why the singer had to cancel his final concert tour dates in 2017, and unseen footage of his wedding to Hailey Bieber. Justin Bieber: Seasons consists of 10 episodes that are released bi-weekly and was first announced in December 2019, with the first sneak peek from the docu-series debuting during Dick Clark's New Year's Rockin' Eve special.
Justin Bieber has proven incredibly popular amongst fans and his YouTube channel alone has amassed over 20 billion views since his start on the video platform in 2007, with 3 billion views earned in the last year alone. As of this writing, Bieber has six videos that have surpassed the billion views mark, an impressive feat for any singer. Per Variety, YouTube shelled out $20 million to acquire Justin Bieber's docu-series, which is the most the video platform has ever paid for content.
YouTube Premium subscribers now have access through Episode 6 of Justin Bieber: Seasons and can watch the series sans ads. For those without subscriptions, YouTube drops a new episode of the docu-series for free (with ads) every Monday and Wednesday at 12 p.m. ET. and has released four of the ten episodes thus far.
For more on what to watch on cable and streaming, be sure to check out our 2020 midseason schedule for updated premiere dates and times.
Your Daily Blend of Entertainment News
Thank you for signing up to CinemaBlend. You will receive a verification email shortly.
There was a problem. Please refresh the page and try again.