The Flash Reveals First Look At Ralph's Comic Lover Sue Dibny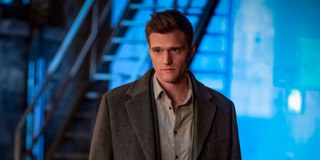 The Flash has been hinting at the arrival of Ralph Dibny's comic book wife, Sue Dibny (née Dearborn), since his introduction in Season 4. The first half of Season 6 saw Hartley Sawyer's Ralph searching specifically for her in a missing persons case, convinced that she was out there somewhere. Though it's taken a while, new preview images from The Flash's upcoming Season 6 episode "A Girl Named Sue" reveal fans' first look at the elusive Sue.
It's rare for comic book characters to get name-dropped so heavily prior to their onscreen debut, but such has been the case with the mysterious Sue Dearborn. As a private investigator, Ralph has been on the case to find Sue since The Flash's Season 5 finale. However, every lead he's gotten in Season 6 so far has led to nothing. At one point, he even thought about giving up on finding her at all.
In October, showrunner Eric Wallace confirmed that Sue would appear in the back half of Season 6, though he teased that when she shows up is a "huge spoiler." Call it destiny, or The Flash writers delivering on the mystery, but Season's Episode 12 will finally introduce Sue. Based on a few preview images from the episode, it looks like she and Ralph warm up to each other rather quickly. Take a look!
The Originals actress Natalie Dreyfuss was cast as Sue back in November and, based on this image, she'll be fitting in quite nicely on The Flash. She and Ralph are already giving off power couple vibes. Personally, I think the above picture of her and Ralph looks a lot like a buddy cop poster pose if there ever was one.
The official synopsis for the episode reveals that Ralph will finally find Sue, though of course it leaves out exactly where and how that happens. Sue won't be so keen on getting back to her family, even though hired Ralph to find their missing daughter. Instead, she'll lead Ralph on some kind of adventure.
Their adventure might lead them to stake out someone in an alley. At least, that's what it looks like they're doing in the image above. While there's a lot of excitement for Sue's arrival, there's also a ton of mystery surrounding what she's been up to all this time. If the image is any indication, it seems Sue could lead Ralph on a mission to find answers of her own.
It's even possible that her absence from Central City is of her own volition, and she's undercover or seeking something more sinister. While that's all my own speculation at this stage, it's not hard to recall Eric Wallace's words about things not being what they seem, especially now that the world has new rules and metahumans after the "Crisis on Infinite Earths" reboot.
The Flash episode also reveals our first look at the elusive Eva McCulloch, who is presumably the one who pulled Iris into the mirror while she was investigating Black Hole in "Marathon." Iris and Eva might form an unlikely alliance to take down Black Hole. If the image is any indication, it's possible Iris is still stuck inside the mirror. Is Iris' life now changed "basically forever"?
She's wearing the same clothes she had on at the end of The Flash's midseason premiere, hinting that something is definitely off. Eric Wallace did tease that the series would "go further and do crazier things" after the big Iris twist. This image might be the first real indication of that. Either way, it seems Efrat Dor's Eva is a big part of the Black Hole mystery and I'm ready for her and Iris to work together to solve it.
The Flash Season 6 airs every Tuesday at 8 p.m. ET on The CW. The episode"A Girl Named Sue" will air on February 18. For more on what to watch, be sure to check out our 2020 midseason schedule for updated premiere dates and times.
Your Daily Blend of Entertainment News
Your Daily Blend of Entertainment News
Thank you for signing up to CinemaBlend. You will receive a verification email shortly.
There was a problem. Please refresh the page and try again.