Who Is The Masked Singer's Kangaroo? Here Are Our Best Guesses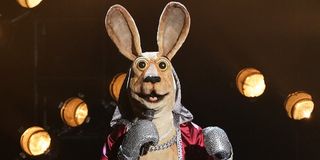 The Masked Singer Season 3 is rolling strong on Fox, and fans are far from through with the novelty of mystery contestants singing week to week. It's even better when the contestant's identity is a real mystery, which seems to be the case so far with The Kangaroo.
The Kangaroo is a strong singer who has the judges and audience stumped. Everyone is all over the place with guesses, so let's take a look at the clues, and try to wrangle up some realistic options on who The Masked Singer contestant may be before she's revealed.
The Clues
The Kangaroo opened her first clue package with a shout out to "survivors," as a sign reading "Outback" was shown. The Kangaroo said she's found herself in the spotlight for all the wrong reasons, as paparazzi flooded around her and took pictures. The video closed with the Kangaroo jumping over a jump rope made of plants, while a gramophone was seen in a tree. Cryptic much?
The mystery contestant talked about getting back in the game in the second clue video, and held a basketball. She also said she sometimes feels like everyone is against her, and that it can be scary stepping into the spotlight again. There was also mention of a "little roo," which seems to indicate The Kangaroo has a child of her own.
Overall, it's a pretty solid lineup of clues. That said, there are a few people that can fit the bill for this one, so it's really a matter of drilling down on the more cryptic hints The Masked Singer has given to figure out who The Kangaroo actually is. Here are some of the popular guesses that have surfaced since her debut.
Elisabeth Hasselbeck
Elisabeth Hasselbeck first made her name in reality television, then transitioned over into a long tenure on The View. After high-profile feuds and controversy, she eventually left the program to serve as a co-host on Fox And Friends. Hasselbeck is a cancer survivor, and at one point did a series of public service announcement ads for the illness. Could the wife of former NFL quarterback Tim Hasselbeck be The Masked Singer's Kangaroo?
Jordyn Woods
Jordyn Woods was the best friend of Kylie Jenner, but the two had a high-profile falling out when word got out she fooled around with NBA Star Tristan Thompson, the baby-daddy of Jenner's sister Khloé Kardashian. Woods has remained in the spotlight since then with tabloids speculating on the back and forth between her and the Kardashian sisters, which would certainly play into the "spotlight for the wrong reasons" clue The Kangaroo talked about.
Olivia Newton-John
A Grammy-winner, Australian, and icon to anyone who watched Grease, Olivia Newton-John's career speaks for itself. She's a solid and proven singer, which is something fans can definitively say compared to other suspects who don't have professional music experience. She's also the only person with a Grammy of the bunch, which is one of the only ways I can interpret the meaning of that gramophone.
Who We Think It Is
This is a tough one, and if I'm being honest I'm wrestling between two options. Olivia Newton-John is an Australia native with a singing career and a known cancer survivor. She has won a Grammy, which explains the whole gramophone in the tree, and all the physical activity could refer to her hit song that caused some controversy for its sexual nature back in the day, "Physical." Newton-John also has a child, though her daughter Chloe Rose Lattanzi is old enough to qualify for full kangaroo status rather than being referred to as a "roo."
Then there's Elisabeth Hasselbeck, who is both a cancer survivor, and a winner of the game show Survivor. Specifically, she's the winner of Survivor: The Australian Outback, which pulls in the Australia connection. Her run and feuds with co-stars on The View made tons of headlines, and her drama became the spotlight of the show for a brief time. The sports stuff could be a reference to her former sports star husband, her time on Survivor, or her time as a collegiate softball player at Boston College. Hasselbeck has three children, however, and no musical history that would explain that gramophone.
Every fiber of my being is wanting me to say this is Elisabeth Hasselbeck, but the fact that there's absolutely no hint on the internet of her ever having a singing career or singing in public has really forced me in the other direction. Olivia Newton-John is a four-time Grammy winner, and has a ton of nominations to boot. Plus, she's got the one kid, and even if that kid is a full grown adult, The Masked Singer's Kangaroo said "roo" and not "roos."
I can't say Olivia Newton-John is a perfect match, because the numerous sports references still don't make a ton of sense for her. Sure, I can explain it away due to the success of her song "Physical," but even with that, the excessive sports references feel a little heavy-handed. Despite this, I really have no answer for how Hasselbeck could be connected to a gramophone and would only mention one of her three children. I have even more questions I can't answer with regard to Jordyn Woods, who feels more like a person fans wish is The Kangaroo more than they actually believe it.
This is certainly a pick that's less obvious than The Turtle, which The Masked Singer really tipped its hand on with some on-the-nose clues. With that said, I'm relatively positive The Kangaroo is Olivia Newton-John, with Elisabeth Hasselbeck as a strong second option clue-wise, but again, no record of singing history. The Kangaroo is a little too good to not have shared that voice before, especially if they're someone who is already a celebrity.
Have another idea on who The Kangaroo is? List all thoughts in the comments section, and be sure to watch The Masked Singer on Fox Wednesdays at 8:00 p.m. ET. Be sure to stick with CinemaBlend in the meantime for more analysis on contestant's identities, and for a look at what else is happening in the world of television and movies.
This poll is no longer available.
Your Daily Blend of Entertainment News
Mick likes good television, but also reality television. He grew up on Star Wars, DC, Marvel, and pro wrestling and loves to discuss and dissect most of it. He's been writing online for over a decade and never dreamed he'd be in the position he is today.
Your Daily Blend of Entertainment News
Thank you for signing up to CinemaBlend. You will receive a verification email shortly.
There was a problem. Please refresh the page and try again.