Who Is The Masked Singer's White Tiger? Here Are Our Best Guesses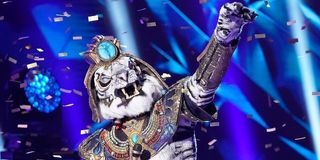 Spoilers through the February 12 episode of The Masked Singer on Fox.
The Masked Singer has more competitors than ever before in Season 3, which means more opportunities for viewers to put on their detective hats and figure out the identities of each mystery contestant. So far, everyone has been doing just that and trying to figure out the identities of competitors like White Tiger.
Though the White Tiger hasn't done a lot to show the judges he's a very talented singer, he's got the heart and charisma to push himself farther than his voice will take him in this competition. The most obvious clue about him so far is that he's not a professional singer, but what else do we know about The Masked Singer contestant?
The Clues
The White Tiger kicked off his first clue package by referring to himself as a champion. He strives for perfection, and has a career full of accomplishments. White Tiger stopped at a "champion of clam shucking" trophy with it being noted that he successfully shucked 51 clams. Another visual clue worth noting was a poster of our founding fathers which featured the opening of Abraham Lincoln's Gettysburg Address, "Four score and seven years ago." The contestant closed with mentioning he's ready to "get into the ring," and "let's party."
White Tiger's second clue package opened with him walking into a library with a boom box, while a picture of a cow skiing was seen on the door. The White Tiger loves a good "block party" and also loves to dance. There are definitely some party boy vibes with the White Tiger, as he tore a piñata in half in the last moments of the video and danced with The Masked Singer security guards.
The third clue package featured an interview with White Tiger's college roommate. He told a story about when he and White Tiger danced at a bar like they were male strippers, and made another reference to wrestling. All in all it wasn't that revealing of a video, though it did really drive home White Tiger is a guy who likes to party.
This is all we have so far, but it's more than enough to make what is probably an accurate guess as to who The Masked Singer's White Tiger really is. Before we get to that, let's review some of the most popular choices surrounding this contestant's identity.
Rob Gronkowski
NFL fans know Rob Gronkowski quite well, as the former New England Patriots player is a living legend in the tight end position. He's regarded as one of the best ever in his position, and won three Super Bowls before retiring. These days he's a sports analyst for Fox Sports, and has advocated for the use of CBD to help people manage their pain from injuries. He's also a known partier, and has even hosted party cruises for folks in the past.
Hulk Hogan
Hulk Hogan is to wrestling what Elvis Presley is to rock and roll. He was a big part of what put WWE on the map, and Hulkamania was the cultural phenomenon that helped the business get a stranglehold on pro wrestling entertainment well above others. Hogan has been a huge part of pop culture over the years, despite a very public backlash over leaked audio that briefly even got WWE to turn its back on him. For a man looking to reverse his public image, The Masked Singer wouldn't be a bad place to start.
Jason David Frank
The name Jason David Frank may not mean a lot to some, but to Power Rangers fans, he's a living legend. Frank is the actor responsible for Tommy Oliver, also known as the Green and later the White Ranger. Did the actor and one-time professional MMA fighter turn in his White Ranger suit for a White Tiger suit? Those shoulder pads do look somewhat like the kind that Tommy wore on the show.
Who I Think It Is
There is absolutely no doubt in my mind that The Masked Singer's White Tiger is Rob Gronkowski. White Tiger is a head taller than the 6'0 Nick Cannon, which would make sense with Gronkowski's 6'6 frame. It should also be noted that Gronkowski has a pretty distinctive voice that's unmistakably associated with the East Coast, which is where the pro athlete is from. As mentioned earlier, he's a legend of the NFL, which would certainly explain the White Tiger's claim of being a champion.
Rob Gronkowski has won three Super Bowl championships, with the most notable being in Super Bowl 51 against the Atlanta Falcons. How convenient then that the White Tiger's Clam Shucking trophy is marked with the number 51! Let's also point out that the act of "clam shucking" sounds like an activity a New Englander would do more so than other regions in the United States, and could be a somewhat obvious nod to Gronkowski's former team.
Then there was the poster of the founding fathers, who could also be referred to as "patriots." If you add up the time in "four score and seven years ago," you get the number 87, which just so happens to be the number Gronkowski wore when he played for the New England Patriots. This is one of those on-the-nose clues that can't really be used for another suspect, unless Abraham Lincoln is in the mix. Even Honest Abe can't be connected to the "Cow ski" poster, which is an obvious nod to the player's last name.
White Tiger's "in the ring" statement could be a hint towards his Super Bowl rings, though it may also be tied to his actual career inside the ring. Rob Gronkowski once participated in the Andre the Giant Battle Royale with real-life friend Mojo Rawley. More likely than not, this is what The Masked Singer is referring to, and not the exploits of WWE Legends like Hulk Hogan.
Still not convinced? Well, if this old commercial of him singing a parody of "Ice Ice Baby" doesn't convince you, I'm not sure what will. Oh, and he picked "Good Vibrations," by Marky Mark and the Funky Bunch for his second song. Mark Wahlberg is a die-hard fan of the New England Patriots, and even featured Rob Gronkowski in the Entourage movie. I'm not sure performing his song on The Masked Singer would be a complete one-for-one trade, but absolutely something someone would do if they were solid friends with Wahlberg. For this reason and all of the previously stated connections, I'm convinced The White Tiger is Rob Gronkowski.
Have some other theories on The White Tiger? List them in the comments below and be sure to tune in to The Masked Singer on Fox Wednesdays at 8:00 p.m. ET. CinemaBlend is the place to be for all major predictions on the series, and for the latest news happening in television and movies.
Your Daily Blend of Entertainment News
Mick likes good television, but also reality television. He grew up on Star Wars, DC, Marvel, and pro wrestling and loves to discuss and dissect most of it. He's been writing online for over a decade and never dreamed he'd be in the position he is today.
Your Daily Blend of Entertainment News
Thank you for signing up to CinemaBlend. You will receive a verification email shortly.
There was a problem. Please refresh the page and try again.