Chicago P.D.'s Burgess Reconnects With Old Flame In New Crossover Images, But What About Ruzek?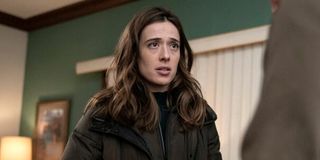 (Image credit: NBC)
Spoilers ahead for the February 12 episode of Chicago P.D., called "Center Mass."
Chicago P.D. delivered a major tragedy to Kim Burgess in Season 7 when a bad guy brutally beat her to the point of miscarriage, and she was understandably still recovering rather than diving back into the job in "Center Mass." New episode photos reveal that Burgess will have a part to play in the upcoming crossover event between Chicago P.D. and Chicago Fire, where she'll reconnect with former flame and partner Sean Roman (Brian Geraghty) after his shady return. But what about Ruzek in the wake of her miscarriage?
Burgess seemingly shut down on Ruzek after her miscarriage as her way of dealing with the tragedy, not even looking at him when he came to her in the hospital and then shutting down his efforts to help after she was discharged, saying that she needs space. He was taking it as well as could be expected, but like when she was shutting him out after he found out about her pregnancy, he may only be able to go for so long before trying to reach her whether she likes it or not. And he might not like to see her reconnecting with Roman when she won't connect with him.
Patrick John Flueger already revealed some "tension" with Roman's return, and that Ruzek probably isn't "going to like it very much." Considering Marina Squerciati's comments that Burgess is "dead inside" and "not allowing herself to lean into Ruzek" while she throws herself into work, maybe Burgess would have an easier time reconnecting with a long-lost friend than connecting with somebody who has a whole lot of emotional strings attached, at least until she emotionally heals further.
The description for the first half of the crossover reveals Chicago Fire's Severide will be suspicious for some very good reasons. The Chicago P.D. half, called "Burden of Truth," will see the search for a drug dealer responsible for overdoses (with a connection to Roman's sister) turn into a homicide investigation when the dealer turns up dead. The official description doesn't reveal anything about Burgess and Roman, but I'm guessing Roman will turn out to be a suspect in that murder!
If you want a look at Burgess reconnecting with Roman (whereas Ruzek is featured more heavily in Chicago Fire episode photos), keep on scrolling!
In this first photo, Burgess and Roman are walking together outside, seemingly outside of the police station. It's hard to guess what they're talking about, but it's worth noting that Burgess looks a whole lot better than she did during her brief appearances in "Center Mass." However much time has passed since her miscarriage has at least allowed her external injuries to heal.
This next image looks like it takes place a little later in the same scene, but Burgess doesn't look quite so grim:
Hey, just because Burgess has recently undergone a terrible tragedy, Roman is preoccupied trying to find his sister, and this is Chicago P.D. where nobody is ever too happy for too long doesn't mean they can't be glad to see each other! They were very important to each other once upon a time, and it makes sense that they'd still feel a bond.
In another photo, Burgess looks more concerned than happy to see Roman:
There's no saying when exactly in the episode these scenes take place, but Burgess' expression isn't that of a woman who doesn't care. Even if she's not looking at him like she did circa Season 3, I think it's clear that this case with Roman back won't be just another day at work for Burgess.
Roman looks a whole lot neater and cleaner in the next image, which is of a scene that another photo proves he shares with Burgess:
On the one hand, score for a cleaned-up Roman in a nice suit! On the other hand, Roman isn't exactly mid-jump for joy in this photo, and he seems to be standing in a church. Fingers crossed that this isn't a sign that his search for his sister ends with her funeral!
However Roman's reunion with Intelligence works in the Chicago Fire/Chicago P.D. crossover, hopefully it goes off with as few hitches as possible for Chicago P.D. If reconnecting with Roman is what Burgess needs on her road to recovery, we can only wait and see how Ruzek handles it, especially if he's still being shut out.
The two-hour Chicago Fire crossover with Chicago P.D. kicks off on Wednesday, February 26 at 9 p.m. ET following a new episode of Chicago Med at 8 p.m. ET. For more viewing options, check out our 2020 winter and spring premiere schedule.
Resident of One Chicago, Bachelor Nation, and Cleveland. Has opinions about crossovers, Star Wars, and superheroes. Will not time travel.
Your Daily Blend of Entertainment News
Thank you for signing up to CinemaBlend. You will receive a verification email shortly.
There was a problem. Please refresh the page and try again.