Chicago Fire's Severide Is Suspicious In Chicago P.D. Crossover, And It Could Get Ugly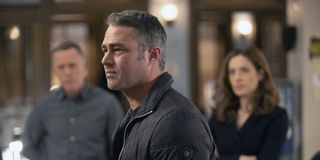 (Image credit: NBC)
The next One Chicago crossover between Chicago Fire and Chicago P.D. is on the way before the end of the month, and details about the case that brings Firehouse 51 and the Intelligence Unit together reveal that a familiar face will be back. Former Chicago P.D. regular Brian Geraghty will reprise his role as Sean Roman, but not for a happy reason. Roman is back to try and help his suffering sister, and the way he goes about it will evidently make Fire's Severide suspicious.
One Chicago fans have several reasons to expect a suspicious Severide in the Fire/P.D. crossover that airs on February 26. Let's start with the description for the Fire half of the two-parter, called "Off The Grid." Here's what's happening:
The crossover will bring Roman back to One Chicago because his sister goes missing while there are overdoses at her school, and P.D.'s Patrick John Flueger revealed Roman is going to be "seedy" and "underhanded" with Firehouse 51 about his connections -- or lack thereof -- with the cops of Intelligence in the present.
Even if Severide is willing to work with Roman to start, he'll evidently become suspicious that he's not getting the whole story. Since the crossover will deliver a "Liam Neeson revenge," Severide's suspicions are almost certainly justified! While the whole story likely won't come out in the Fire episode of the crossover when there's a whole hour of P.D. to close the case, it seems like Severide will be heavily involved in at least half the two-parter.
So, why might the Chicago Fire half of the crossover get ugly with Severide's suspicions, when Fire often barely toes the kinds of lines that P.D. regularly crosses? Fire showrunner Derek Haas chatted with CinemaBlend about the crossover earlier this season, and he said this when asked if the P.D. crossovers let Fire go farther than usual in its usual 9 p.m. ET time slot:
This crossover could get ugly in a more P.D. way than a Fire way, based on Derek Haas' comments! That's not to say anything on the same level of brutality as what just happened to Burgess on P.D. and how Darius Walker died not too long ago will happen on Fire, but viewers definitely shouldn't count on Fire wrapping everything up nicely before letting P.D. close the case in the crossover.
Fortunately, NBC has already released some crossover images from the Chicago Fire half that reveal some of what's up with Severide:
Hello there, Sean Roman! Considering the looks on Severide and Casey's faces and the fact that Roman seems to be covered with soot, I'm guessing this is when the firefighters of 51 encounter Roman back in One Chicago for the first time since P.D. Season 3. I'm also guessing they definitely weren't expecting the former cop to pop out of a fire!
Another image of Severide also features Fire's Boden and P.D.'s Voight and Ruzek:
It's difficult to guess when this takes place, but my money is on at some point in the Fire episode after Roman unexpectedly appears and the two groups are trying to figure out what's going on. Severide and Boden are both dressed for work, and the scene is seemingly set at Firehouse 51.
That doesn't mean Severide won't leave the firehouse and head elsewhere in the episode:
Severide seemingly changed into his civvies by the time he dropped by Intelligence, where he's talking to at least Ruzek, Atwater, Voight, and Burgess (who has clearly somewhat recovered from her injuries). Would he really drop by the precinct by himself if he didn't have some suspicions that he didn't necessarily want to share with everybody at Firehouse 51?
We can only speculate until the big crossover finally airs. The two-part event kicks off with an episode of Chicago Fire on Wednesday, February 26 at 9 p.m. ET and continues with Chicago P.D. at 10 p.m. ET. A new episode of Chicago Med also airs on February 26 at 8 p.m. ET, but it won't be part of the crossover event in the 2020 winter premiere lineup.
Resident of One Chicago, Bachelor Nation, and Cleveland. Has opinions about crossovers, Star Wars, and superheroes. Will not time travel.
Your Daily Blend of Entertainment News
Thank you for signing up to CinemaBlend. You will receive a verification email shortly.
There was a problem. Please refresh the page and try again.