Ray Donovan Might Not Be Done After All, According To Liev Schreiber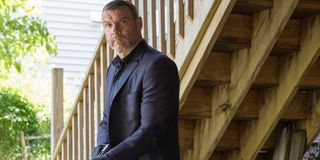 It came as a shock when Showtime abruptly cancelled Ray Donovan after seven seasons. Even series showrunner David Hollander was thrown off because "there was no indicator that the show was ending." It's been more than a week since the cancellation news broke, but Liev Shchrieber recently gave an update on the series' cancellation, reigniting many fans' hopes that Ray Donovan might not be done after all.
When Ray Donovan was initially cancelled, series star Liev Schreiber reacted to the news with a photo of himself raising a glass alongside a caption that read "Slainte," toasting to the end of the show. So it came as quite the surprise when Schreiber recently posted a message to Instagram, hinting that there's hope for more Ray Donovan. Here's what he wrote:
Fans of the show will be relieved that all hope isn't lost just yet and there may be a light at the end of the tunnel. Liev Schreiber tagging Showtime in his Instagram post might even be a sign that Ray Donovan, which gave Showtime its biggest series premiere ever, will continue on its original network instead of being shopped around to another network or streaming service. Keep in mind that nothing is confirmed yet and this is all speculation based on Schreiber's post.
On the heels of the original cancellation, showrunner David Hollander did reveal that Ray Donovan was an expensive show to make, though he indicated that all the sets were still standing. Whatever the reasons for the decision, Showtime cancelling the series seemingly out of nowhere was confusing to many, including the cast and crew, who were under the impression they would return for another season.
In fact, Ray Donovan's Season 7 ended with the notion that the series would continue into Season 8 although the network hadn't confirmed it at the time. Thankfully, it seems fans' "voices have been heard" and Ray Donovan will possibly return for more episodes at some point in the future. We'll have to wait and see how and when a potential Season 8 could happen.
Stay tuned to CinemaBlend for updates on Ray Donovan. In the meantime, fans can still stream the series on Showtime's website and app. For more on what to watch, be sure to check out our 2020 midseason schedule for updated premiere dates and times.
Your Daily Blend of Entertainment News
Your Daily Blend of Entertainment News
Thank you for signing up to CinemaBlend. You will receive a verification email shortly.
There was a problem. Please refresh the page and try again.