The Witcher Reportedly Adds Game Of Thrones Fan Favorite For Season 2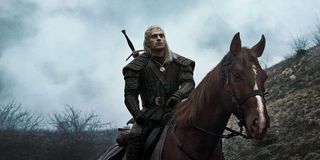 Toss a coin to The Witcher, which is rounding out its supporting cast for Season 2. While the Netflix series has already cast two new witchers in Season 2 — with still no word on Mark Hamill as Vesemir — The Witcher is reportedly bringing Game of Thrones fan favorite Kristofer Hivju back to the world of epic fantasy to play a cursed monster.
On Game of Thrones, Kristofer Hivju was best known for playing Tormund, a member of the freefolk who lived beyond the wall. He bravely stood by Jon Snow in the fight against the White Walkers, risking life and limb before heading back home after the fighting stopped. Now, Hivju will be lending his talents to another extremely popular fantasy series.
Kristofer Hivju, who revealed what Tormund and Jon Snow probably did after Game of Thrones ended, has reportedly been cast to play the character Nivellen, who comes from The Witcher short story "A Grain of Truth," by author Andrzej Sapkowski. The story, whose original publication is now obsolete, shares a lot of similarities with the fairy tale classic Beauty and the Beast.
"A Grain of Truth" follows Geralt of Rivia's meeting with Nivellen, a former aristocrat who was cursed to become a monstrous beast after raping a priestess. (Yet is still described as charismatic, witty and fun by Redanian Intelligence.) SPOILERS BELOW for the short story, so skip ahead a little if you don't want to know what happens.
Nivellen quickly realized that bringing women to his manor and getting them to fall in love with him wouldn't break the curse, so he learned to accept his circumstances. Ultimately, it's Geralt's abilities and the love and blood of the vampiric bruxa that breaks Nivellen's curse, turning him back into a man. The bruxa, who was Nivellen's lover, dies at the hands of Geralt's silver sword.
Reportedly, Kristofer Hivju will only appear in the Season 2 premiere, indicating that his storyline is short-lived. That makes sense, considering Nivellen's limited arc in "A Grain of Truth." The short story sounds like it could be a one-off episode that kicks off Geralt's Season 2 adventures with a clear beginning and end, without necessarily playing into the remainder of the season.
Though this casting information is specific in nature, it's important to keep in mind that the casting news has not been confirmed by Netflix. That said, I imagine that the always grunting Geralt might indeed happen upon Nivellen on his way to Kaer Morhen, the witcher's ancestral home and training spot.
The actor's potential appearance in The Witcher Season 2 wouldn't be the first connection the Netflix series has to Game of Thrones, either. The Night King himself, Vladimir Furdik, was the fight choreographer during The Witcher's first season. If proven to be real, Kristofer Hivju's involvement in Season 2 will help to keep the Game of Thrones connections intact.
Season 2 of The Witcher, which will be prefaced by an animated film, doesn't have a premiere date yet, but expect the season to hit Netflix at some point in 2021. In the meantime, be sure to check out our 2020 midseason schedule for updated premiere dates and times.
Your Daily Blend of Entertainment News
Thank you for signing up to CinemaBlend. You will receive a verification email shortly.
There was a problem. Please refresh the page and try again.