Looks Like Customers Are Turning On Disney+ Ahead Of MCU TV Debuts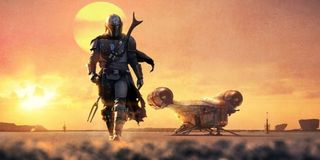 There was a lot of hype ahead of the Disney+ launch last November and the new streaming service was even purported to be in direct competition with Netflix. However, it's looking more like customers are surprisingly turning on Disney+ ahead of Marvel's TV offerings like The Falcon and the Winter Soldier and WandaVision.
While the Disney+ launch didn't immediately impact Netflix's numbers, a recent report suggests that it's the dwindling interest in Disney+ that execs should probably be worried about, not Netflix. Per DecisionData, a company that examines and analyzes trends, search interest in Disney+ has gone down by 80% over the past two months.
What's more, at least 20% of the streaming service's sign-ups were reportedly due to partnership agreements that included a free trial upon sign-up. For example, if you're a Verizon customer, then a one-year free subscription to Disney+ is included. This percentage, when factored into the streamer's overall number of subscribers, comes out to be around 5 million of its 26.5 million subscribers. However, whether or not these subscribers stick around after their free trials are over remains to be seen.
The most popular original show on Disney+ seems to be The Mandalorian, which introduced the precious Baby Yoda to the world. Season 1 ended at the end of December and, based on the data, there seems to be a direct correlation between The Mandalorian's end and the considerable decline in search and social media interest in the streamer since then.
As of right now, though, original content on Disney+ is lagging behind that of Netflix, which releases a number of original TV shows and movies every month. In that vein, the DecisionData report also reveals that Netflix search interest has not only remained steady since the Disney+ launch, but has gotten a slight increase and remains considerably higher than that of Disney+ search interest.
The future of Disney+ is unclear, but there's always a chance that interest will pick up again once the streaming service starts rolling out Marvel's full slate of shows. However, most of the original series set in the Marvel Cinematic Universe aren't scheduled to premiere on Disney+ until later this year. In the interim, fans can watch Season 7 of Star Wars: The Clone Wars.
That isn't to say that Disney+ doesn't have any original series outside of Star Wars at the moment. The streamer also features original content like Diary of a Future President, starring Jane the Virgin's Gina Rodriguez, and High School Musical: The Musical: The Series. However, neither show has created the same buzz as The Mandalorian.
If you are a Disney+ subscriber, there's still plenty to watch on the streaming service, so be sure to check out the ten shows worth streaming ahead of The Mandalorian Season 2. For more on what to watch, swing by our 2020 midseason schedule for more even more options.
Your Daily Blend of Entertainment News
Your Daily Blend of Entertainment News
Thank you for signing up to CinemaBlend. You will receive a verification email shortly.
There was a problem. Please refresh the page and try again.