10 Disney+ Shows Worth Streaming As We Wait For The Mandalorian Season 2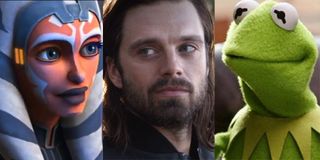 The Mandalorian Season 1 is over and fans have questions. One of them is "Now what do I watch?" We already know Disney+ is premiering The Mandalorian Season 2 in Fall 2020 and creator Jon Favreau shared an intriguing photo tease. But what can you watch on Disney+ in the meantime? There are plenty of options. Some are already on the streamer, others are coming very soon, still others are holding for later in 2020 just like The Mandalorian Season 2, and a few more are treats to come in 2021 and beyond.
Disney+ is brand new and has ambitious plans for Star Wars, Marvel, Disney, Pixar, and National Geographic content. I recommend stuff worth streaming every Monday, so here are 10 (plus bonus) options to consider on Disney+ in the long wait for more Baby Yoda memes in The Mandalorian Season 2.
Star Wars: The Clone Wars & Star Wars Rebels
This is the most important homework assignment before The Mandalorian Season 2. The Chapter 8 finale showed Moff Gideon apparently in possession of the Darksaber. That particular lightsaber was first shown in The Clone Wars series, set in the timeline between Attack of the Clones and Revenge of the Sith, and then again in Star Wars Rebels, set in the timeline just before A New Hope. The Mandalorian takes place after Return of the Jedi. So you can catch up on the story of the Darksaber and everything else through The Clone Wars and Rebels before learning more about Moff Gideon in Mandalorian Season 2.
The Clone Wars has six seasons currently available to stream on Disney+ (opens in new tab) and, if you time it right, you can catch up before the final Season 7 arrives with 12 new episodes on February 17, 2020. Star Wars Rebels has four seasons to stream here on Disney+ (opens in new tab). Of course, there's plenty of other Star Wars content to keep you busy on Disney+, from Star Wars: Resistance (opens in new tab) to the Skywalker Saga movies themselves, etc.
Marvel's Runaways
Runaways just wrapped up its third and final season in December 2019 on Hulu. The series is based on Marvel Comics superheroes and set in the Marvel Cinematic Universe. It follows six teens who end up uniting against their own parents, and if you never got a chance to see it on Hulu, now is your chance. You can give yourself a proper marathon of all 33 episodes on Disney+ (opens in new tab), with Season 3 arriving fresh on the streamer this Friday, January 10.
The Muppets & Muppets Now
Maybe it wasn't the best choice to follow the adult mockumentary style trend, but I'm still bummed that The Muppets TV series only lasted for one season on ABC. Still, in honor of Yoda voice actor Frank Oz -- who also voiced Muppets from Miss Piggy and Fozzie to Animal -- it's worth inviting the 16 episodes of The Muppets into your Mandalorian wait time. Stream The Muppets here on Disney+ (opens in new tab). It's a great way to fill time before Muppets Now shows up later in 2020. That new short-form series was announced at the D23 Expo in 2019. The unscripted series is set to feature celebrity guests and it will premiere at some point in 2020. Stay tuned on the date.
The Imagineering Story
In the past year, Star Wars fans have been discovering Star Wars: Galaxy's Edge at Disneyland and Disney World. This Disney+ original miniseries follows Walt Disney Imagineering for an in-depth-look at the creation of the Disney theme parks around the world. For example, the first episode, "The Happiest Place on Earth," delves into the making and evolution of Disneyland up until Walt Disney's death. The next episode covers Disney World and the conception of Epcot Center, etc. It's a fascinating must-watch for Disney Parks fans. Stream it here (opens in new tab).
One Strange Rock & Origins: The Journey of Humankind
One overlooked but very cool aspect of Disney+ is all of the National Geographic content. One Strange Rock comes from Darren Aronofsky and producer Jane Root, and it's hosted by Will Smith. Each episode shares how life survives and thrives on Earth as told from eight astronauts from the unique perspective of being away from Earth. There are 10 episodes to Season 1 and you can watch them on Disney+ (opens in new tab). Origins: The Journey of Humankind is an eight-part documentary series with each episode themed around one aspect of civilization, from fire to war, shelter, transportation, etc. Watch that fascinating series now on Disney+ (opens in new tab).
One Day At Disney & Pixar In Real Life
Disney+ has been posting a lot of original shorts -- from Forky Asks A Question and SparkShorts to One Day At Disney and Pixar In Real Life. Each short episode (around 6 minutes) of One Day At Disney (opens in new tab) introduces you to another Disney employee, from animators to CEO Bob Iger himself. This may only intrigue die-hard Disney fans, but I find it very interesting. New episodes are released weekly, following a new "cast member." In Pixar In Real Life (opens in new tab), iconic characters from Pixar movies are brought into the real world in a live-action setting, surprising people around New York City. It's cute and funny.
The World According to Jeff Goldblum
This is like Netflix's Explained but with less complex topics and Jeff Goldblum as host. New episodes are posted weekly to Disney+ (opens in new tab), following the Thor: Ragnarok star as he tries to unravel the fascinating science and history of deceptively familiar objects. So far, episodes have followed Jeff's curiosity on Sneakers, Ice Cream, Tattoos, Denim, BBQ, Gaming, Bikes, RVs, and -- I need to see this one next -- Coffee. It's a 12-part series so there's still more to come.
The Falcon and the Winter Soldier & WandaVision?
I have question marks here because, as of early January 2020, Disney+ has yet to announce exact release dates for the MCU's first original TV series for Disney+. But there's a very good chance at least one will come out before The Mandalorian Season 2's fall premiere. We already knew Anthony Mackie and Sebastian Stan's Falcon and Winter Soldier, set right after Avengers: Endgame, was expected in 2020. But Disney+ surprised fans with the awesome update that my #1 most anticipated show -- Elizabeth Olsen and Paul Bettany's WandaVision -- is actually coming in 2020 too. When? If they are both arriving this year, I wouldn't be shocked if we got Falcon mid-year instead of the initial "late 2020" listing and WandaVision at the end of the year, maybe around the same time as or shortly after The Mandalorian Season 2. But that's why there are question marks. We don't know yet.
Monsters At Work?
Here's another release date question mark, because it may show up after The Mandalorian's fall premiere -- but there's a good chance it won't if Mandalorian arrives in November again. I'm excited for Monsters at Work, the spinoff series to Monsters, Inc., which is coming sometime in 2020. It's meant to be set just six months after the 2001 movie. According to Disney+, the power plant at its center now harvests the laughter of children to fuel the city of Monstropolis. Tylor Tuskmon (Ben Feldman) -- an eager and talented mechanic on the Monsters, Inc. Facilities Team -- dreams of working on the Laugh Floor alongside Mike (Billy Crystal) and Sulley (John Goodman). Keep an eye out for this premiere date!
What Other Original Shows Are Coming To Disney+?
There's a lot to look forward to! If you're a Lizzie McGuire fan, you must be excited for the sequel series coming to Disney+ in 2020. Disney+ also has a ton of other shows planned for 2021 and beyond -- like Star Wars' Cassian Andor and Obi-Wan Kenobi series; and the MCU's series for Loki, Moon Knight, She-Hulk, Hawkeye, and Ms. Marvel, plus the MCU's intriguing What If...? animated series. You could also check out the inspiring Marvel's Hero Project, which is streaming now. Disney+ tends to release new info one week at a time, but I'm hoping the streamer shifts strategies to share a lot more info on what's ahead -- and also what's leaving.
If you're looking for more streaming recommendations, I share suggestions every Monday and there are A LOT of past features you can check out:
• 5 Excellent Keanu Reeves Roles Worth Streaming On Netflix And Amazon
• 5 Sci-Fi TV Shows To Watch On Netflix: Our Streaming Recommendations
• 5 Documentary Series To Watch On Netflix: Our Streaming Recommendations
• 5 British TV Comedies On Netflix You Should Bloody Well Watch: Our Streaming Recommendations
• 3%, Occupied, Harlots, and Other Streaming Recommendations
• 5 Robert Downey Jr. Movies To Love 3000 On Netflix
• 5 Chris Evans Movies Worth Streaming On Netflix And Amazon
• 5 Ryan Reynolds Roles Worth Streaming On Netflix And Amazon
• 5 Will Smith Movies Worth Streaming Right Now On Netflix And Beyond
• 5 Refreshingly Non-Toxic Reality TV Shows Worth Streaming On Netflix
• 5 Joaquin Phoenix Movies Worth Streaming On Netflix And Amazon Ahead Of Joker
• 5 Stripper Movies Worth Streaming In Honor Of Jennifer Lopez's Hustlers
• The 5 Best Space Movies To Stream In Honor Of Brad Pitt's Ad Astra
• 11 Unbelievable True Crime Series Worth Streaming On Netflix
• 8 Movies With 100 Percent Ratings Worth Streaming Before Netflix's The Irishman
• 7 Paul Rudd Movies Worth Streaming On Netflix Before Living With Yourself
• 8 Movies With Twist Endings Worth Streaming On Netflix After Fractured
• Where To Stream Firefly And 10 Other Great Shows Cancelled After One Season
• Whodunit? 7 Murder Mysteries Worth Streaming On Netflix
• 12 Royal TV Shows Like Netflix's The Crown: Our Jolly Good Streaming Recommendations
• 11 Best Gangster Movies Worth Streaming Along With Netflix's The Irishman
• 11 Best Tom Cruise Action Movies Worth Streaming As We Wait For Top Gun: Maverick
• 13 Adam Driver Movies Worth Streaming, Including Netflix's Marriage Story (But Not Star Wars)
• 8 Carrie Fisher Movies Worth Streaming As Star Wars: The Rise Of Skywalker Opens
• 8 TV Shows Worth Streaming On Netflix As You Wait For The Witcher Season 2
What TV shows are you watching, or looking forward to watching on Disney+, as we wait for The Mandalorian Season 2?
Gina grew up in Massachusetts and California in her own version of The Parent Trap. She went to three different middle schools, four high schools, and three universities -- including half a year in Perth, Western Australia. She currently lives in a small town in Maine, the kind Stephen King regularly sets terrible things in, so this may be the last you hear from her.
Your Daily Blend of Entertainment News
Thank you for signing up to CinemaBlend. You will receive a verification email shortly.
There was a problem. Please refresh the page and try again.